Canadian Prairie Lentil Granola
If you follow my Instagram account you know that I'm a bit of a lentil nut. I'm consistently amazed at their versatility and how well they pair with nearly every other food on the planet. They don't have a strong flavour on their own so they can be included in many recipes.
You might be asking why I would want to include them in so many recipes?
Here are my top 5 reasons for eating lentils
1) Source of iron. Since iron is the most common nutritional deficiency in the world, I'm fanatical about choosing foods that are high in iron. The amount of iron in lentils doesn't hold a candle to meat, but… you can't really add meat to granola. Except maybe bacon. Bacon goes with everything.
2) High in folate. Did you know that folate is a vitamin that can keep your heart healthy? Researchers aren't exactly sure why, but high folate intake through food is associated with lower risk of heart disease.
3) High in fibre. One serving of lentils (3/4 cup) has 6 grams of fibre! Fibre can regulate bowel movements, keep the colon healthy, lower cholesterol, control blood sugar, and help achieve a healthy weight.
4) High in potassium. Think of potassium as the antidote to sodium. When a person consumes more sodium than potassium, blood vessel health and blood pressure is compromised. Most North Americans' ratio of sodium to potassium is off. Lentils are naturally low in sodium and high in potassium.
5) Good source of other vital nutrients. Lentils contain a good dose of other nutrients such as magnesium, zinc, selenium, pantothenic acid, and niacin.
So, just keep all those health benefits in mind before you think I'm totally crazy for putting lentils in my granola. Give this recipe a try. It's delicious and features mostly foods grown on the Canadian Prairies (I had to include vanilla… couldn't think of a local flavour enhancer that could substitute. Let me know if you have any ideas!)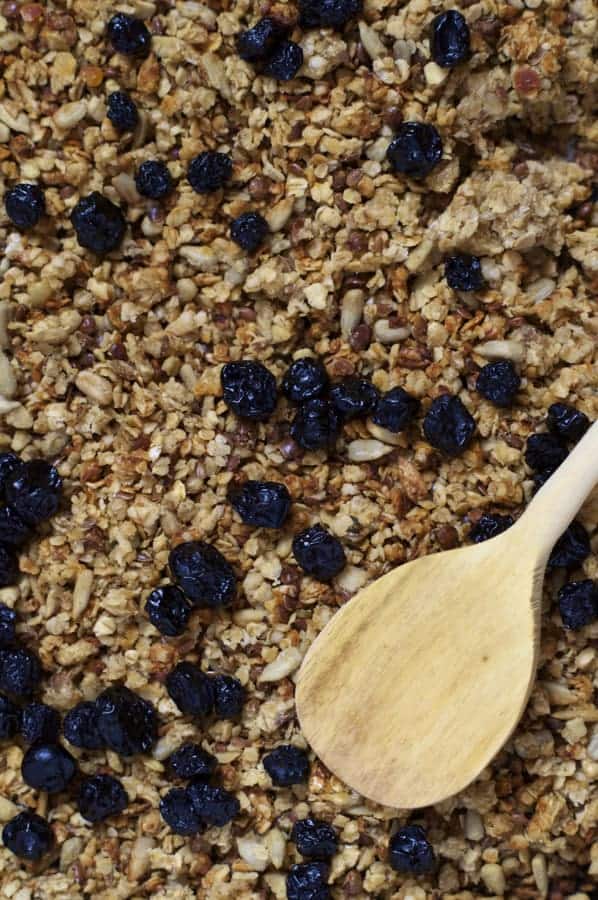 If you give this recipe a go, let me know! Leave a comment, rate it, or snap a photo and tag it with #smartnutritionrecipes on Instagram! I'd love to see your creations! Knowing someone has enjoyed one of my recipes always makes my day brighter.
Canadian Prairie Lentil Granola
Print Recipe
A heart healthy granola based on some of the Prairie's finest ingredients!
Ingredients
½

cup

red or brown dried lentils

1 ½

cups

water

½

cup

canola oil

½

cup

honey

1

tbsp

vanilla

½

tsp

salt

4

cups

oats

2/3

cup

drained and rinsed canned lentils

2/3

cup

sunflower seeds

1/3

cup

hemp seeds

hearts

1/3

cup

flax seeds

1

cup

dried blueberries
Instructions
In a large pot combine the dry lentils and water. Bring to a boil and then turn down to a simmer until the lentils are cooked and most of the water has evaporated.

Preheat the oven to 350 degrees Fahrenheit.

Add in the canola oil and honey. Once the honey has melted, stir in the vanilla and salt. Remove from heat.

Add the oats, canned lentils, sunflower seeds, and flax seeds. Stir well to combine.

Spread onto a large, rimmed baking sheet.

Bake for 10 minutes then stir.

Bake another 10 minutes then stir.

Bake another 5 minutes then stir.

The granola is done once most of it has started to turn brown.

Allow to cool then combine with blueberries and transfer to a sealed container.
Nutrition
Other Lentil Recipes: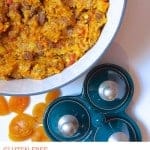 [share title="Share This Article" facebook="true" twitter="true" google_plus="true" linkedin="true" pinterest="true" reddit="true" email="true"]