I thought I loved fall. I thought I knew what fall was all about.
But I was all wrong.
In Winnipeg we do get all four seasons. The year is unfairly unbalanced in favour of winter though. I'm talking 6 months of winter, 2 months of spring, 3 months of summer, and if we're lucky, 1 month of fall. For about two weeks the leaves turn red, orange, and yellow then fall for the next couple of weeks. Occasionally the whole season is ruined by an onslaught of rain. For someone who loves fall, this is a tragedy.
My in-laws visited New York in early October and came back to show us incredible photos of gorgeous trees with leaves of every colour, shape, and size. We had planned our own trip to New York for early November so I figured we had missed catching the fall season and that the leaves would be completely bare by the time we got there.
But guess what? When we arrived November 1, fall was still going strong! The trees are still incredibly gorgeous! As a bonus, many of the leaves have already fallen so we got to run, and jump, and play in them!
Fall in New York is the best. I'm completely ruined for Winnipeg falls now. Can I just come back here every year now?
sausage squash and apples
This dish just screams FALL to me. It makes me feel all the feels I want and expect from the season: warm, cozy, sweet, and spicy. It's an incredibly comforting meal! And the best part is that it's made by throwing everything together in ONE dish. Who wants to clean up a major disaster after they've just been lulled into a blanket for the evening by the meal they just ate?
why it's a smart choice
Sweet potato is the darling new starch. I'm part of a Facebook group of Dietitians who blog. Sometimes we'll poll each other for recipes when we want to create a round-up. Recently someone asked for sweet potato recipes and she received an onslaught of suggestions. Dietitians love sweet potatoes! It's not hard to figure out why.
Compared to white potatoes, sweet potatoes are lower on the glycemic index. The glycemic index is an approximation of how quickly your body will breakdown and absorb the carbs found in food. The lower the glycemic index score, the longer it takes your body to absorb the carbs. The benefit of this is that your bloodstream gets a nice steady supply of fuel. This is in contrast to pure sugar, which would quickly cause your blood sugar to spike high. What goes up must come down so soon after the spike, you'll feel a crash.
Due to their orange colour, sweet potatoes also contain a good dose of Vitamin A in the form of beta carotene. This Vitamin is needed for proper eyesight, immune health, and a healthy reproductive system. Many people in North America are not getting enough Vitamin A!
If you give this recipe a go, let me know! Leave a comment, rate it, or snap a photo and tag it with #smartnutritionrecipes on Instagram! I'd love to see your creations! Knowing someone has enjoyed one of my recipes always makes my day brighter.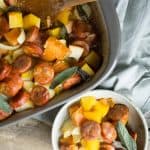 Sausage, Squash, and Apples: a fall casserole
Print Recipe
A warm and cozy casserole with chorizo, fall veggies, apples, and sage!
Ingredients
1

large onion

1 ½

lbs

sweet potato

about 1 medium- large potato

1

lb

butternut squash

½ a medium-sized squash

2

large apples

1

bunch of fresh sage leaves

about 15-20 leaves

¼

cup

olive oil

1

tsp

salt

4

cloves

garlic

minced

½

cup

chicken broth

1

tbsp

maple syrup

1

lb

chorizo sausage

sliced
Instructions
Preheat oven to 425 degrees Fahrenheit.

Slice the onion into large, thick slices (see photo). Place in 9x12 pan.

Dice the sweet potato and place in pan.

Dice the butternut squash and place in pan.

Core the apples, dice, and place in pan.

Arrange the sage leaves on top.

In a small bowl, stir together the olive oil, salt, garlic, chicken broth, and maple syrup.

Drizzle over pan. Stir to combine.

Place the chorizo sausage on top.

Cover with aluminum foil (shiny side down).

Bake for 40 minutes or until the veggies are soft and the sausage is fully cooked.
Nutrition
Calories:
385
kcal
|
Carbohydrates:
45
g
|
Protein:
10
g
|
Fat:
19
g
|
Saturated Fat:
7
g
|
Cholesterol:
53
mg
|
Sodium:
1639
mg
|
Potassium:
771
mg
|
Fiber:
7
g
|
Sugar:
16
g
|
Vitamin A:
24539
IU
|
Vitamin C:
38
mg
|
Calcium:
102
mg
|
Iron:
2
mg