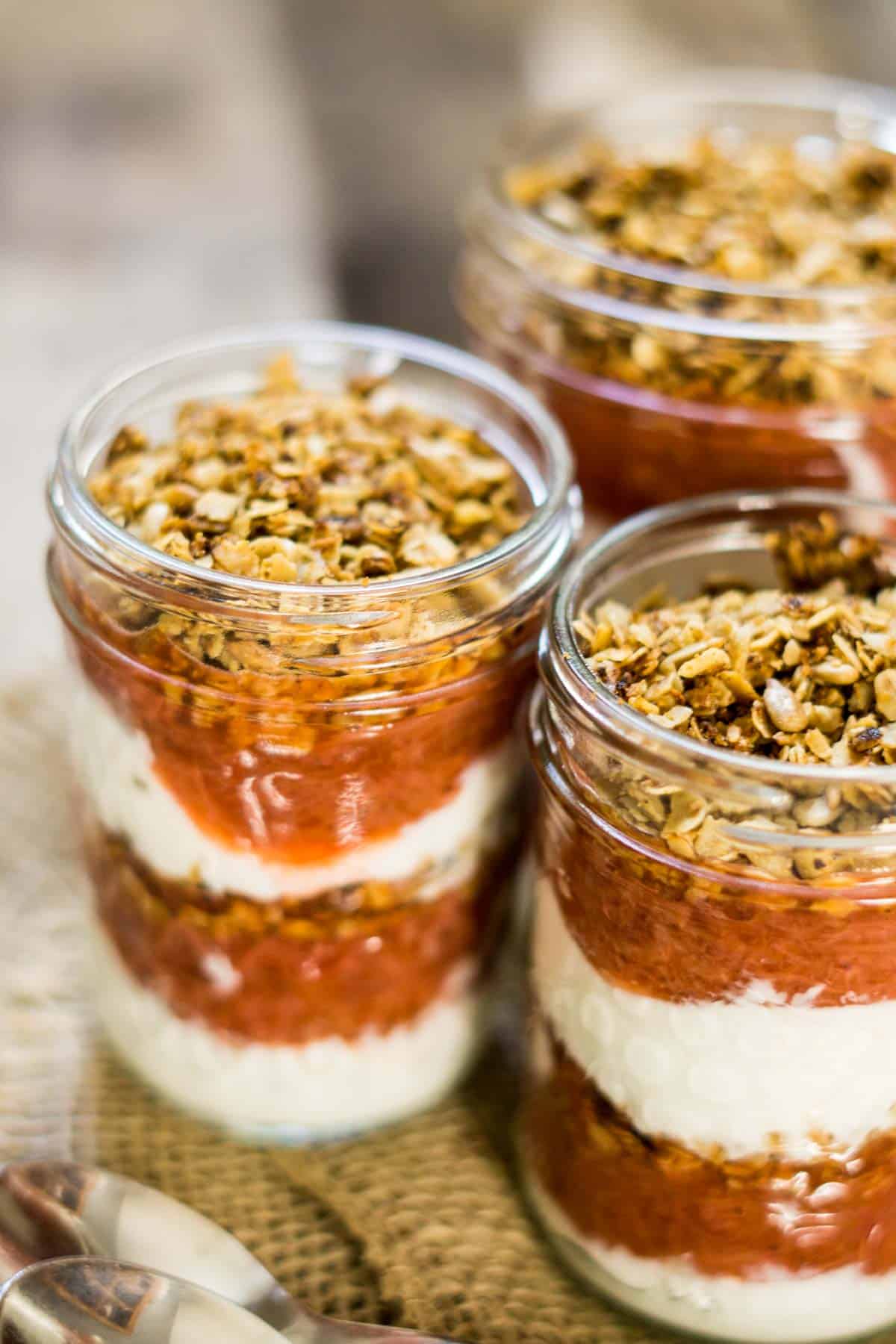 Tangy rhubarb meets crunchy sweet sunflower seed granola in this epic breakfast yogurt parfait! 
Ask and you shall receive.
Even if it's an accident!
A while back I was thinking about rhubarb (as most people do, I'm sure) and realized I didn't really know much about acquiring it. Could I buy it from the grocery store, or did I have to grow it myself?
I asked Facebook the question, and even though I was just genuinely curious about whether I could theoretically purchase rhubarb… I was bombarded by offers of free rhubarb.
I honestly wasn't asking for donations! But, even if you ask accidentally, you don't turn down free rhubarb!
Rhubarb breakfast parfait… I was so excited to make rhubarb compote and layer with yogurt and granola! My dreams did NOT disappoint! In fact, they were even tastier than I had imagined. Sunflower seeds and rhubarb are like Brussels sprouts and hazelnuts: they're just made for each other!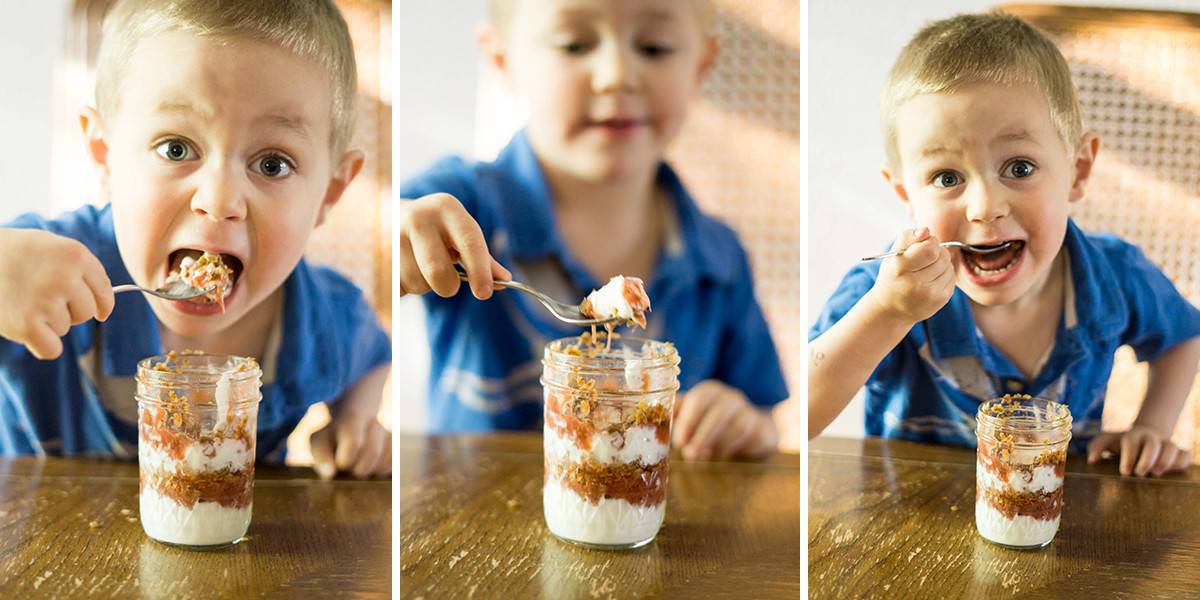 why it's a smart choice
 Each part of the parfait is a low sugar option:
The homemade granola has about 1/2 the sugar compared to store-bought
Getty Stewart's recipe for rhubarb compote has 1/3 the sugar compared to every other recipe I found!
Plain yogurt has NO added sugar. There's only a little bit of naturally occurring sugar from the milk it's made from. Choosing plain yogurt reduces sugar to ~1/3 compared to flavoured yogurt!
If you make this recipe, please let me know! Leave a comment, rate it, or snap a photo and tag it with #smartnutritionrecipes on Instagram!  I'd love to see your creations!
To make the rhubarb parfaits, layer the following in a glass or mason jar:
plain yogurt
low sugar rhubarb compote (recipe found here)
sunflower seed granola (recipe below)
sunflower seed granola
Print Recipe
An easy, healthy, and flavourful homemade granola!
Ingredients
4

cups

old fashioned oats

1

cup

sunflower seeds

½

cup

coconut oil

½

cup

brown sugar

½

tsp

salt

½

tsp

vanilla powder

or 1 tsp vanilla extract
Instructions
Preheat oven to 325 degrees Fahrenheit.

Stir together the oats and sunflower seeds in a large bowl.

Melt the coconut oil and brown sugar in a microwavable bowl by placing in microwave for 1 minute or by heating over low heat in a small pot on the stove.

Stir the salt and vanilla into the coconut oil and brown sugar.

Pour the mixture over the oats, etc.

Stir well to combine.

Line a rimmed baking sheet with parchment paper.

Dump the oats onto the sheet and spread evenly.

Bake for 10 minutes in pre-heated oven.

Stir and bake for an additional 10 minutes.

The granola will crisp up further as it cools down.

Store in an airtight container.
Calories: 226 | Fat: 12.5g | Carbs: 24.5g | Fibre: 3.5g | Sugar: 5g | Protein: 5.5g
p.s. Layering the parfaits are certainly pretty but throwing everything in a bowl for a lazy version is just as tasty!
[share title="Share This Article" facebook="true" twitter="true" google_plus="true" linkedin="true" pinterest="true" reddit="true" email="true"]