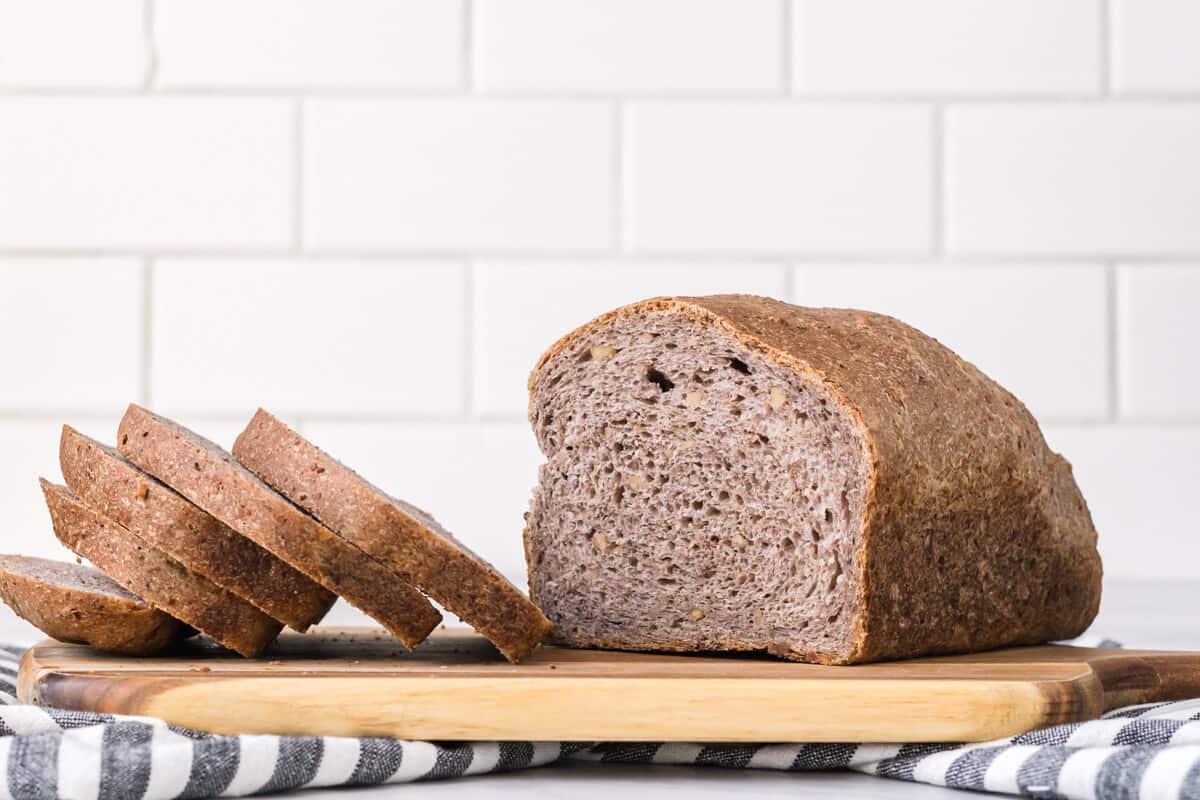 A hearty, fluffy vegan sourdough bread with good-for-you fats.
Do you ever ruin yourself for store bought foods after making a homemade version? I just can't bring myself to buy commercial loaves of bread anymore after getting into the habit of making sourdough. When life gets busy and I'm at the grocery store I sometimes think I should just go easy on myself and buy a loaf of bread.  But I can't do it so instead we just eat more crackers, veggies, and hummus (of course I may ruin that too after making these sourdough crackers as well)! That was a dangerous step; I really should have something that remains a convenience food!
As a habit I usually make this other recipe for sourdough seed bread but the creative side of me is always thinking up new recipes and therefore this recipe for omega 3 sourdough bread was born. My husband has deemed it the best bread ever so I guess I'll have to make it more often then! It's hearty yet incredibly soft. And with just a hint of cinnamon in each bite, you can enjoy it in savoury sandwiches or toasted with jam.
sourdough starter
If you don't have any sourdough starter bubbling on your counter yet, don't fret! You can get one going in 7 short days! Check out this easy to follow tutorial for step-by-step instructions. All you need is flour and water!
why this vegan sourdough bread is a smart choice
Many sourdough bread recipes consist of flour, water, and salt. That's definitely as vegan as a recipe can get! So why did I specifically title this recipe "vegan sourdough bread?"
Because I designed it to target key nutrients that are important for vegans to include in their diet everyday! And since bread gets eaten a lot, it was an easy target to choose as a vehicle for these nutrients.
I created this recipe for vegans, vegetarians, and anyone who typically doesn't eat much fish (see me raise my hand sheepishly…..) as a way to increase omega 3 intake. Omega 3s are essential fatty acids. Essential, meaning, humans have to eat them; our bodies can't turn other fats into omega 3s.  There are different types of omega 3s and our bodies use them for different purposes. The types found in fish and other seafood are called (for short) EPA and DHA. The type found in vegetarian sources such as canola oil, walnuts, flax seeds, and chia seeds are called ALA. Only a small percentage of ALA is converted to EPA and DHA in the human body so it's important that the foods containing ALA are core foods for people who don't eat fish!
This recipe contains four sources of ALA:
canola oil
flax seeds
hemp hearts
walnuts
I did the math for you (because I'm a nutrition nerd like that) and each slice contains over 1g of ALA!
Considering that adult males need 1600mg and adult females need 1100mg each day, one slice will nearly cover your daily needs! But who only eats one slice of bread? Okay, I often do…. but most appetites will easily enjoy two slices of bread… so BOOM! Omega 3 needs met for the day even before you leave the house for work in the morning!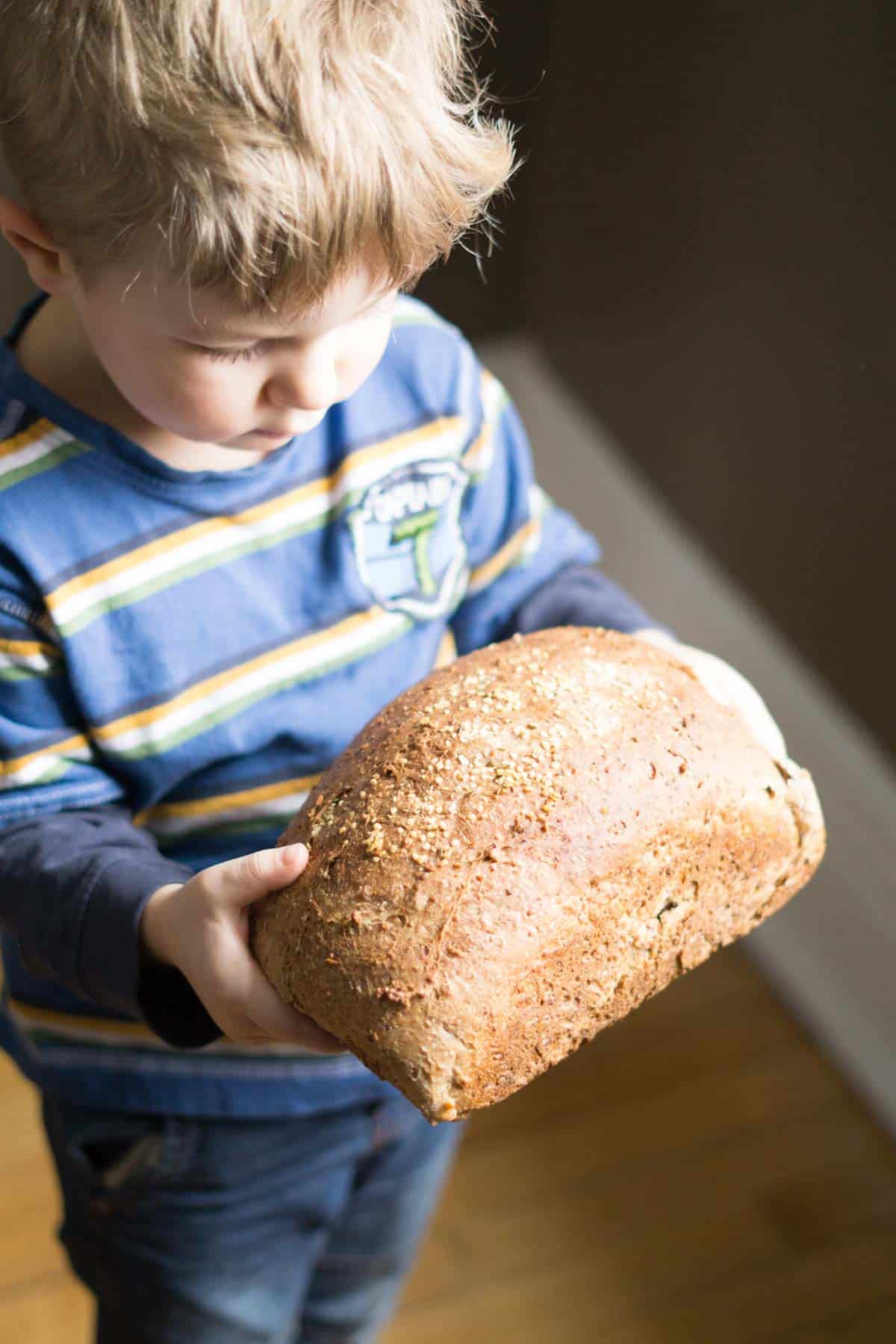 If you make this recipe, please let me know! Leave a comment, rate it, or snap a photo and tag it with #smartnutritionrecipes on Instagram! I'd love to see your creations!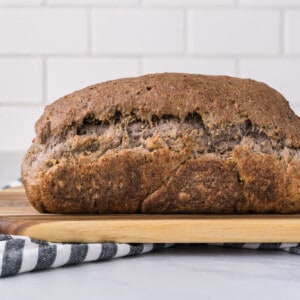 Vegan Sourdough Bread
Print Recipe
A hearty, fluffy bread with good-for-you fats.
Ingredients
3/4

cup

water

2

tbsp

canola oil

2

tbsp

maple syrup

1

cup

sourdough starter

1

tsp

salt

½

tsp

cinnamon

½

cup

walnuts

chopped

¼

cup

hemp hearts/seeds

¼

cup

ground flax seeds

1

cup

whole wheat flour

1 – ¾

cup

all purpose flour
Instructions
Add the water, oil, maple syrup, sourdough starter, salt, cinnamon, walnuts, and seeds to the bowl of a stand mixer. (That's everything but the flours). Use the kneading hook to mix it all together.

Add the whole wheat flour and mix again.

Add 1 cup all purpose flour and mix. Keep adding little bits of flour until the dough starts to pull away from the bowl.

Knead for 8 minutes.

Grease a second bowl. Transfer the dough to greased bowl and flip the dough around so that all sides are greased.

Cover and allow to rise in a warm place until doubled (about 3-12 hours depending on your starter).

If possible, perform a couple sets of stretch and folds at 30 minute intervals after mixing the dough.

Form into a loaf and place in a loaf pan or onto a baking sheet. Cover and allow to rise in a warm place about 2 hours.

Preheat oven to 400 degrees Fahrenheit.

Bake about 25-30 minutes or until crust is slightly brown and a toothpick inserted in the centre comes out clean.
Calories: 175 | Fat: 6.5g | Carbs: 23g | Fibre: 2g | Sugar: 1.5g | Protein: 5.5g
PS: this post was originally titled "omega 3 sourdough bread" so if you came to my site looking for that title, I hope you landed on this page!