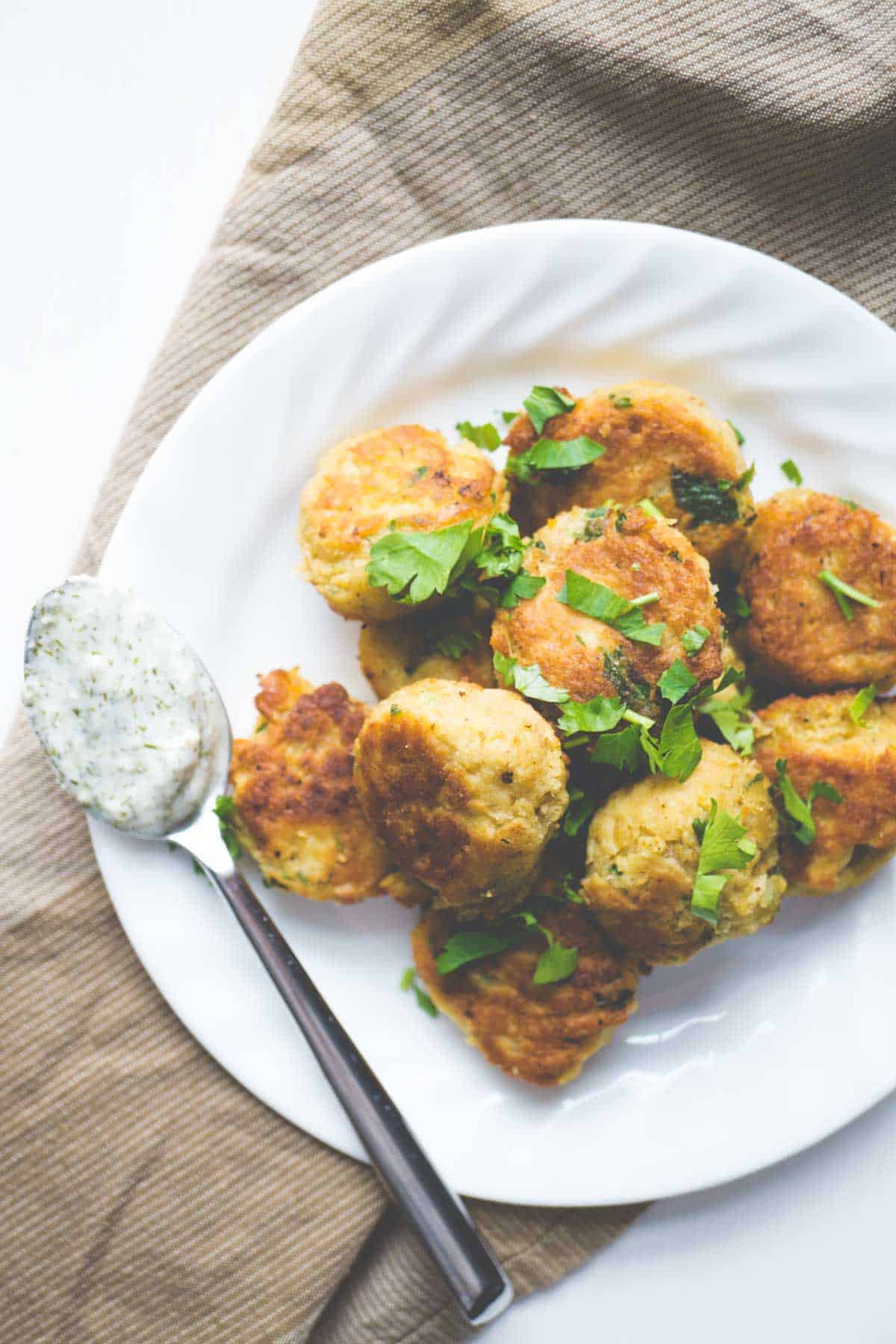 I have a special love for falafels but any of my at-home attempts have been complete failures. I tried a complete made from scratch recipe that completely fell apart and tasted like cardboard. I've tried the powdered box stuff, which was just completely gross. I've also brought pre-made frozen falafels, which were okay but nothing like what you get a falafel house.
But it had been a few years since I had tried falafels at home so I decided it was time to give it another go. I am so happy I revisited the falafel. These really are the. best. falafels. ever. EVER!
I think the lesson I learned from this reflection is that cooking takes practice. So for any of you out there who are just new to cooking, it's okay to fail. Expect to have some disasters. But keep at it. The more you practice, the better you get at it!
I served these on a bed of lettuce, cucumbers, and red onions. Then I topped the whole thing off with freshly chopped parsley and a tzatziki dressing. The combination was so tasty! The zippy dressing really offsets the fresh greens and crunchy falafels.
These falafels are best when served fresh. If you have leftovers, pop them in the oven to crisp them up again. The microwave will only give you soggy falafels. Avoid soggy falafels at all cost! The microwave is a surefire way to ruin a good falafel!
Why It's A Smart Choice
These falafels are filling! I ate them at lunch but when supper time rolled around, I had zero appetite! The combination of the fibre and protein in the chickpeas, the fat from frying, and the voluminous salad I ate them with kept me full for hours upon hours!
If you give this recipe a go, let me know! Leave a comment, rate it, or snap a photo and tag it with #smartnutritionrecipes on Instagram! I'd love to see your creations! Knowing someone has enjoyed one of my recipes always makes my day brighter.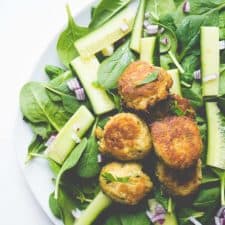 Best Ever Falafels
Print Recipe
The tastiest falafels you'll ever eat. Ever.
Ingredients
1

tbsp

canola oil

1

onion

diced

8

cloves

garlic

minced

3

cups

chickpeas

1

tbsp

tahini

or sesame seeds

1

tbsp

olive oil

2

eggs

2

tsp

salt

1.5

tsp

coriander

1

tsp

cumin

1/2

tsp

black pepper

1/4

tsp

chilli flakes

1/4

cup

chopped parsley

1/3

cup

flour

I used a GF all purpose mix but wheat flour would work as well

1

tsp

baking powder

canola oil

for frying
Instructions
In a medium-sized pan, heat the canola oil over medium heat.

Add in the onions. Once the onions are soft and just starting to turn a golden brown, add in the minced garlic and cook for one extra minute. Remove from heat.

In a high powered blender or food processor, place the onions, garlic, chickpeas, tahini, olive oil, eggs, salt, coriander, cumin, black pepper, and chili flakes. Pulse or blend on medium-low until well mashed.

Dump blender/food processor contents into a large bowl. Stir in the chopped parsley, flour, and baking powder.

Pour enough oil to cover the bottom of a frying pan. Heat to medium-high.

Using a small cookie scoop, scoop the falafel mix into little balls in the pan. Flatten the tops slightly with a fork.

Cook until the edges just start to turn brown. Flip and cook until the bottom just starts to turn brown.

Remove to a paper-towel lined plate.

Repeat with remaining mixture.
Notes
Calorie information based on 1 tbsp of oil absorbed per serving.
Nutrition
Calories: 359 | Fat: 21.5g | Carbs: 33g | Fibre: 5g | Sugar: 5g | Protein: 11g
[share title="Share This Article" facebook="true" twitter="true" google_plus="true" linkedin="true" pinterest="true" reddit="true" email="true"]