Here's this week's lineup! The feature food is dried apricots!
Dried apricots add a gentle burst of sweetness to meal. And since they're a whole fruit that has just had the water content removed from it, they're concentrated in nutrients such as fibre, potassium, and Vitamin A.
MEAL PLANNING TIP: take the dried apricot theme a step further and plan to make these DIY Aussie Bites and enjoy for snacks or breakfast throughout the week!
Grocery Shopping List
This Week's Lineup!
Happy cooking 🙂
Greek Chicken Quinoa Salad
Each bite of this salad is bursting with flavour! You'll be sure to want more and more.
Check out this recipe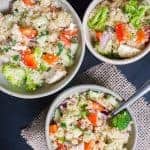 Sundried Tomato and Feta Spinach Salad with Grilled Chicken
A tangy, salty dressing on a crispy bed of fresh veggies.
Check out this recipe
Pistachio Salmon Cakes with Apricot Rice
Honey mustard infused salmon and pistachio cakes paired with a sweet and spicy rice dish!
Check out this recipe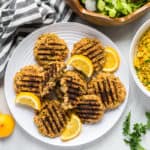 BALANCED MEAL IDEA: grab extra salad ingredients for the spinach salad and serve it with the pistachio salmon cakes as well!
Moroccan Beef and Lentils
Not too sweet and not too spicy, this Moroccan Beef Stew with Lentils dish knocks it out of the park! Comfort food with a twist [gluten free].
Check out this recipe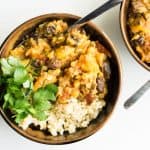 Serve over brown rice with a side dish of green beans.
Want to get the meal plans sent right to your inbox each week?