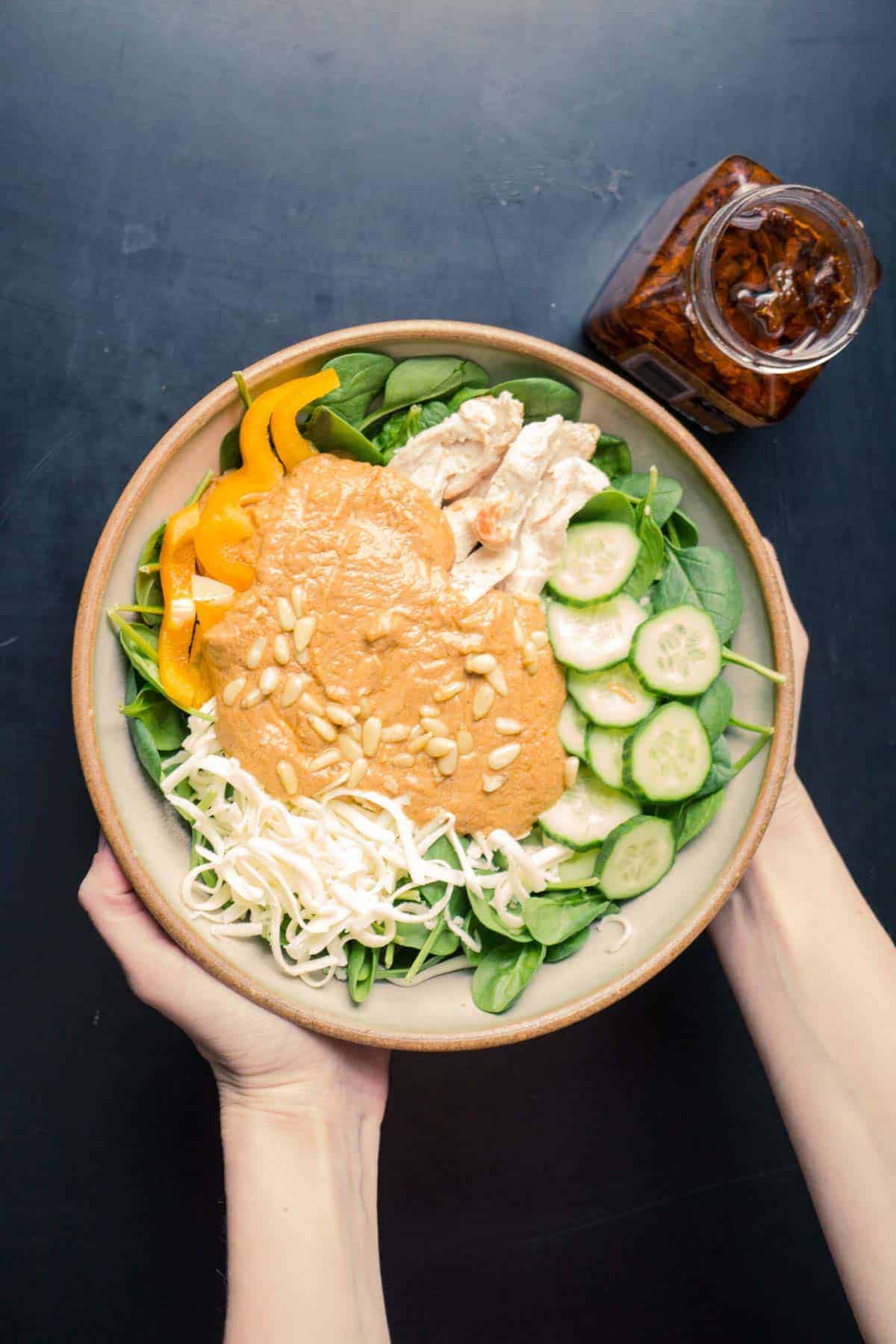 Photography fails galore with this post.
Jeremy was home during the day so I tried to get a couple of shots I can't normally do on my own.
The pour shot. When attempting the pour shot, use a salad dressing that actually pours. This dressing is thick, like a good Caesar. It just fell onto the salad in globs and did not bode well with the camera. Seriously… what was I thinking?
The hold shot. When attempting the hold shot you should a) wear something cute, b) find a nice background and c) figure out the right camera angle. I failed on all three accounts.
Baby steps. That's what my adventure in photography has been all about. Baby steps. And trying to learn from my epic fails! It's a good thing I can laugh at myself.
Let's focus on the good thing about this photo shoot: the salad! Especially the dressing. It's really the start of this salad. Once you have one last of it, you'll never go back to the stuff from a bottle. And since it's made in the blender, it will take you no more than two minutes to whip it up! Doesn't get better than that!
Why It's A Smart Choice
Not only does this dressing taste a hundred times better, it's healthier too! I checked out the ingredients in a popular brand of a bottled version and the second ingredient is sugar. There are so many hidden sources of sugar in pre-packaged foods. Who knew salad dressing was so sugar heavy?
This recipe has NO added sugar and no added salt! Just a lot of flavour and some salt from the cheese.
Sundried Tomato and Feta Spinach Salad with Grilled Chicken
Print Recipe
A tangy, salty dressing on a crispy bed of fresh veggies.
Ingredients
For the Dressing
¼

cup

olive oil

¼

cup

water

1

tbsp

balsamic vinegar

2

tbsp

white vinegar

2

cloves

garlic

1

tsp

oregano

1

tsp

basil

2

oz

feta cheese

2

tbsp

sundried tomatoes

packed in oil
For the Salad
fresh spinach

sliced cucumbers

sliced bell peppers

grilled chicken

sliced

pine nuts
Instructions
Place the dressing ingredients in the blender. Start on low then turn up to high. Blend smooth.

Combine all the salad ingredients and dressing in a large bowl. Toss to coat.

The recipe makes enough dressing for a large bowl of salad.
[share title="Share This Article" facebook="true" twitter="true" google_plus="true" linkedin="true" pinterest="true" reddit="true" email="true"]