Supper Club Meal Plan 8 (spring)
Here's this week's lineup! The feature food is spinach!
My kids have recently taken a liking to fresh spinach in the strangest way. They've invented what they call "dinosaur salad", which is just fresh spinach with dried cranberries! They make a pile of it and then eat it the way a herbivore would… by leaning their heads down and eating it by the mouthful without their hands!
It's hilarious and I'm sure old-school people would be appalled that I allow them to play with their food and eat with such ill-manners! But I believe there's a time and a place for table manners (restaurants, extended family dinners, etc) and the rest of the time, I let them play! If I didn't, they wouldn't be BEGGING me to eat spinach everyday!
Here are a few reasons why I'm excited my kids have discovered a love for spinach:
It's a good source of Vitamin K, needed for bone health and blood clotting
Contains important anti-oxidants such as Vitamin A and C
Also has iron, folate, and many other vitamins & minerals!
KITCHEN TIP: If you notice your spinach is a little wilty, freeze it and add it to smoothies! You won't notice the slight decline in quality. Try my Blueberry Brain Food Smoothie; it's one of my favourites!
Grocery Shopping List
This Week's Lineup!
Happy cooking 🙂
Spinach and Artichoke Quinoa Bake
Your favourite dip… now featured in a healthy dinner dish!
Check out this recipe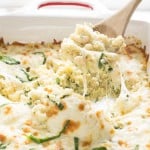 Healthy Teriyaki Chicken Noodle Bowls
A sweet and sour sauce, grilled chicken, spaghetti, and tons of fresh veggies!
Check out this recipe
NOTE: you can use any type of spaghetti noodles!
Serve the sloppy giovanni's with a salad using the leftover fresh spinach and buy or make your own salad dressing, such as this Savoury Turmeric Dressing!
Sheet Pan Dinner with Pork and Dried Plums
This sheet pan dinner combines pork and plums with onions and walnuts, in a quick and easy fine dining experience that's incredibly good for your bones!
Check out this recipe
Want to get the meal plans sent right to your inbox each week?