How to Find Healthy Granola/Snack Bars at the Grocery Store (+ my top 5 choices)
Announcing a new series here at Smart Nutrition, the Virtual Grocery Store Tour!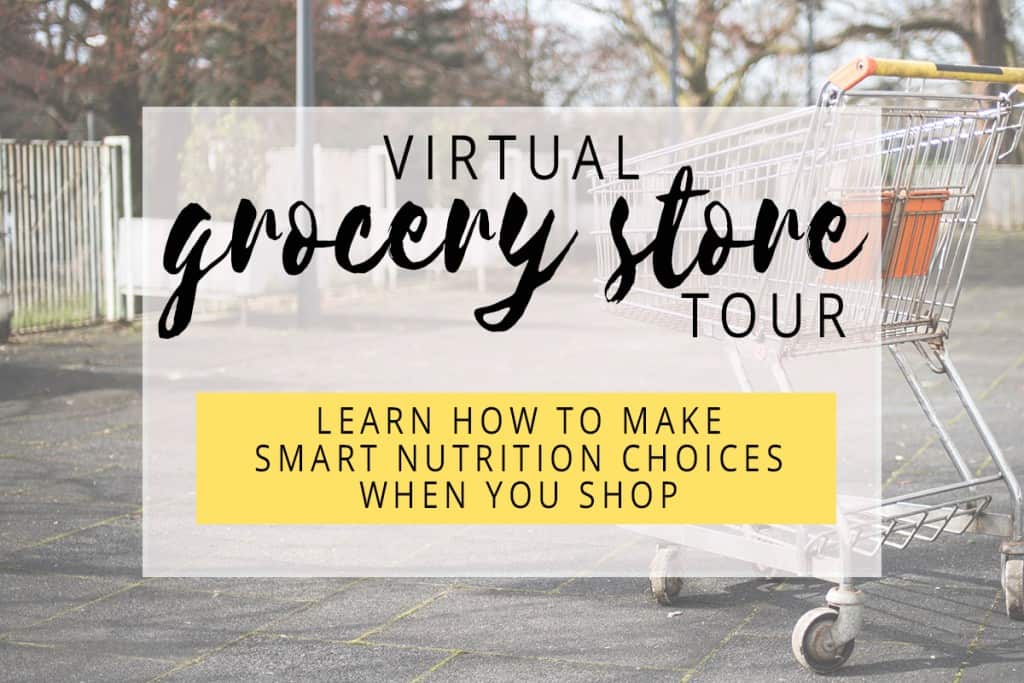 I'd love to meet all my readers in person and give each one of you a personalized grocery store tour, but that just isn't possible… unless you want to fly me all over the world. I'm down with that! But until then, I'm taking the tour to you! You don't even have to leave the comfort of your own home.
Why Granola Bars?
Granola and snack bars are a convenient item to have on hand as a back-up item.
Keep them in the pantry for those times when life gets busy. Sometimes making homemade snacks is pushed down on the to-do list. (If you are feeling ambitious though, try these Aussie Bites and have this Brownie Batter Hummus on hand for dipping fresh fruit)
Keep one in your purse or in your car for when your stomach is growling and you're unexpectedly stuck in traffic.
The granola and snack bar aisle can be overwhelming. The worst part is that most of the options are just chocolate bars in disguise. Here's how to sift through them and make a smart choice:
Look for a maximum 10:1 ratio of carbs:fibre. Only 3% of Americans get the recommended daily amount of fibre!  A team of researchers examined 545 products that called themselves "whole grain." The 10:1 ratio was the best indicator for finding the healthiest product, i.e. lower in sodium/sugar and higher in fibre. This is the ratio of carb to fibre that naturally occurs in whole grains, so take a cue from nature. An even lower carbs to fibre ratio is better.
Look for a minimum of 4 g of protein. Protein is a nutrient that's often missing from snacks. Protein helps keep you feeling fuller for longer. A good snack will be able to bridge a long gap in meals and keep you satisfied for 1.5-2.5 hours. You'll need protein to accomplish this goal.
Look for less than 8g of sugar. Although sugar isn't the demon many people make it out to be, most people do over consume the sweet stuff. It's found in a ton of pre-packaged foods, so if you rely on convenience items, looking out for the sugar content is especially important for you.
Avoid ingredient lists with several "-oses." Ingredients ending in "ose" such as sucrose, glucose-fructose, or high fructose corn syrup. The manufacturer has to list the ingredients in descending order by weight. If they use several different types of sugar then they get pushed lower down on the list but if you added them all up, they would rank higher. Health Canada just announced new labeling laws that will require manufacturers to lump all the sugars together so the food companies will no longer be able to use this trick on you! But labels take a long time to change so it will be a couple of years before you can rely on this.
Below are my top 5 choices for snack bars. Don't just go by the brand names listed here, because each brand has widely varying bars, with widely varying nutritional content.
5 Top Health-Rated Snacks Bars
Kashi: Honey Almond Flax
Nutrition Info: 150 calories, 19g carbs, 4g fibre, 5g sugar, & 7g protein
Gluten free?: no
Price: ~$.50/35g bar
This bar contains a blend of 7 different whole grains and boosts its protein content with a soy protein isolate.  My main complaint with this one is that while honey does make an appearance it's way, way down on the ingredient list. The bar is primarily sweetened with brown rice syrup and cane syrup. A bit of misleading advertising, if you ask me.
Simply Protein: all varieties

Nutrition Info for Lemon Coconut: 150 calories, 16g carbs, 7g fibre, 1g sugar, & 15g protein
Gluten free?: yes
Price: ~$2.79/40g bar
The stats on this one are astounding. 15g of protein, 7g fibre, and only 1g of sugar? It's hard to believe that's even possible. The protein in this bar comes from peas, which are part of the legume family, same as soybeans. Peas are lower in fat and higher in fibre than soybeans.
If you're used to buying a high sugar bar, this one will be a shock to you. The low amount of sugar isn't substituted with artificial sweeteners. It is what it is: a low sugar bar. But if you bite into it not expecting a hit of sugar, it's good! A little chalky but then again with 15g of protein, it would be hard to get away without any chalkiness at all.
Kind Bars: Dark Chocolate Nuts and Sea Salt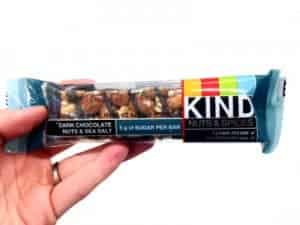 Nutrition Info: 200 calories, 16g carbs, 7g fibre, 5g sugar, & 6g protein
Gluten-free?: yes
Price: ~$1.99/40g bar in the grocery stores
The KIND bars focus on whole nuts, fruit, and grains for the main ingredients.  The chocolate lover in me appreciates the chocolate drizzle. A nice surprise, considering they still manage to keep the sugar under 5g. If you are sensitive to high amounts of inulin, stay away. This is what they use to bump up the fibre content.
True to Nature: Rich Peanut Butter
Nutrition Info: 140 calories, 17g carbs, 5g fibre, 5g sugar, & 6g protein
Gluten-free?: wheat-free but contains oats
Price: ~$.70/35g bar
This one comes in at the lowest number of overall calories and has a good ratio of fibre, sugar, and protein. The other flavours in the variety pack – Pomegranate Almond, and Simply Sweet Seeds – are also good choices.
Nature Valley: Crunchy Peanut Butter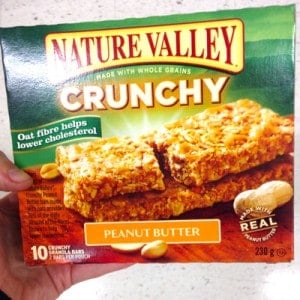 Nutrition Info: 220 calories, 28g carbs, 3g fibre, 9g sugar, & 5g protein
Gluten-free?: contains oats but doesn't explicitly contain any ingredients with gluten
Price: ~$.20/23g bar
The sugar is a tad high on this one but the serving size is bigger too. I also wanted to highlight this one because it's an option that is found in most grocery stores in the regular granola bar aisle. Two bars come in each package, but I would recommend only eating one bar and pairing it with a fresh apple. On top of the extra nutrition, this is actually a far tastier way to eat these bars than on their own. It's a delicious combination that tastes just like an apple pie. I find the bars on their own are dry and crumbly, but those drawbacks are a bonus when contrasted with a juicy apple.
Special Mention….Lara Bar: Apple
Nutrition Info: 200 calories, 24g carbs, 5g fibre, 18g sugar, & 4g protein
Gluten-free?: yes
Price: ~$1.99/45g bar
The sugar content on this one is sky-high but I think it has some merit, because:
a) it has only four ingredients (mashed up nuts and fruit) and
b) it's made from whole foods
How does your favourite snack bar rank? Does it fall under my recommended guidelines? Have you tried any of my top five?
Disclosure: this article contains affiliate links
[share title="Share This Article" facebook="true" twitter="true" google_plus="true" linkedin="true" pinterest="true" reddit="true" email="true"]