Ratatouille on Breakfast Television
I want to thank Breakfast Television for giving me the opportunity to share some tips for parents of picky eaters. Below you can read more about the three tips I gave to viewers, and I've posted the recipe at the bottom.
3 Tips for Your Picky Eater
1. Enjoying the taste of new foods is a learning process
Many people think that we are born with our taste preferences. Either we like a food or we don't, right? Obviously there are some individual taste preferences, but most people can learn to like new foods. Studies show that it can take up to 15-20 tastes of a food before someone will like it! Most parents say that they will give up serving a food after their child has rejected it only three times. Persistence is key.
Some foods are innately easier to learn to like than others. These are the high fat, sweet, and salty foods. Other foods are innately harder to learn to like. These are the more bitter or tart foods like broccoli or cranberries.
Think about coffee. Did you like coffee the first time you tried it? This bitter beverage usually requires several exposures to learn to like. Or… it requires a lot of cream (high fat) or sugar (sweetness) for people to enjoy.
2. Pair a new food with a familiar food
When a child encounters a new food, they're experiencing an entirely new situation. New situations can be scary when you're on your own, like your first day at a new school. Having a friend along can lessen the intimidation. Something familiar makes it less scary to experience new things.
It's similar with food. If you pair a food your child already likes with a new food, they will feel more confident to try the new one since they know they can fall back on the familiar food if they don't like it.
3. Include kids in the kitchen
Familiarity with food instills more confidence in kids to try these foods. Getting your kids involved in preparing foods is a great way to increase familiarity. Also, children will feel proud for helping out and will be more willing to try the foods they had a hand in preparing. In other words, getting kids to help cook will generate buy-in and make the child feel more empowered.
Ways children can help make this recipe
Oil: measure the oil into a measuring cup and pour it into the pot
Garlic: peel the paper off and use the garlic press
Veggies: slice and dice with a knife appropriate for their skill level
mushrooms can be cut with a plastic knife
eggplant slices can be diced with a table knife
Tomatoes: use the can opener and pour the tomatoes into the pot
Herbs: tear the herbs into small pieces
Salt: sprinkle the salt from the salt shaker
If you give this recipe a go, let me know! Leave a comment, rate it, or snap a photo and tag it with #smartnutritionrecipes on Instagram! I'd love to see your creations! Knowing someone has enjoyed one of my recipes always makes my day brighter.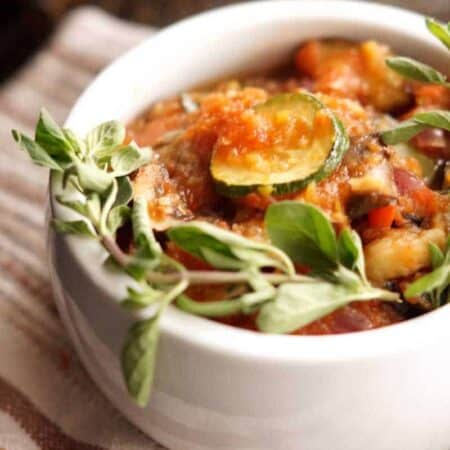 Ratatouille
Print Recipe
Ingredients
1

medium eggplant

sliced

2

medium zucchinis

sliced

handful of mushrooms

sliced

2

tablespoons

olive oil

1/4

cup

olive oil

1

large onion

red or white, finely chopped

1

head of garlic

minced

2

red peppers

chopped

1

28 oz can of diced tomatoes

fresh basil

fresh oregano

salt

to season
Instructions
Preheat oven to 375 degrees Fahrenheit.

Place the eggplant, zucchini, and mushrooms in a single layer on a baking sheet. Drizzle with the first amount (2 tablespoons) of oil.

Place in oven for 20 minutes. Stir and return to oven for 10 minutes.

In a large pot, heat the second amount of olive oil (1/4 cup) over low heat.

Saute the onion and garlic until translucent.

In a blender, combine the red peppers and can of diced tomatoes. If you prefer a chunkier stew, skip this step.

Add the red peppers and tomatoes to the pot.

Simmer about 10 minutes or until the red peppers are soft (chunky version).

Tear fresh basil and oregano over pot.

Add in the oven roasted veggies.

Sprinkle salt to season.
Notes
Serve with fresh bread, poached or fried eggs, and cheese.
And here's the link to the Breakfast Television clip!
[share title="Share This Article" facebook="true" twitter="true" google_plus="true" linkedin="true" pinterest="true" reddit="true" email="true"]