4 Minute 4 Ingredient Salted Caramel Sauce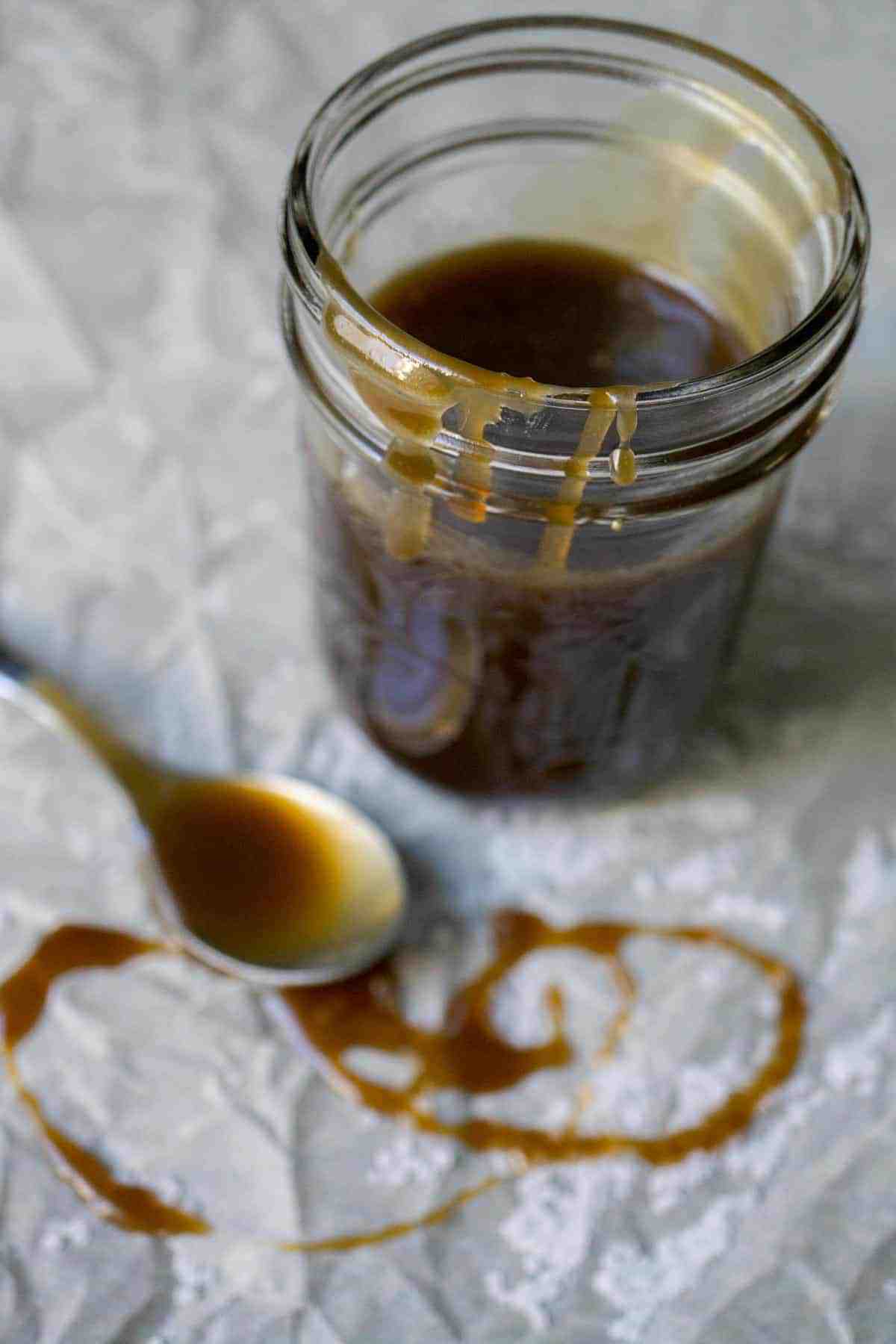 Yesterday my husband completed our semi-annual event where the interior of our car gets a thorough tidying and cleaning. I just love the feeling of a dust-free, clutter-free car. When it's clean like this, I'm always so confident that I'll keep it this way. I couldn't imagine leaving random objects in the backseat. I'm really good at keeping it tidy for about three weeks… then my resolve starts to weaken and I leave a mitten behind. And then that one mitten just opens up the floodgate and the clutter starts to pile up again. There's a constant battle waging inside of me.
One voice tells me "if you were able to carry it into the car then you're able to carry it out of the car."
Then the other voice rebuttals with "but if you go shopping then you inevitably bring home more than you left with. You really can't help it."
I kind of like what the second voice says so I go with that one.
The whole scenario reminds me of dieting. A couple of times a year, people will get up the resolve and energy to focus on cleaning out their diets. They'll find a meal plan to follow or maybe even go on a "detox." But after a few weeks someone offers them a brownie, resolve starts to weaken, and they find themselves falling back into their old habits. The semi-annual detox just doesn't spark lasting change. It's better to make slow, sustainable changes that will stick with you for the rest of your life.
Enough of my philosophical ramblings. Let's get to this caramel sauce.
Sometimes you just need a caramel sauce…. stat. Am I right or am I right? Caramel emergency!
And I would prefer not to buy the canned stuff with artificial colours and flavours. Never mind the ingredient list, it's not even 15% as tasty as a homemade version. But most recipes call for whipping cream. I don't know about you, but I don't generally keep whipping cream on hand. I do tend to have ice cream in the freezer. So if I suddenly find myself in a dire situation that requires caramel sauce, I'm set with this recipe.
This recipe works well for…
caramel sundaes
drizzling over fancy lattes (I'm looking at you, Caramel Macchiato)
salted caramel black bean brownies
eating with a spoon (did the Dietitian just say that?)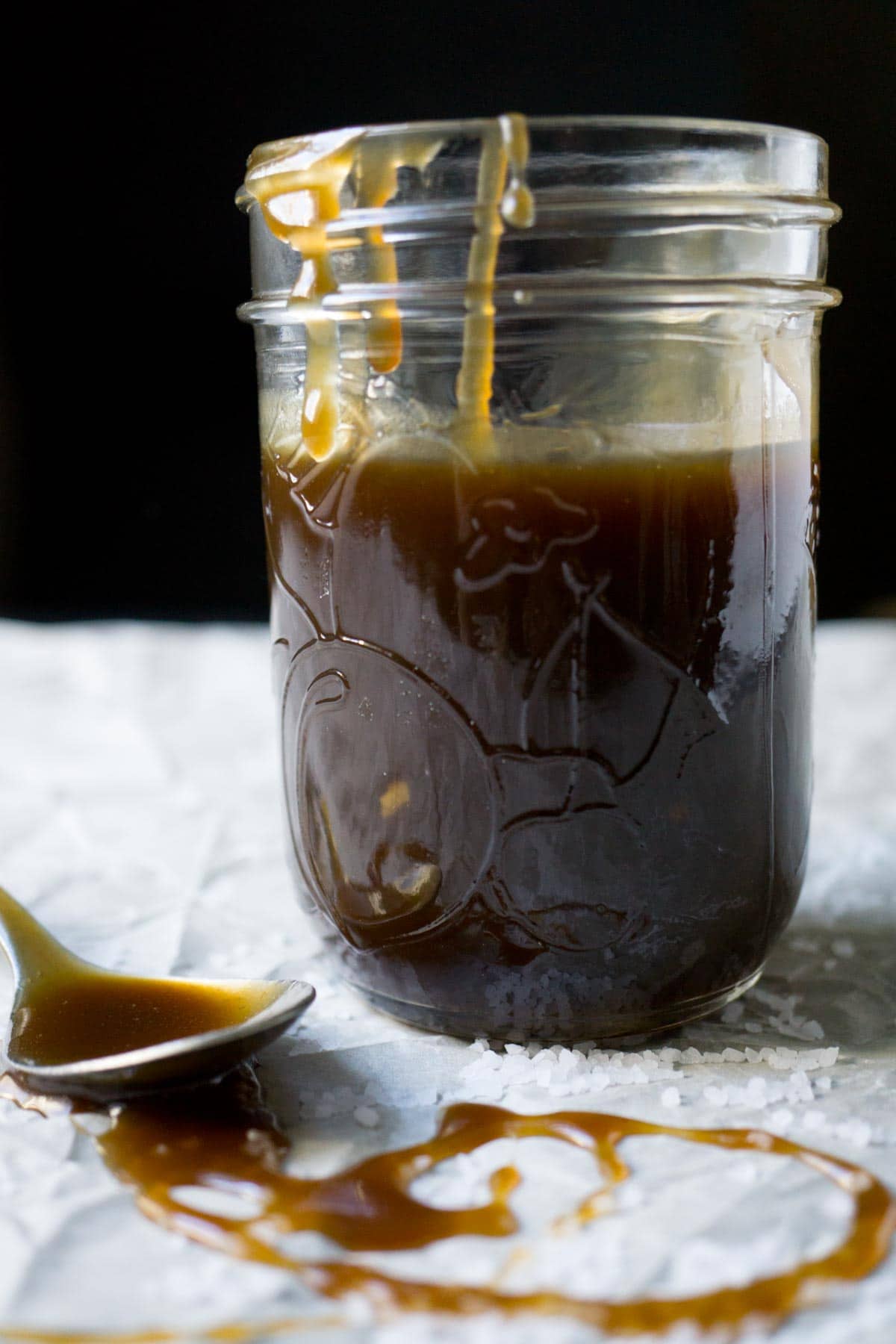 If you give this recipe a go, let me know! Leave a comment, rate it, or snap a photo and tag it with #smartnutritionrecipes on Instagram! I'd love to see your creations! Knowing someone has enjoyed one of my recipes always makes my day brighter.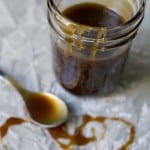 4 Minute 4 Ingredient Salted Caramel Sauce
Print Recipe
A quick and delicious salted caramel recipe!
Ingredients
½

cup

vanilla ice cream

make sure it's REAL ice cream!

¼

cup

butter

½

cup

brown sugar

½

tsp

salt
Instructions
Combine all ingredients in a glass 4 cup measuring cup. Microwave on high for 1 minute. Stir.

Microwave again for 1 minute. Stir.

Microwave again for 1 minute. Stir.

Watch to make sure it doesn't bubble over!
Notes
One recipe makes 3/4 cup caramel sauce.
[share title="Share This Article" facebook="true" twitter="true" google_plus="true" linkedin="true" pinterest="true" reddit="true" email="true"]