It can be easy to lose inspiration when these little ankle biters are hungry day in and day out several times a day! Here are some ideas to rejuvenate your toddler lunches!
I recommend that at least 3 or 4 food groups are offered at mealtimes. One should always be a fruit or veggie. Since I want to expose my little guy to both cooked and raw veggies, I've fallen into the habit of serving raw veggies at lunch and cooked veggies at supper. It's just a little shortcut I've given my brain so that it doesn't have to think as hard!

Note that the amount of food on these plates aren't prescriptions for how much a toddler should eat. Kids should be given a range of healthy food, and allowed to eat as much or as little as they need. I try to offer a small amount of each food so that my toddler isn't overwhelmed with food on his plate. I have refills close by and he knows he just has to ask (politely!) for more and I'll oblige.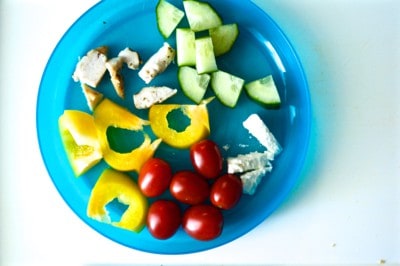 Cooked chicken
Cheese
Peppers
Cucumbers
Cherry tomatoes (cut in half lengthwise to prevent choking in young children)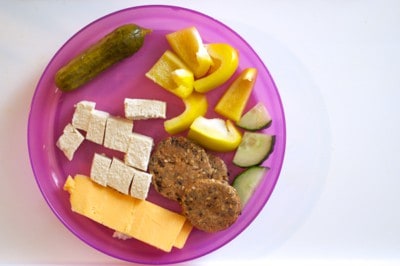 Tofu
Cheddar cheese
Whole grain crackers
Pickles
Yellow peppers
Cucumbers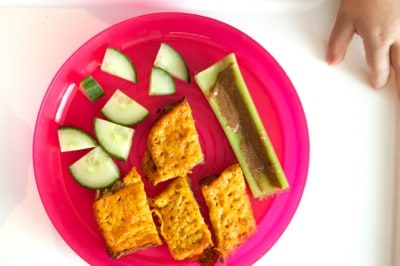 Cucumbers
Celery sticks with nut butter
Leftover farmer sausage and rice dinner
Cheese
Red peppers
Cucumber
Sun-dried tomato and tuna salad sandwich
Yellow peppers
Cucumber and ranch cottage cheese open faced sandwich
Cherry tomatoes (cut in half lengthwise to prevent choking in young children)
Cheese curds
Turkey pepperoni cut into bite-sized pieces
Cherry tomatoes (cut in half lengthwise to prevent choking in young children)
Whole grain crackers
Couscous salad with garden veggies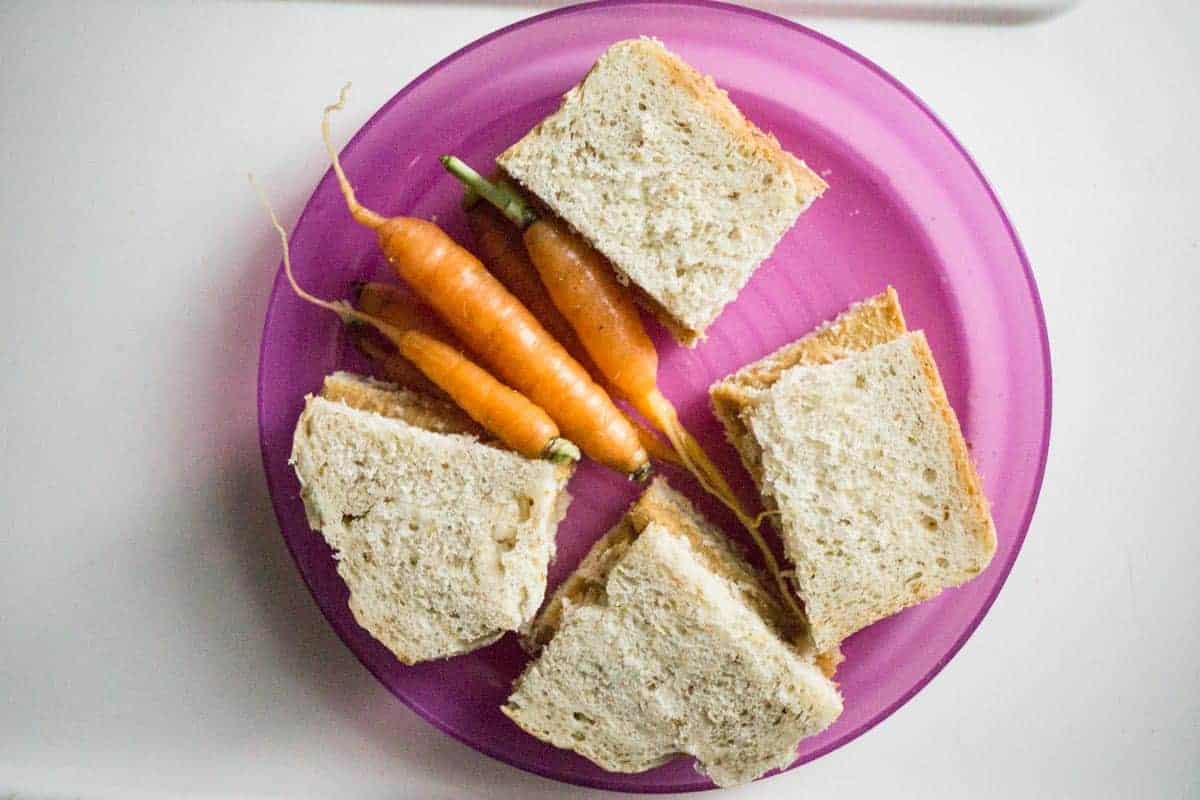 PB and honey sandwich on sourdough flax bread
Carrots (grate raw carrots for young children to reduce the risk of choking)
Panini grilled cheese sandwich
Cucumber slices
Cherry tomatoes (cut in half lengthwise to prevent choking in young children)
Whole grain wrap with cream cheese and cottage cheese
Sliced cucumbers
Cherry tomatoes (cut in half lengthwise to prevent choking in young children)
Leftover whole grain pasta with spaghetti sauce
Cherry tomatoes (cut in half lengthwise to prevent choking in young children)
[share title="Share This Article" facebook="true" twitter="true" google_plus="true" linkedin="true" pinterest="true" reddit="true" email="true"]