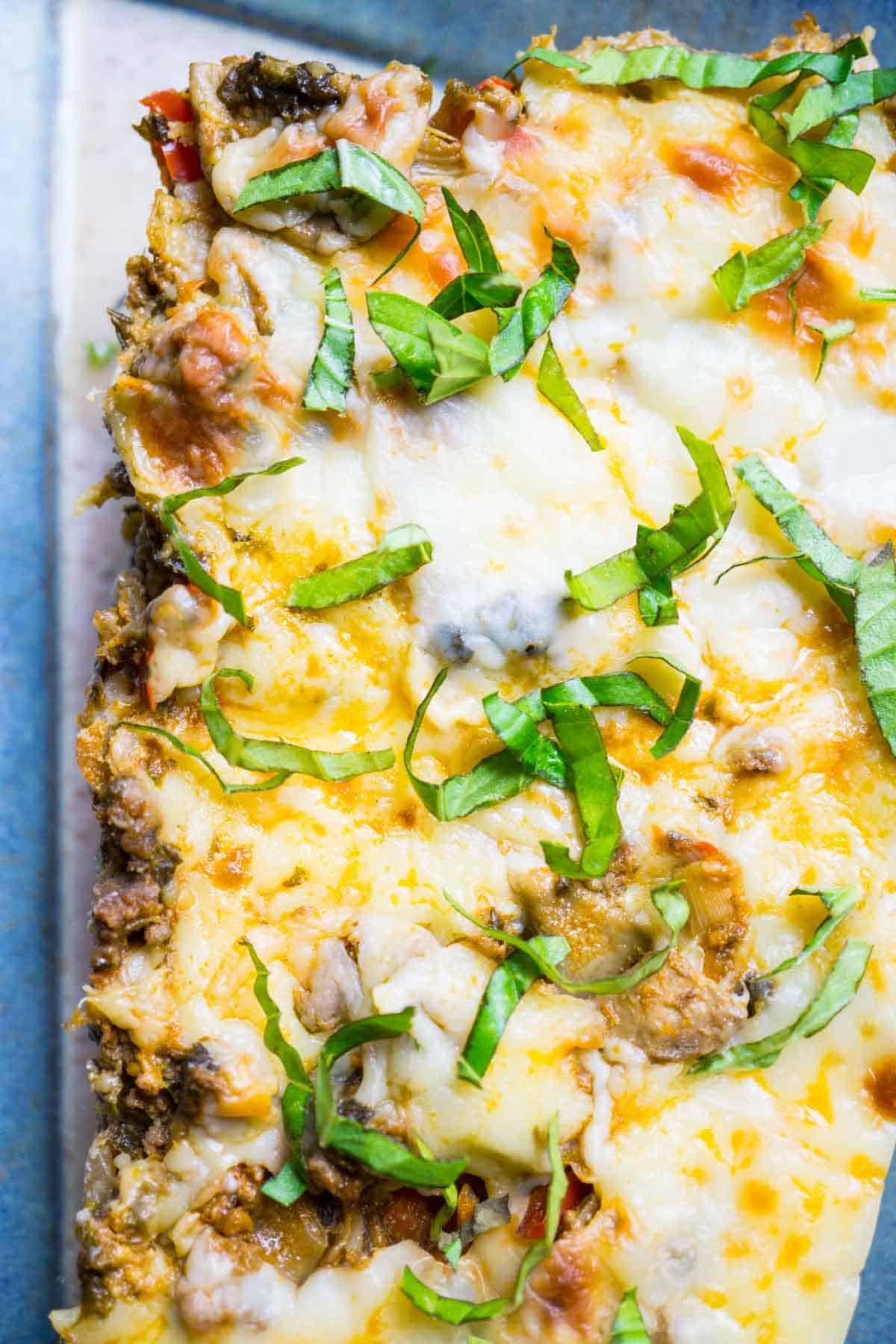 I just had one of those delicious and rare evenings that left me energized and full of joy. What did I do? I went grocery shopping. It was magical.
Perhaps I should clarify.
I went grocery shopping…
all.
by.
myself.
It's amazing the things you appreciate once you have a kid!
The other day I started telling a story about my university days by saying, "we went to the mall in order to…." but I couldn't finish the sentence. I couldn't remember why we were at the mall. Then it hit me. We were just university students with nothing better to do, so we went shopping. That life seems like an eternity ago… just so far out of the realm of my current existence that I completely forgot what it was like! Just… go shopping for fun? That sounds ridonculous!
But anyhow… how about some Three Cheese Spaghetti Squash Lasagna? Oh, you haven't jumped onto the grain-free train yet? That's okay. Me neither. I'm not really a believer in cutting out a whole food group. But I am a believer in eating more veggies and this is a great way to do that!
The spaghetti squash is aptly named. It truly looks and has the texture of spaghetti once it's cooked! It's something quite magical.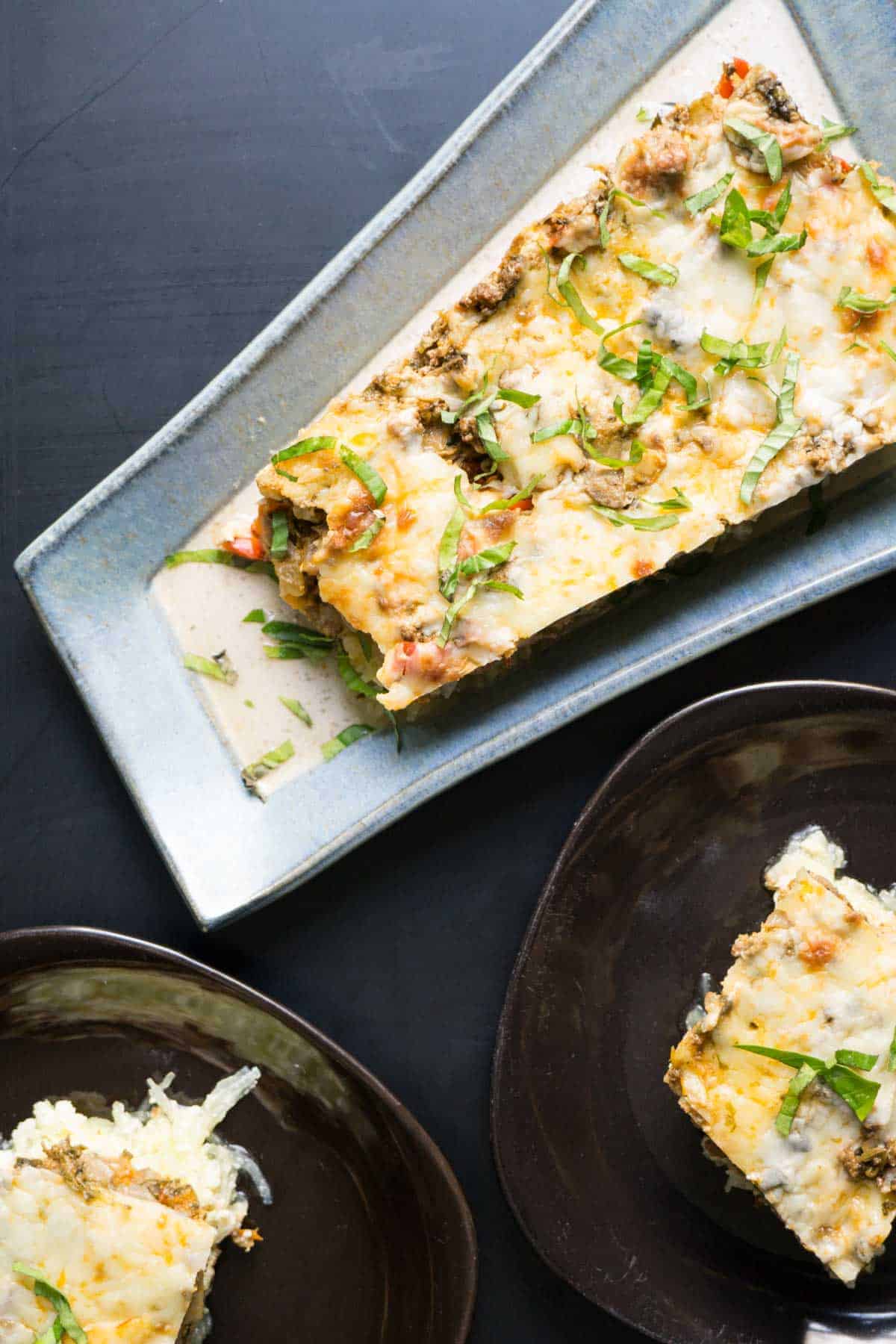 Why It's A Smart Choice:
Make a pan of this, and you won't have to cook again for a week! Eating the same thing everyday may or may not appeal to you. If it doesn't, don't fret because this recipe also freezes well!
Each slice of this "lasagna" has over 2 servings of veggies. It's also a very well-rounded source of most of your micronutrients: calcium, potassium, Vitamin A, iron, etc.
If you give this recipe a go, let me know! Leave a comment, rate it, or snap a photo and tag it with #smartnutritionrecipes on Instagram! I'd love to see your creations! Knowing someone has enjoyed one of my recipes always makes my day brighter.
Three Cheese Spaghetti Squash Lasagna
Print Recipe
Substitute spaghetti squash for lasagna noodles and you get a lightened up, veggie-cantered lasagna!
Ingredients
1

medium spaghetti squash

1

lb

lean ground beef

1

large onion

diced

4

cloves

garlic

minced

½

tsp

fennel seeds

¼

tsp

chili flakes

150

g

½ package of frozen spinach, defrosted

1

red pepper

diced

300

g

mushrooms

diced

1

cup

marinara sauce

½

tsp

salt

750

g

cottage cheese

3

eggs

½

cup

parmesan cheese

grated

300

g

mozzarella cheese

grated
Instructions
Preheat oven to 400 degrees Fahrenheit.

Cut the spaghetti squash in half, lengthwise. Remove the seeds and stringy bits. (Save seeds to roast later!). Place the squash halves, cut sides down, in a 9x13 pan. Fill with an inch or so of water. Bake for 30-40 minutes or until it's easily pierced with a fork.

Meanwhile, salute the ground beef with the onion, garlic, fennel seeds, and chile flakes. Once the meat is fully cooked, add in the spinach, pepper, and mushrooms. Cook until the mushrooms are soft then add the marinara sauce and salt.

In a mixing bowl, stir together the cottage cheese, eggs, and parmesan cheese.

Once the spaghetti squash is cooked, remove from oven and flip them over so that they are cut side up. Dump out the water in the pan.

Using a fork, scrape the spaghetti noodles into the emptied 9x13 pan. Spread evenly.

Layer the cheese mixture on top. Spread evenly.

Layer the meat sauce on top. Spread evenly.

Top with the grated mozza cheese. Cover with tented aluminum foil

Bake in the heated oven for 30 minutes. Remove foil and broil the cheese until browned.

Remove form oven and allow to sit for 10-20 minutes. This allows the casserole to set.
Nutrition
Calories: 286 Fat: 15g Carbs: 12g Fibre: 2g Sugar: 5.5g Protein: 26g
[share title="Share This Article" facebook="true" twitter="true" google_plus="true" linkedin="true" pinterest="true" reddit="true" email="true"]