Salted Caramel Black Bean Brownies (gf)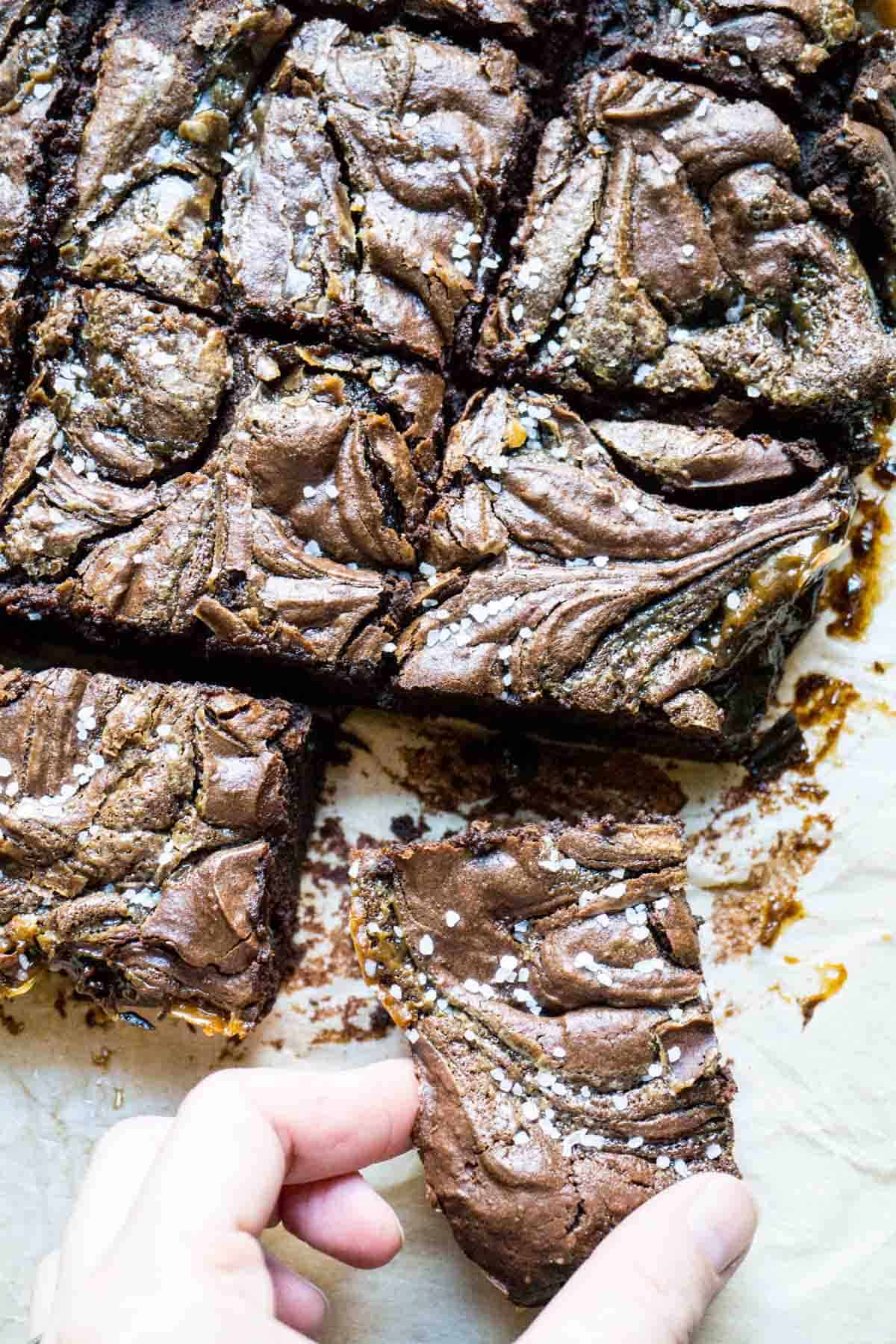 My cousin recently sent me a recipe for a Chocolate Mousse Pie. It's a supremely delicious looking recipe featuring butter, chocolate, and whipping cream. Yum. Yum. Triple yum.
It actually looks quite similar to my Espresso Dark Chocolate Torte, which is my all-time favourite decadent dessert. My cousin then asked me if I could transform it into something healthier.
No.
Just no.
You don't mess with a recipe featuring butter, chocolate, and whipping cream by trying to make it healthier!
I can tell she's been reading my articles though because she ended the email by asking if it was best to just let desserts be desserts and treat them as sometimes foods.
Bang on, cousin!
I'm all for giving recipes a health lift. I do it all the time here at Smart Nutrition. For example, my recipes for White Cheddar Mac n Cheese and Lentil Garlic Cheese Toast. But there can also be a danger in making a recipe more nourishing. It's a phenomenon the nutrition world likes to call "the health halo".
[x_blockquote type="center"]But there can also be a danger in making a recipe more nourishing.[/x_blockquote]
Here's what happens. You make a recipe healthier. You start to feel sooooo good about eating it. You start to imagine all the wonderful things these healthful additions are doing for your body. Then you eat way more of it than you would have if you had just left the delicious recipe alone.
Pinterest is rife with these health halos. Just because you add one healthful ingredient to a recipe doesn't make it a super nourishing health food.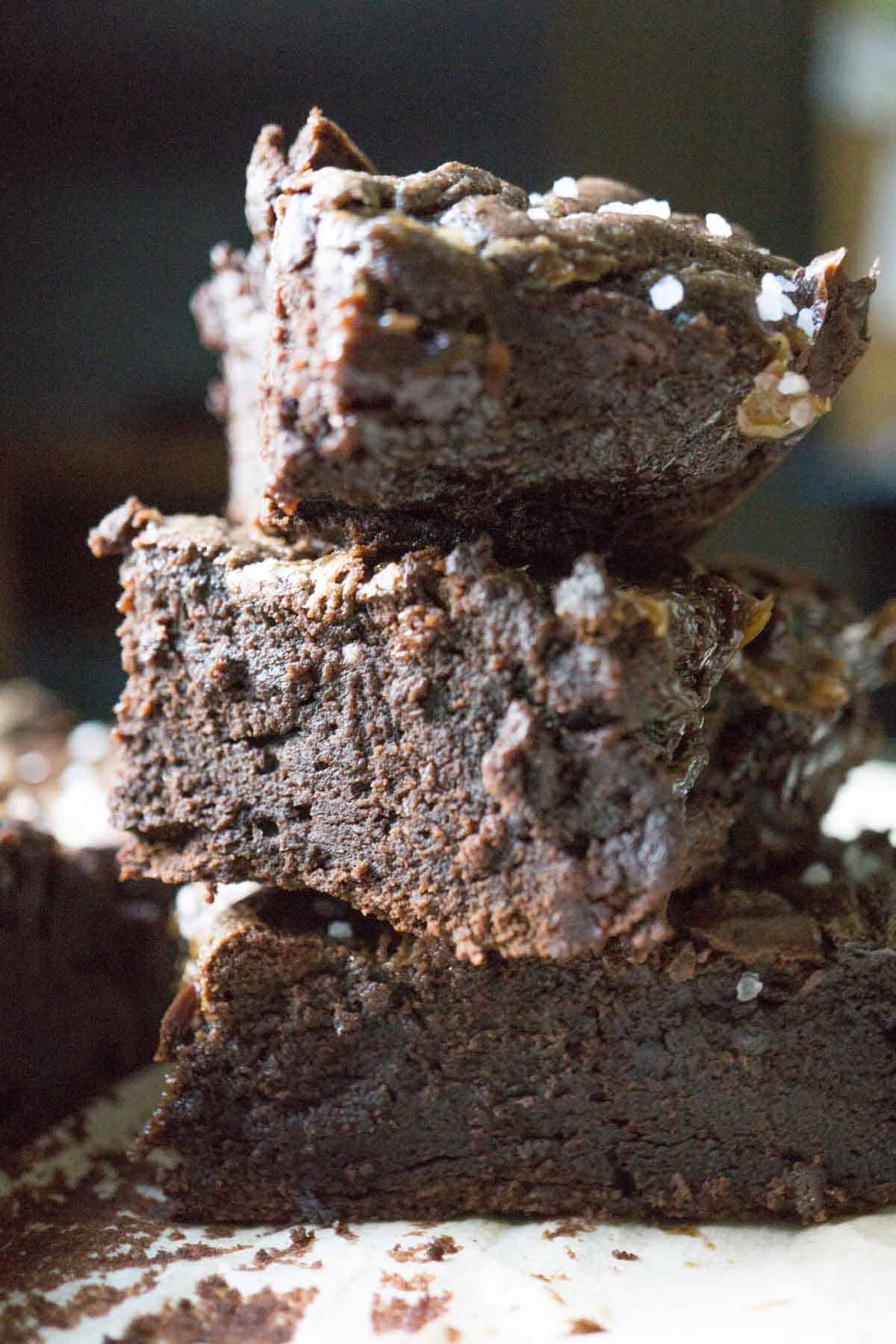 Case in point: the black bean brownie.
Find a recipe for black bean brownies that doesn't have the word 'healthy' in its description. It's a fun little game. Google it and try. For my search, the first page of results showed that every recipe except one highlighted how healthy it was.
I don't give a flying flip that you threw in some black beans. It's still a brownie, my friends! And brownies are desserts! And desserts are "sometimes" foods! Not breakfast! One blogger's post on black bean brownies mentioned how she felt good about giving them to her kids for breakfast. No, no, no, no, no! Just let the kids have Lucky Charms. They're no less healthy and it's a lot easier to just open a box of cereal than to bake brownies for breakfast.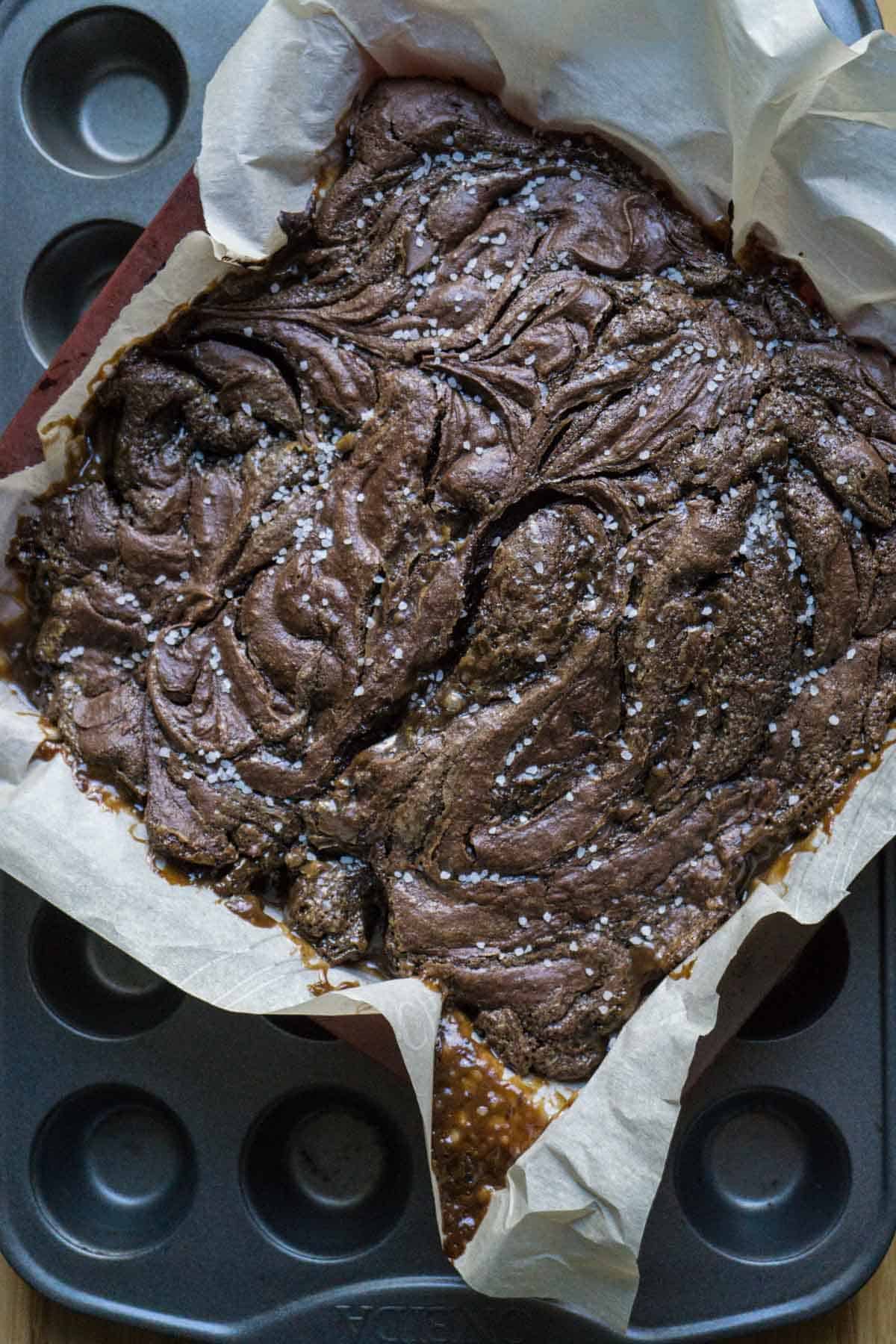 Yes, I sometimes like adding healthier ingredients into my sweets. But only if it doesn't compromise the taste! My desserts still need to be incredibly satisfying. When they're incredibly satisfying, then I'm very happy to just eat a small portion. If not, my sweet tooth will probably be peeking into the cupboard for some chocolate chips……
I'll end my rant and let you enjoy these black bean brownies.
If you give this recipe a go, let me know! Leave a comment, rate it, or snap a photo and tag it with #smartnutritionrecipes on Instagram! I'd love to see your creations! Knowing someone has enjoyed one of my recipes always makes my day brighter.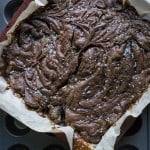 Salted Caramel Black Bean Brownies
Print Recipe
A fudge gluten-free brownie with the added goodness of black beans and a swirl of caramel deliciousness.
Ingredients
12

oz

semi-sweet chocolate chips

6

tbsp

butter

3

eggs

1.5

cups

cooked black beans

or 1 can, drained and rinsed

¾

cup

sugar

¼

cup

cocoa powder

1/3

cup

cornstarch

½

tsp

salt

1

tsp

vanilla

1

full recipe of 4 minute

4 ingredient caramel sauce *see note (or 3/4 cup of pre-made caramel sauce)

coarse salt

for sprinkling
Instructions
Preheat oven to 350 degrees Fahrenheit.

In a small pot, combine the chocolate chips and butter. Stir over low heat until completely melted.

Pour into a high-powered blender along with the remaining ingredients (except for the caramel sauce).

Turn blender on low and increase speed to high power and blend for 1 minute.

If you don't have a high powered blender, mash the beans well with a food processor. Combine all ingredients together in a bowl and stir vigorously for several minutes.

Spread about half the brownie batter into a 9x9 pan lined with parchment paper. Bake for 10 minutes.

Remove from oven and pour on the caramel sauce. Spread remaining batter on top. Use a table knife to cut through the batter in a ribbon pattern.

Bake for another 25 minutes.

Remove and sprinkle with coarse salt.

Allow to cool before slicing.
Recipe adapted from: Martha Stewart and The Recipe Critic
[share title="Share This Article" facebook="true" twitter="true" google_plus="true" linkedin="true" pinterest="true" reddit="true" email="true"]