White Cheddar Mac n Cheese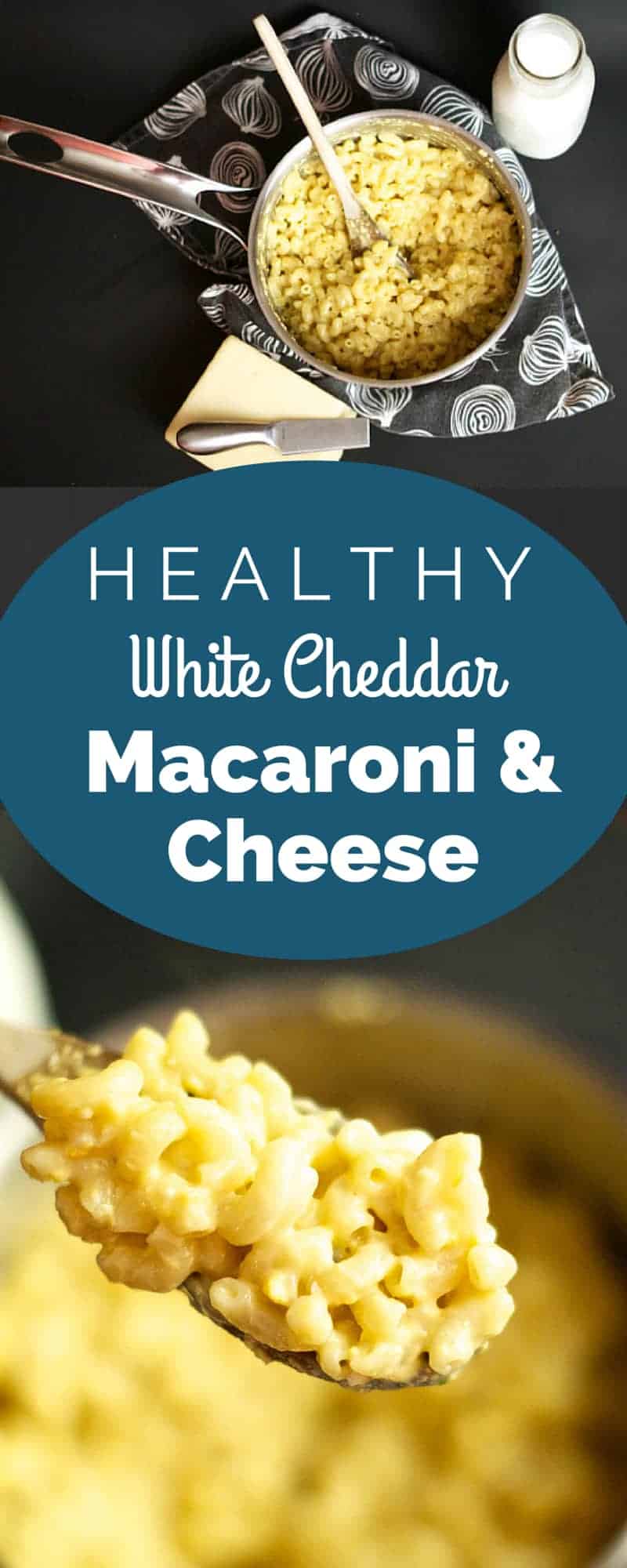 I have never eaten more Kraft Dinner than I did in my first trimester of pregnancy.
I've heard that Kraft Dinner is actually a term that's only common in Canada. So, for you non-Canadians, when I say Kraft Dinner I'm referring to the brand of Mac n Cheese that everyone buys here. It's quick. It's easy. It's not that healthy.
Usually, my diet is relatively balanced, healthy, and based on whole foods. I figured it would only get better once I got pregnant, since I'd be so motivated to nurture my unborn child.
Then the exhaustion hit and I went into survival mode. Each day after work I would crash on the couch. At some point I would muster up enough energy to eat a little bit. Then I'd crash again… in bed, out for the night. Kraft Dinner was perfect because a) it took little effort and b) it's my ultimate comfort food.
Well, I don't need Kraft Dinner anymore. If I get pregnant again I'll be prepared. I'm proud to say that I have now mastered a recipe for mac n cheese that's just as quick and easy as Kraft Dinner!
Why It's A Smart Choice
This probably comes as a shock but, gasp, the homemade version is healthier!
Not only does the homemade version contain only whole food ingredients, the nutrition profile is also much improved.
3x more fibre
nearly 2x more protein
half the sodium
only 0.5g of sugar compared 7g in the KD
I hadn't looked closely at the nutrition label of a box of Kraft Dinner before. The amount of sugar was news to me. One serving has the equivalent of nearly 2 tsp of sugar! And a serving is only 1/4 of a regular sized box. Who only eats 1/4 of a box? I'm going to wager that most kids probably eat 1/2 a box at a meal. That's 4 tsp of sugar!
| | | |
| --- | --- | --- |
| | One serving Kraft Dinner (prepared) | One serving homemade White Cheddar Mac n Cheese |
| Calories | 240 | 242 |
| Fat (g) | 5.5 | 9.8 |
| Sodium (mg) | 410 | 241 |
| Carbs (g) | 40 | 29 |
| Fibre (g) | 1 | 3.1 |
| Sugar (g) | 7 | 0.6 |
| Protein (g) | 7 | 12 |
If you give this recipe a go, let me know! Leave a comment, rate it, or snap a photo and tag it with #smartnutritionrecipes on Instagram! I'd love to see your creations! Knowing someone has enjoyed one of my recipes always makes my day brighter.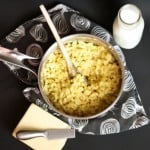 Healthy White Cheddar Mac n Cheese
Print Recipe
Just as quick as the boxed stuff but much, much healthier!
Ingredients
8

oz

whole wheat macaroni

2

eggs

1

tbsp

butter

3

tbsp

milk

1/4

tsp

salt

3.5

oz

white cheddar cheese

grated
Instructions
Fill a medium sized pot halfway with water. Cover with a lid.

Over high heat bring to a boil and add in the macaroni. Turn down to medium heat. Stir periodically until macaroni is cooked.

Meanwhile, grate your cheese, if needed and gather the rest of the ingredients near the stove.

Once the macaroni is cooked, turn the stove off. Drain noodles in a colander and return to the pot. Put the pot back on the hot element (but don't turn it back on... it will stay hot enough for a little while).

Crack the eggs over the noodles and stir until they are cooked. It will look weird and you will start to doubt why you decided to try this recipe. Stick with it. Everything WILL come together, I promise!

Next stir in the butter, milk, and salt until the butter is melted.

Dump in the cheese and stir until the cheese is all melted and evenly distributed.
Nutrition
[share title="Share This Article" facebook="true" twitter="true" google_plus="true" linkedin="true" pinterest="true" reddit="true" email="true"]