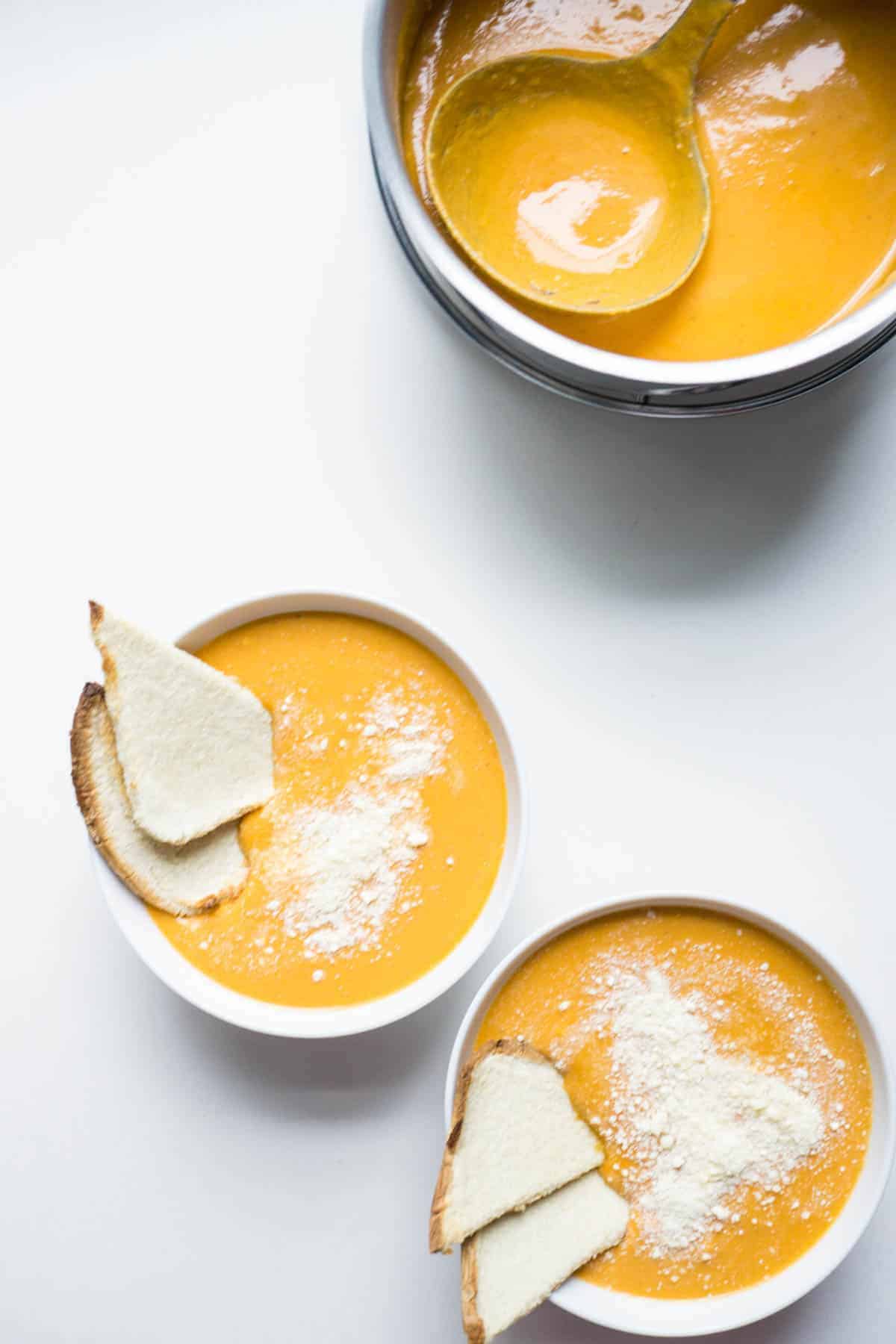 I've made this a few times now. I was trying to figure out the perfect blend. Not blend of seasonings and ingredients as you might imagine. But literally, the perfect blend.
It's a good thing I learned the Goldilocks story as a child because I needed the lesson contained within it to perfect this soup.
The first time I made it: I used the new immersion blender I just got for Christmas. I was a little disappointed with the texture. It didn't get absolutely smooth! I was surprised because I only have good memories of using my old immersion blender before it died. But that was all before the days of the Vitamix. I guess I've become accustomed to the silky smooth blend of a blender with a 2hp motor.
So the second time I made it: I transferred it to the Vitamix to blend. But then it seemed too smooth. Is that even possible? I don't know.
I decided to try a third round and blend half with the Vitamix and half with the immersion blender. Perfection.
Not too smooth. Not too chunky. Just right.
Thank you Goldilocks.
You might think that our family got sick of this soup at this point.
You might think that, but you'd be wrong. This soup is THAT good.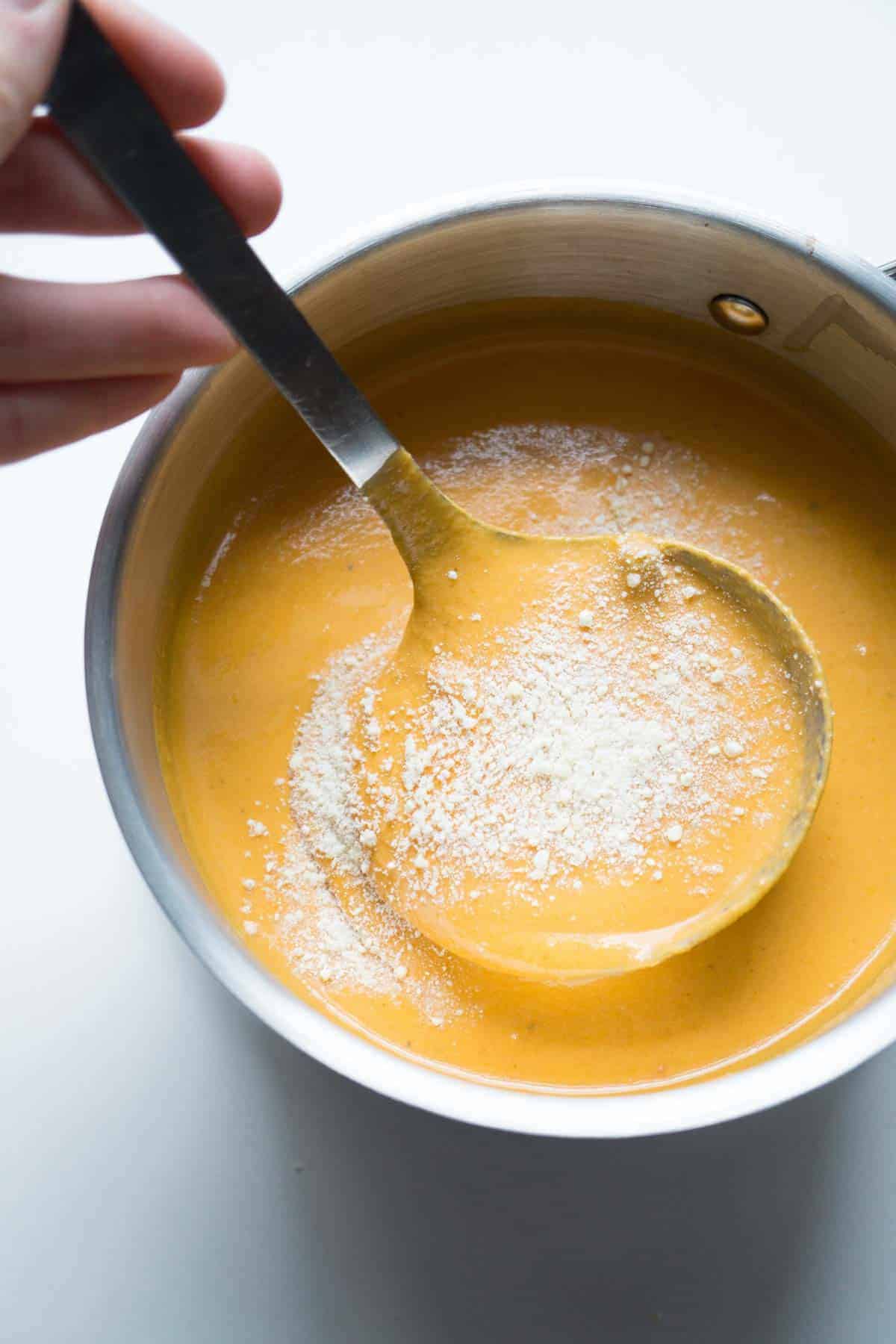 Why It's A Smart Choice
This recipe is a stellar source of several micronutrients that many people are deficient in: Vitamin A, folate, potassium, calcium, and iron. It's also a good source of fibre, with 8g per bowl!
Most cream soups call for whipping cream or half and half. I used evaporated milk, which is lower in fat, and higher in protein. For a good comparison of these different dairy products, check out the "Why It's A Smart Choice" for my Creamy Chicken and Gnocchi Soup.
If you give this recipe a go, let me know! Leave a comment, rate it, or snap a photo and tag it with #smartnutritionrecipes on Instagram!  I'd love to see your creations! Knowing someone has enjoyed one of my recipes always makes my day brighter.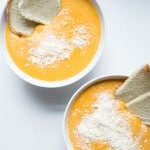 Creamy Tomato Bean Soup
Print Recipe
A hearty, filling, soul satisfying soup... that's full of nutrition!
Ingredients
1

tbsp

butter

1

medium onion

diced

1

carrot

sliced or diced

3

cups

cooked or 2 cans drained and rinsed pinto beans

5

cloves

garlic

1

tsp

basil

½

tsp

oregano

¼

tsp

smoked paprika

1

tbsp

vegetable bouillon

2

798 ml each cans of diced tomatoes

2

cups

water

2

340 ml cans of evaporated milk

½

cup

parmesan cheese
Instructions
In a large soup pot, melt the butter over medium heat.

Add the onion and carrot. Cook until onions are soft.

Add the pinto beans, garlic, basil, oregano, paprika, and bouillon. Cook for one minute.

Add the diced tomatoes and water. Cook until the carrots are soft.

Add in the evaporated milk and parmesan cheese.

Transfer half to a blender and blend until smooth.

Blend the rest of the soup in the pot with an immersion to a chunky texture.

Pour the blender blended soup back into the pot.

You could also blend it all in a blender or blend it all with an immersion blender. It's a matter of personal preference!
Notes
If you don't have pinto beans, navy beans or chickpeas would work too!
Nutrition
Calories: 307.5, Fat: 11.5g, Carbs: 38g, Fibre: 8g, Sugar: 15.5g, Protein: 16.5g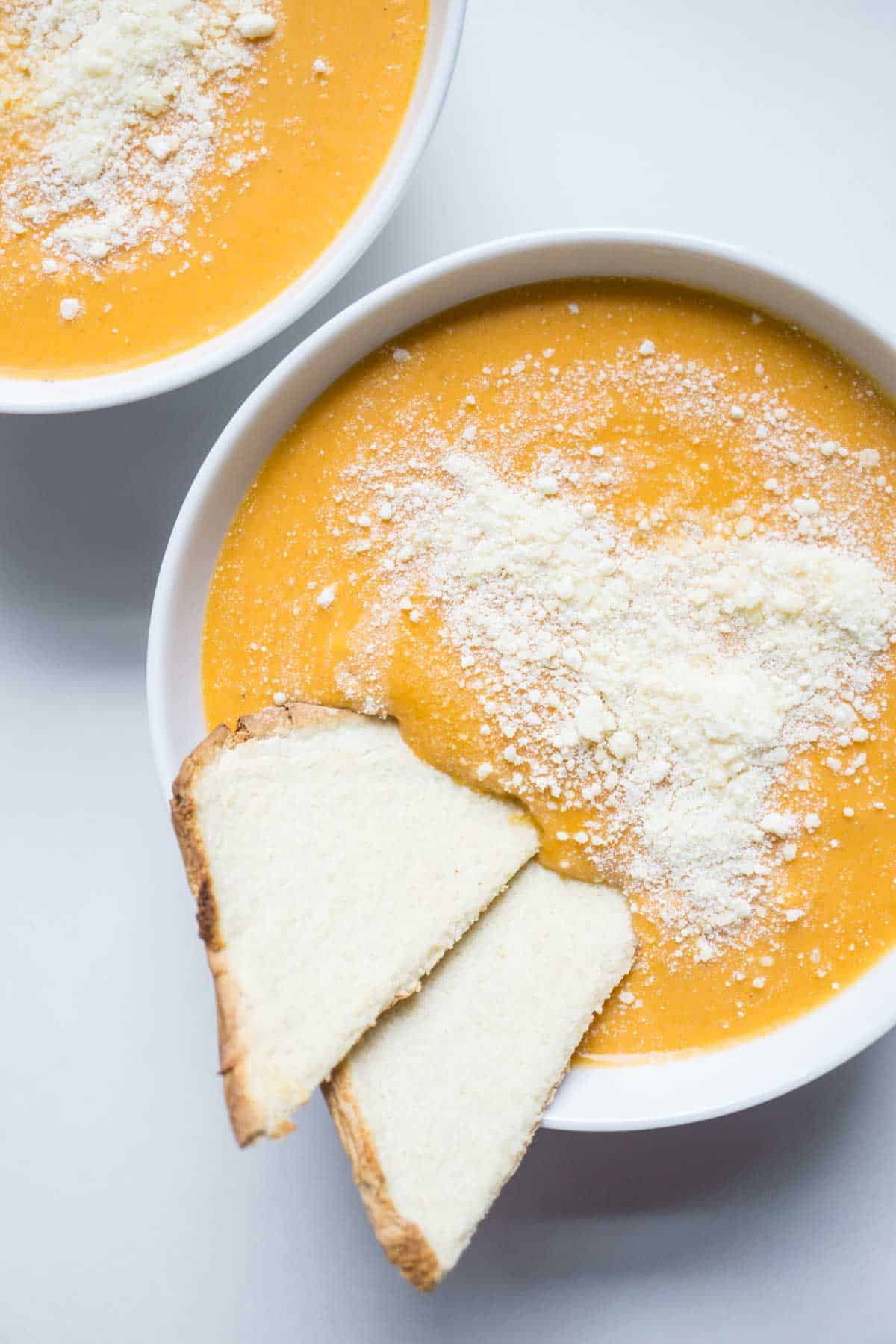 [share title="Share This Article" facebook="true" twitter="true" google_plus="true" linkedin="true" pinterest="true" reddit="true" email="true"]