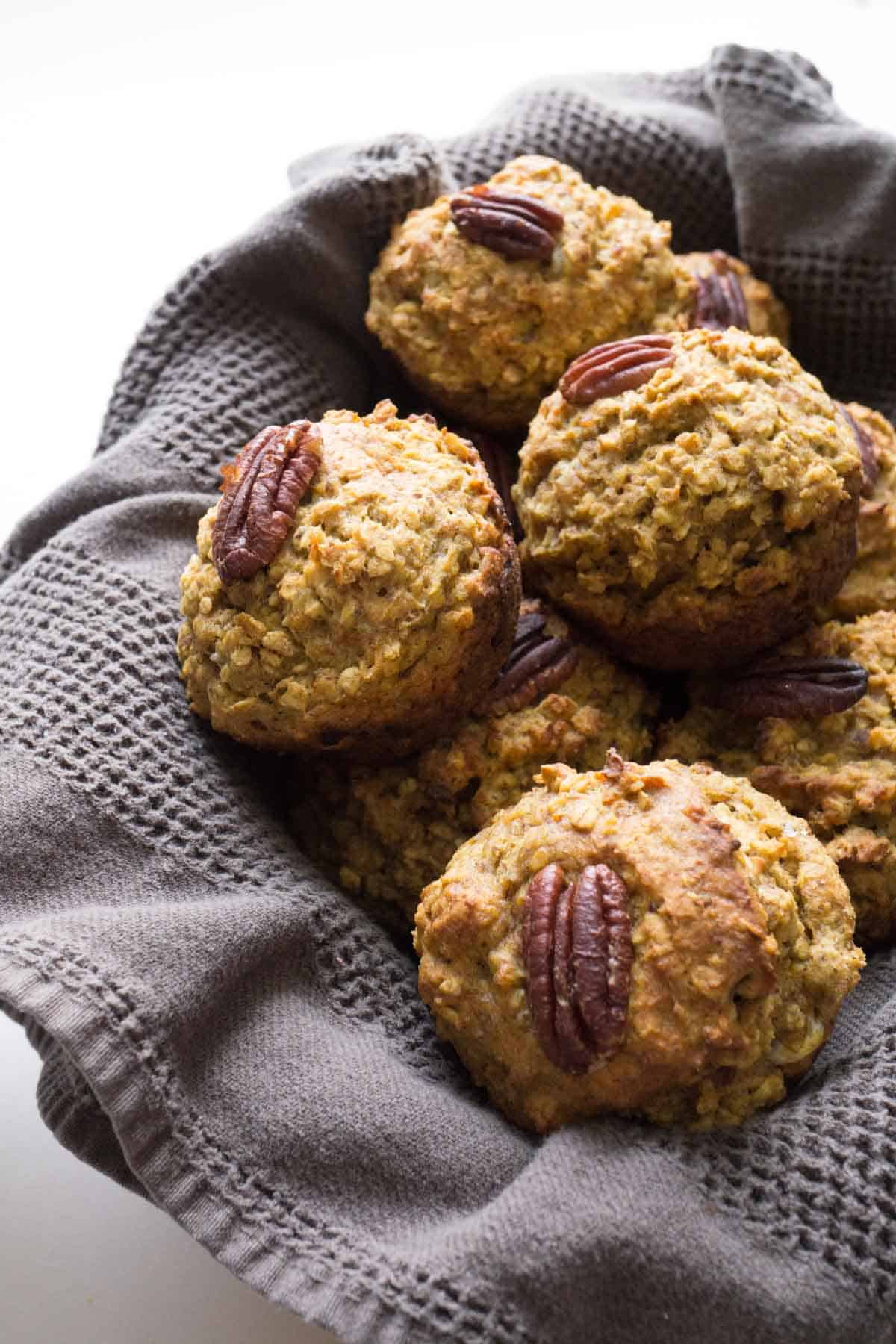 I've been eating a gluten free diet recently. Now that I'm in the habit of eating this way, it's usually pretty easy to follow… except when we go out for coal-fired pizza and I get total pizza envy because Jeremy's soft, chewy, pillowy crust looks amazing compared to my lifeless cracker crust!
I am happy though, that most places are pretty aware of the whole gluten thing and that they actually have gluten free crusts available. Truly, I am thankful.
But sometimes, it smarts a little. Gluten is an amazing protein and just can't quite be replicated. Bread, pizza crusts, and other products that require you to "work the dough" are amazing simply because of the gluten.
Quick breads, on the other hand, could care less about gluten. In fact, when you're making a quick bread (muffins, or loaves that don't require a long rise) gluten can ruin them!
So, I'm really happy to have developed a muffin recipe that's delicious. Not a "oh it's good for gluten free" type of way… but simply delicious. I really don't feel like I'm missing out on anything with this one!
And if you're lucky and don't have to eat gluten free, you can easily sub in all purpose wheat flour in this recipe!
Do you love how round those muffin tops are? I know it doesn't actually affect the taste, but a good muffin top just makes the whole muffin eating experience so much better.
There are three reasons why these muffin tops are so gorgeous:
a) The batter is a thick one to begin with
b) You won't over stir the batter (which is hard to do when it's gluten free)
c) You'll use a muffin scoop
Oh, you don't have a muffin scoop? Welcome to the game changer! Again, I know you can just use a couple of spoons to fill the muffin tins. So if you're a minimalist, I won't blame you if I come over to your house and you serve lumpy muffins. But if you want the perfect muffins, get a muffin scoop! I really love this one from oxo (click to buy from Amazon
).

Why It's A Smart Choice
One of the tricky parts of eating a gluten free diet is getting enough fibre. This is especially true if you eat a lot of gluten-free replacement foods instead of just searching out foods that are inherently gluten free, like quinoa or brown rice.
This recipe uses a gluten free flour mix that isn't high in fibre BUT that's balanced out with the addition of ground flax seed and oats. You end up with 4g of fibre in each muffin.
If you want to bump up the fibre even more, throw in a couple of tablespoons of inulin. This is what I usually do with most baked goods. Inulin is a clear powder extracted from the chicory root. (click here to buy on Amazon).
If you give this recipe a go, let me know! Leave a comment, rate it, or snap a photo and tag it with #smartnutritionrecipes on Instagram! I'd love to see your creations! Knowing someone has enjoyed one of my recipes always makes my day brighter.
Pumpkin Pecan Muffins (gluten free)
Print Recipe
A muffin so delicious you won't even notice it's gluten free!
Ingredients
1

cup

pumpkin puree

2

eggs

1

cup

Greek yogurt

½

cup

brown sugar

¼

cup

ground flax seeds

¾

cup

ground pecans

¼

cup

canola oil

2

tsp

cinnamon

½

tsp

vanilla powder

or 1 ½ tsp vanilla extract

1 ½

cups

flaked oats

1

cup

gluten free flour mix

see note

1

tbsp

baking powder
Instructions
Preheat oven to 400 degrees Fahrenheit.

In a large bowl mix together the pumpkin, eggs, yogurt, brown sugar, flax seeds, pecans, oil, cinnamon, and vanilla.

Add in the oats, flour mix (see note) and baking powder.

Scoop into a greased muffin tin.

Bake for 20-25 minutes or until a toothpick inserted into the middle muffin comes out clean.
Notes
Use a gluten free flour mix that has xanthan gum. I like the Mock Better Batter mix from: http://glutenfreeonashoestring.com/all-purpose-gluten-free-flour-recipes/
Also, if you don't need to make these gluten free, sub in all-purpose wheat flour instead!
Calories: 276.5, Fat: 12.5g, Carbs: 33g, Fibre: 4g, Sugar: 11g, Protein: 7g
I really like to use vanilla powder because the flavour is better preserved from the heat during baking. You can find it on Amazon here:
Disclaimer: this post contains affiliate links.
[share title="Share This Article" facebook="true" twitter="true" google_plus="true" linkedin="true" pinterest="true" reddit="true" email="true"]