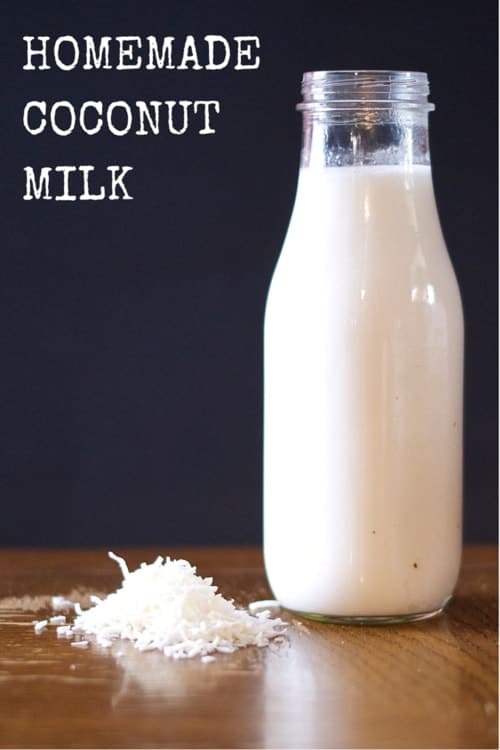 Save money and skip the BPA by making your own coconut milk! All you need are coconut flakes, water, and a blender!
I absolutely love cooking with coconut milk. Some of my all-time favourite dishes are Thai, Vietnamese, or Indian inspired curries, stir-fries, or soups with a coconut milk base. The coconut helps to mellow out the spices and lends a warm, tropical feel to the recipe. My pantry is usually stocked with several cans of the stuff.
As much as possible I try to use fresh foods or make things myself when it makes sense. It had never occurred to me before that I could make my own coconut milk but the thought struck me the other day so I did a Google and sure enough, homemade coconut milk is a thing. Thank you, Google, for showing me the way!
For a silky smooth coconut milk, you'll need to filter out the sediment. If you're making this coconut milk to drink, you'll definitely want to filter it. Unless you're the type of person who drinks the extra-pulp orange juice! Maybe you'd like your coconut milk a little on the "pulpy" side. The best and easiest way to filter it is to use a nut milk bag. You could use cheesecloth but a nut milk bag is reusable and therefore a) cheaper in the long run and b) better for the environment! Amazon has a wide selection. Check them out here (affiliate link).
When making homemade coconut milk as a beverage choice or something to wet your cereal with, please keep in mind that it will not be fortified with calcium or Vitamin D, as the storebought varieties are.
Why Homemade Coconut Milk is a Smart Choice
I did the calculations and based on an average price of $1.50 for a 398 ml can and $0.50/100g for shredded coconut, the homemade version is 5.4x CHEAPER than the canned! Hallelujah!
Nutritionally, the calorie/ml ratio is very similar. However, with the homemade version, if you don't filter out the sediment, your coconut milk will contain 2.24g fibre in every 100ml. Canned = 0g fibre.
Homemade version: BPA free. Most canned foods contain BPA epoxy resins in the lining to keep the can from oxidizing. The jury is still out on how much BPA exposure causes problems in the human body. If you primarily eat a whole foods diet and use canned items here and there in your cooking your exposure level is probably pretty minimal. But it certainly doesn't hurt to reduce it even more!
If you want to save time and buy coconut milk but are concerned about the BPA, don't worry! I've got you covered. You can buy this BPA-free coconut milk
 (affiliate link).
If you give this recipe a go, let me know! Leave a comment, rate it, or snap a photo and tag it with #smartnutritionrecipes on Instagram!  I'd love to see your creations! Knowing someone has enjoyed one of my recipes always makes my day brighter.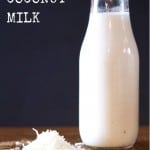 Homemade Coconut Milk
Print Recipe
Save money by making your own coconut milk!
Ingredients
1

cup

90g shredded unsweetened coconut

2

cups

hot water
Instructions
Turn on low then up to high speed.

Blend for 3 minutes.

If you are using in a soup or a curry, I recommend using as is. If you plan on using it as a beverage, then filter through a fine mesh sieve, cheesecloth, or

nut milk bag

. You can keep the sediment to add to smoothies or dry it out at a low oven temp and use as coconut flour.

Store in the fridge.
Notes
Makes 660 ml (2 and 2/3 cup)
Meal Planning to Save Money
My guess is that since you're interested in a DIY coconut milk recipe, you're probably the money saving type of person, am I right?
I love saving money, especially on everyday purchases like groceries! One of my favourite ways to keep our grocery bill low is by meal planning. If you want to save money and eat healthier, I highly recommend getting into a meal planning routine!
To get you started, I put together a free ebook with my top 10 Meal Planning Hacks! Sign up now!
Curious to know if coconut milk is the best choice for you to drink? There are over 20 varieties of milk and plant-based alternatives at the grocery store! But they are all different nutritionally. Check out this guide I wrote to help you figure out which is the healthiest milk for you and your family!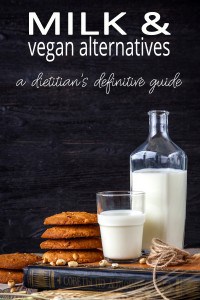 And if you're wondering whether coconut oil lives up to its nutritional hype, check out this article!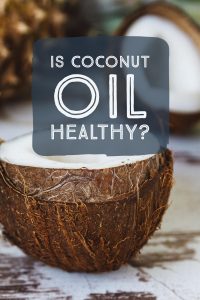 [share title="Share This Article" facebook="true" twitter="true" google_plus="true" linkedin="true" pinterest="true" reddit="true" email="true"]