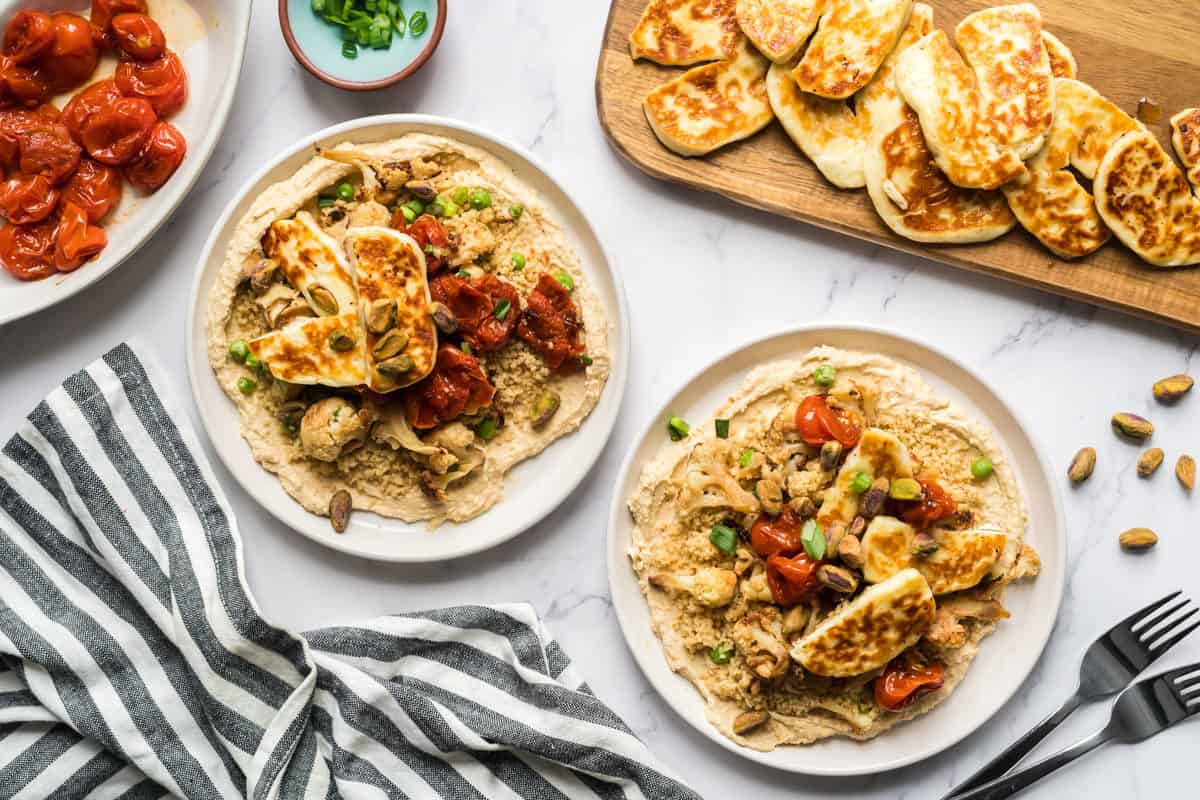 Sweet honey drenched salty halloumi, caramelized cauliflower, light and fluffy couscous, garlicky smooth hummus… this dish is like a litte tour of the Mediterranean on one plate!
This recipe was born out of a smash-up between a recipe I tried with a meal kit delivery service and a meal my friend implored me to try from The Keg.
It sounds all bougee but it's actually so easy to make!
It's just a layered meal of:
pre-made hummus
couscous (to make, all you have to do is add boiling liquid and let it sit)
roasted veggies
pan-fried halloumi (which takes less than 5 minutes)
topped with pistachios and green onions!
Next time you host a fancy dinner party, impress your friends with this recipe.
RECIPE FAQ
Where Can I Find Couscous?
Couscous originates from North African-Mediterranean regions such as present-day Morocco, Libya, Tunisia, and Algeria. It's similar to pasta in that it's made from wheat so you may find it in the pasta aisle. You may also find it in the international foods section.
Please note that there's also an Israeli style of couscous, that's composed of larger balls of semolina wheat. This isn't the right type for this recipe as you need to boil it.
I found a bag of whole wheat couscous at Superstore. I really enjoyed it but then again, I also prefer the taste of brown rice!
I also noticed that Superstore has a gluten free corn-based couscous.
Where Can I Find Halloumi?
Halloumi is a salty cheese that heats up well. And by that I mean it doesn't lose it's shape when heated! I would argue that a nice melty cheddar or mozza also "heats up well."
You'll likely find halloumi in the specialty cheese aisle of the deli section of your grocery store. If you don't find it there, check out a Greek or Middle Eastern market as halloumi originally comes from Cyprus.
What is This All-Purpose Seasoning You Speak of?
I developed this super simple seasoning mix to add to veggies when I roast them. I have yet to find a veggie that doesn't taste delicious roasted with this mix!
What if I Have Leftovers?
If you have leftovers then store the halloumi, couscous, and roasted veggies separately if you want to re-create the layered effect. When it comes time to eat the leftovers, layer your plate as instructed and microwave (adding the pistachios and green onions after heating).
If you don't care about aesthetics then just throw everything together in one container and call it a day.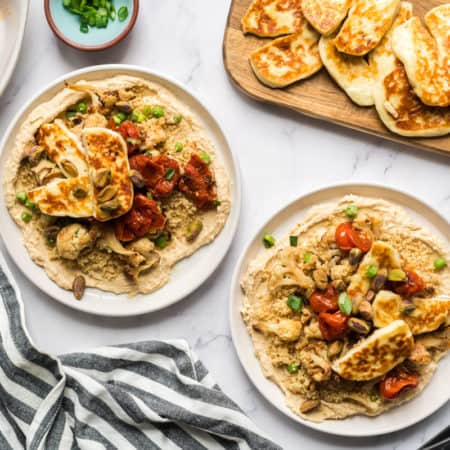 Honey Glazed Halloumi with Roasted Cauliflower and Couscous
Print Recipe
Sweet honey drenched salty halloumi, caramelized cauliflower, light and fluffy couscous, garlicky smooth hummus… this dish is like a litte tour of the Mediterranean on one plate!
Ingredients
¼

cup

olive or canola oil

1

head cauliflower

2

cups

cherry tomatoes

2

tsp

all purpose seasoning

recipe here

1

cup

chicken or vegetable broth

1

cup

uncooked couscous

½

cup

frozen green peas

defrosted

200

g

halloumi

1

tsp

honey

2

tsp

apple cider vinegar

1

cup

roasted garlic hummus

¼

cup

pistachios

1

green onion

sliced
Instructions
Preheat the oven to 425°F.

Drizzle the olive oil on a large baking sheet.

Slice the cauliflower into bite-sized pieces. Spread the cauliflower and tomatoes in an even layer on the baking pan.

Sprinkle the all-purpose seasoning onto the cauliflower.

Bake for 20-25 minutes or until the edges start to brown.

Meanwhile, heat the broth to boiling on the stove or in the microwave.

Stir the couscous into the broth and cover. Set aside for 5 minutes. Then fluff with a fork and stir in the defrosted peas.

Heat a non-stick frying pan over medium heat.

Slice the halloumi into 1/4 inch thick pieces and fry on each side until golden brown.

Stir together the honey and vinegar. If your honey is creamed you'll want to melt it in the microwave first.

Toss the halloumi with the honey vinegar solution and then discard the remaining solution.
ASSEMBLY
Layer the following on each plate: Spread a 1/4 cup of hummus on the plate. Top with 1/4 of the couscous, 1/4 of the roasted veggies, 1 tbsp pistachios, and a sprinkling of sliced green onions.
Nutrition
Calories:
665
kcal
|
Carbohydrates:
62
g
|
Protein:
28
g
|
Fat:
36
g
|
Saturated Fat:
12
g
|
Sodium:
1126
mg
|
Potassium:
969
mg
|
Fiber:
12
g
|
Sugar:
9
g
|
Vitamin A:
750
IU
|
Vitamin C:
95
mg
|
Calcium:
628
mg
|
Iron:
5
mg