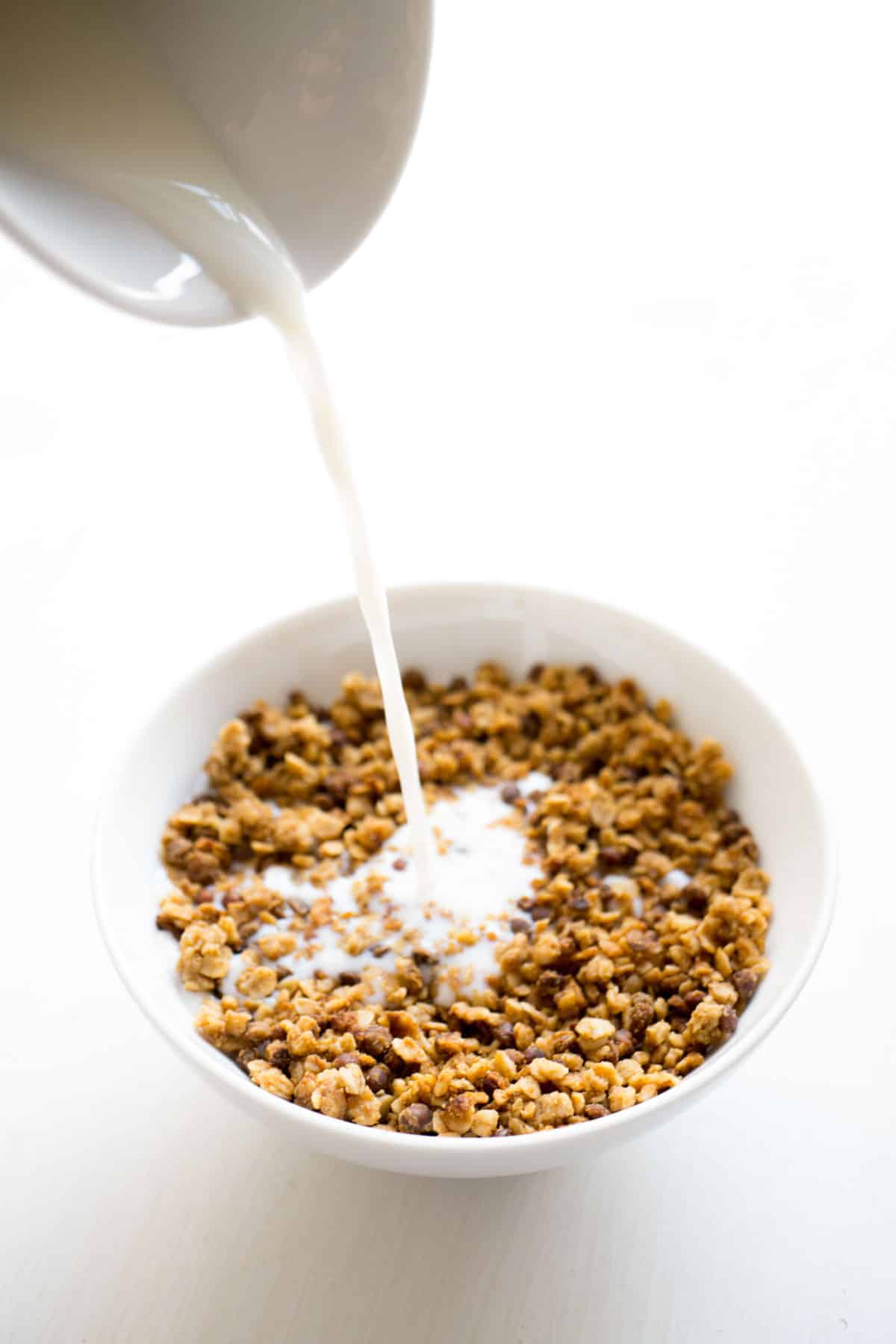 You're going to look at the list of ingredients, spot the lentils, and immediately head for the hills. But wait!
Remember the first time you heard of someone using cauliflower to make alfredo sauce? You were doubtful. But then you were curious and you tried it and it was delicious!
Or the first time you heard of someone using avocados to make chocolate pudding? Sounded strange but then you tried it and discovered a silky smooth treat.
I posted a lentil granola recipe about a year ago but it never got much love. I think it's because I didn't pump it up the way I should have.
But my sister made it recently and this is what she texted me:
So I thought I should revisit the lentil granola idea in order to convince you to try it. And I think this high protein peanut butter recipe almost speaks for itself (almost, because I'm clearly still doing my best to pump it up!)
I love how the little lentils crisp up so nicely! They're even crunchier than the oats. Since they don't have much flavour of their own they take on the peanut butter so well.
The best thing? It couldn't get simpler! There are only 6 ingredients.
If after reading this you still think lentils in granola is weird, I DARE you to try this recipe! You can't back down from a dare, can you?
Why It's A Smart Choice
Lentils are changing the world. And for very good reasons.
They're versatile. You can throw them in soups, spaghetti sauce, or burgers. Or you can make them into cookies or granola. Sweet or savoury, they just blend in!
They're nutritious. In some food guides lentils are considered a vegetable. In other food guides, they're considered a meat alternative. In other food guides, they're in both categories! Nutrition experts separate food into different groups based on the nutrients they provide. Since lentils are packed with so many nutrients, they can qualify for more than one group!
They're environmentally friendly. Compared to meat, they take less energy to grow and since they're shelf-stable once dried, they take less energy to transport and store. No refrigeration necessary!
If you give this recipe a go, let me know! Leave a comment, rate it, or snap a photo and tag it with #smartnutritionrecipes on Instagram! I'd love to see your creations! Knowing someone has enjoyed one of my recipes always makes my day brighter.
Peanut Butter Granola
Print Recipe
A healthy, tasty, and EASY granola recipe!
Ingredients
¼

cup

canola or coconut oil

1

cup

peanut butter

1/3

cup

brown sugar

½

tsp

vanilla powder or 1 tsp vanilla extract

1/2

tsp

baking soda

optional, see note

1

540 ml or 19 oz can of lentils, drained and rinsed

3

cups

rolled oats
Instructions
Preheat oven to 350 degrees Fahrenheit.

In a medium pot, melt the oil, peanut butter, sugar, and vanilla.

Once the mixture has just started to simmer, add in the baking soda, if using.

Pour over the lentils and oats in a large bowl.

Stir to combine.

Spread onto a cookie sheet. Bake for 10 minutes.

Take out a stir. Bake another 10 minutes.

Stir again. Keep baking and stirring at 10 minute intervals until the granola is a nice, golden brown. It will crisp up more as it cools.

Allow to cool, then break up and store in a sealed container.
Notes
The baking soda makes the sauce fizz up temporarily, making it easier to combine with the oats/lentils. This is it's only purpose in the recipe so it's optional.
Nutrition
235 calories | 13g fat | 23g carbs | 3.5g fibre | 5g sugar | 8.5g protein
I highly recommend vanilla powder for this concentrate. The vanilla in a liquid extract will evaporate with the alcohol while it's heating. It's not easy to find in stores but it's very easy to order it on Amazon
!

Disclaimer: this post contains affiliate links
[share title="Share This Article" facebook="true" twitter="true" google_plus="true" linkedin="true" pinterest="true" reddit="true" email="true"]