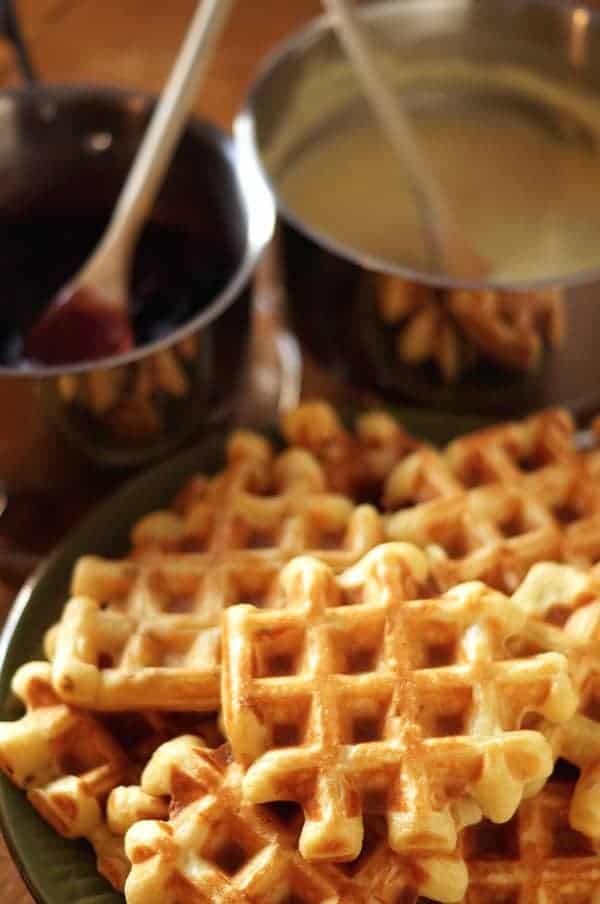 Crispy on the outside, chewy on the inside, these sourdough waffles are a healthier version of the traditional Belgian waffle.
I've always liked waffles. Who doesn't!?
Then I traveled to Belgium and figured I'd reached waffle heaven. Once you've had crispy, chewy, yeasty Belgian waffles there's no going back. I thought Belgian waffles were the pinnacle of waffle perfection!
But I was still willing to try another kind of waffles. I wanted to use some of my sourdough starter, but didn't feel like making bread. I love the health benefits of sourdough, so I figured I'd try sourdough waffles and see how I liked it. How could I not like waffles?
Little did I know I was about to step into the best waffle eating experience of my life….
I know believe sourdough waffles made in the Belgian style really IS the pinnacle of waffle perfection!
They are….
Crispy on the outside
Thick and chewy on the inside
So flavourful, with just the right amount of tang!
What to eat with these sourdough waffles
I honestly love just eating these straight up but they're also really good topped with
Why sourdough waffles are a smart choice
Health Benefits
This article has a great summary on the health benefits of sourdough bread. Check it out for all the references but here's the TLDR version:
The lactic acid bacteria cultured from sourdough starter breaks down most of the gluten in wheat flour. Although it's still not recommended for people with Celiac to run out and buy sourdough bread, this is a promising area of research for Celiacs. This is good news for people with gluten intolerance, who may be able to handle a small amount of gluten.
The sourdough bacteria are able to breakdown phytic acid found in whole grains. Phytic acid binds to minerals, rendering them useless for absorption by the body. So sourdough bread gives us more minerals to absorb such as iron, magnesium, and zinc!
Acrylamide, a carcinogenic compound, is formed when the amino acid asparagine is dry heated with other nutrients. This happens in the crust of bread or when bread is toasted. Sourdough bacteria reduce the amount of asparagine, thus reducing acrylamide production!
Sourdough bread has the lowest effect on raising blood sugar. In this study, subjects who ate sourdough bread for breakfast saw improved blood sugar control after lunch and even hours after lunch!
How to make a sourdough starter
In order to make sourdough waffles you'll first need to have a sourdough starter!
If you're new to the world of sourdough, this recipe will take you a week to make. You have to build up a healthy starter first! But don't worry: good things come to those who wait. Click here for the tutorial.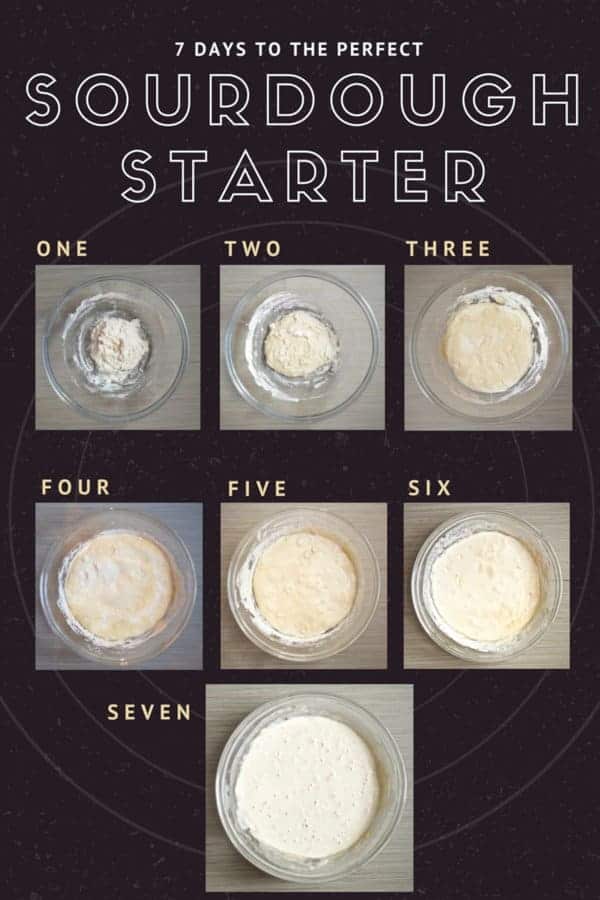 If you give this recipe a go, let me know! Leave a comment, rate it, or snap a photo and tag it with #smartnutritionrecipes on Instagram! I'd love to see your creations! Knowing someone has enjoyed one of my recipes always makes my day brighter.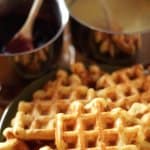 Overnight Sourdough Waffles
Print Recipe
Crispy on the outside, chewy on the inside, these sourdough waffles are a healthier version of the traditional Belgian waffle.
Instructions
Place the butter and milk in a large microwaveable bowl.

Microwave on high for 1 minute.

Take out and stir until butter is melted. You may need to put it back in the microwave for 15-20 seconds.

Then stir in the sourdough starter, salt, brown sugar, and flour.

Cover and allow to rest at room temperature for 8-14 hours (this is where the overnight part comes in)

In the morning add the eggs and baking soda.

Heat your waffle iron and cook according to your machines instructions!
Want more sourdough recipes?