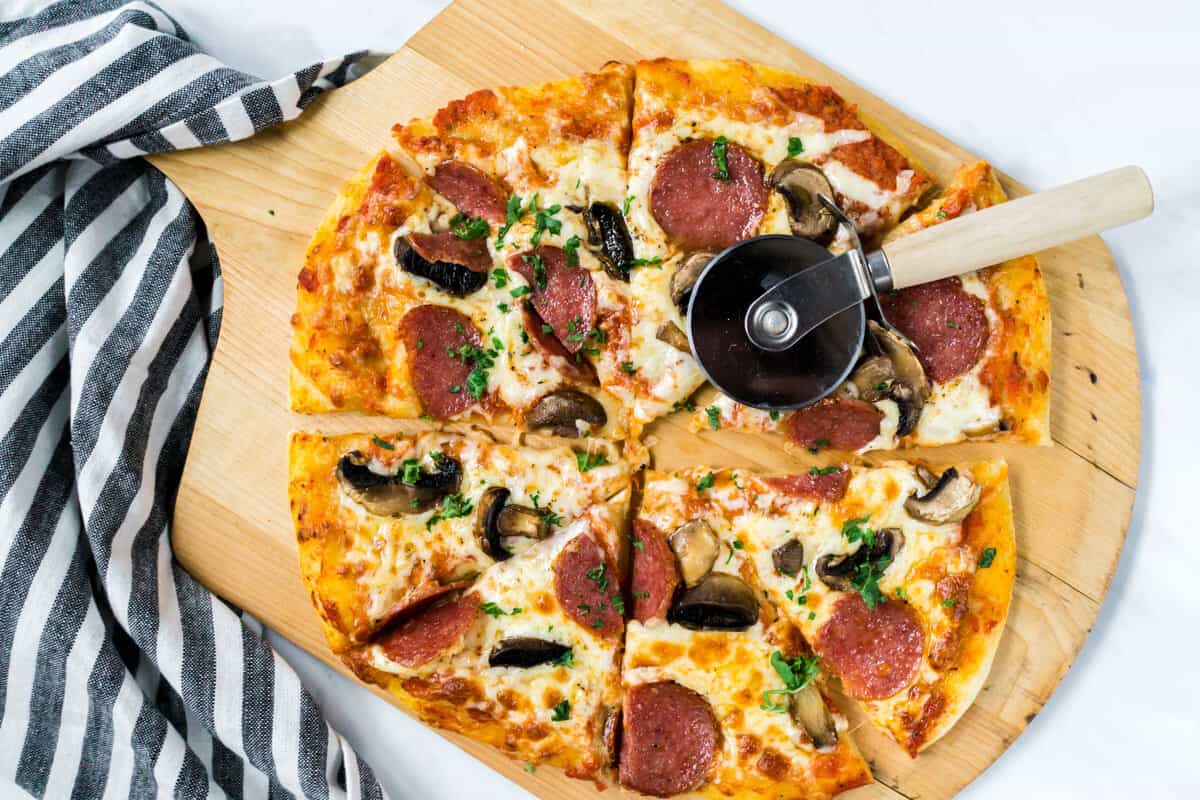 This sourdough pizza dough stretches like a dream and tastes just like artisan pizza from a gourmet pizzeria.
I've been working on my sourdough pizza game for several years now and I am FINALLY at the point where I feel like it can't get any better. I have reached pizza heaven. We no longer have any desire to order in pizza or even to go out to a gourmet wood-fired pizza place because my homemade sourdough pizza is THAT GOOD!
Warning: I may or may not use a bunch of all caps and exclamation marks in this post. I'm just so excited about sharing this sourdough pizza dough with you!
First of all, if you don't have a sourdough starter going yet, make sure you hop on over to this post where I show you how ridiculously easy it is to get one going. All you need is flour, and water, and time. Seriously, THAT'S IT!
What You'll Need to Make Sourdough Pizza Crust
THE INGREDIENTS:
The flour: I have never used anything other than good old all-purpose flour. Having said that, here in Canada, our all-purpose flour has a higher protein content than in the USA. So for my south-of-the-border American friends, I would recommend using bread flour, which would be comparable to Canadian all-purpose.
The oil: I prefer to use either a mild tasting oil like canola oil, or olive oil, which is going to match the Mediterranean flavours of pizza.
The water: I use tap water and have experimented with cold or warm. Since it's a long fermentation in the fridge, it doesn't seem to matter what temperature the water is! Well, maybe avoid using boiling water 🙂
The salt: I'm kind of a plain Jane salt kind of girl and just stick with regular old table salt but you can use any fine grain salt you prefer.
The course semolina: For stretching the dough, you'll need something to cover your work surface to prevent sticking. I like using course semolina flour because a) it's the same flavour profile as the pizza and b) the course texture is to die for! But if you're more of a flour minimalist, you could use regular all purpose or even cornmeal.
THE EQUIPMENT
I've slowly invested in the following items to take my pizza making adventures to the next level, but they aren't strictly necessary. I'll highlight common kitchen items you can substitute in. I've linked to items from Amazon, where I receive affiliate income, should you decide to make a purchase!
The Bench Scraper: this tool is handy when dividing the dough into individual dough balls but you can also use a long, sharp, chef's knife.
The Pizza Peel: I absolutely love this thing and really feel like a master pizza chef when placing and retrieving pizza from the oven with it! If you don't already have one, put this guy on your wishlist, because it's just so fun! But if you don't have one or don't feel the need to have a kitchen tool that's literally just used to make one type of food, then you can use a large cutting board to slide your pizza in and out of the oven.
The Pizza Stone: I've had my pizza stone longer than I've been working on my pizza game so I've really only used this to practice with! And I honestly think it's a key item to getting top-notch pizza. With the pizza stone, you place it in the oven as it's pre-heating so then when you slide the pizza on to it, it instantly starts to cook the dough. I won't get into too much into the thermodynamic science of it, but heat transfers faster by the direct contact of the pizza on the stone as compared to the hot air of the oven. You want to try and cook your crust faster than the cheese heating up so that you get a fully cooked crust before your cheese burns.
The Pizza Slicer: I love having a pizza slicer because, again, it feels so authentic! But another way I used to slice pizza as a "poor university student" without all the gadgets I own now is to simply use scissors! Yup, they work really well.
The Kitchen Scale: This recipe makes enough dough for four pizza crusts. I'm horrible at dividing dough using the eyeball method (can I blame it on the lazy eye I had as a kid?!). So I like to use a kitchen scale for precision.
---
Why This Sourdough Pizza Crust is Such a Game Changer
Have you ever struggled to stretch your pizza dough out to fit your pan?
Have you ever seen those videos of people throwing pizza dough and thought there must be some wizardry going on as it seemingly stretches out all on its own?
Yup, I've been there but thanks to this sourdough pizza base, I no longer have dough envy! This dough is sooo stretchy! Believe it or not, I have to be careful not to overstretch because that can happen so easily!
The reason is the magic of sourdough (yes, there is some kind of wizardry going on: it's the science of sourdough!). The active cultures (wild yeasts and bacteria) in the sourdough starter break down the protein (gluten) structure, allowing them to stretch and bend more easily.
This pizza dough is such a dream to work with!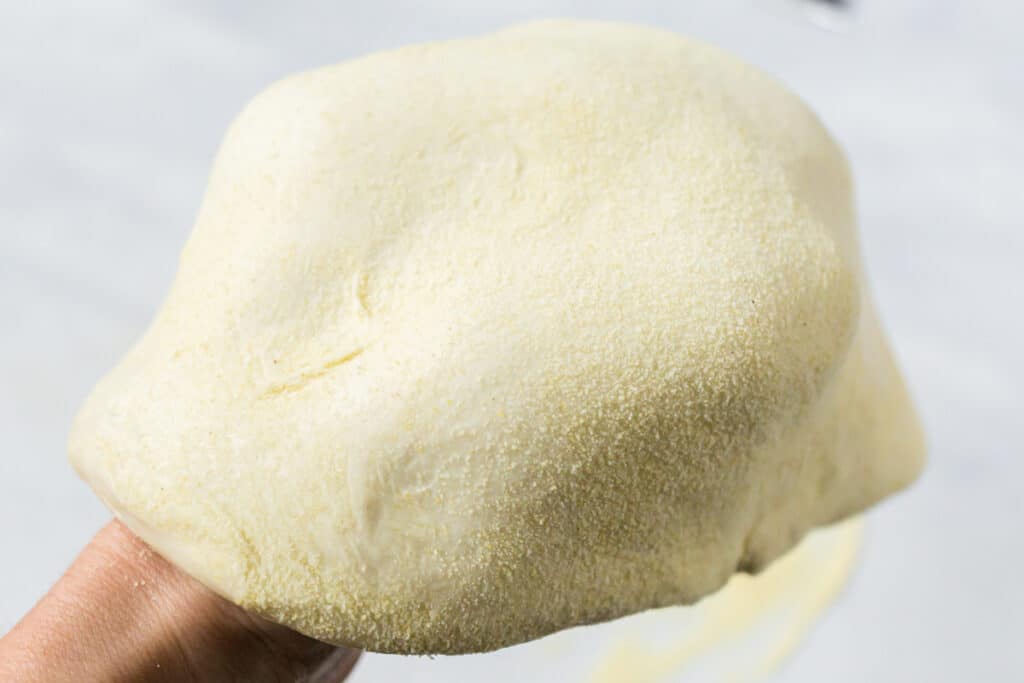 How to Make Sourdough Pizza Crust
HOW MUCH TIME DO YOU NEED TO MAKE SOURDOUGH PIZZA?
The phrase "good things come to those who wait" has never rang truer than when applied to sourdough baking! Unlike pizza dough made with commercial yeast, this dough needs 48 hours to chill, literally. You need to put it in the fridge for a long fermentation! I have made pizza with it after 24 hours but, TBH, it's not as good a crust as waiting 48 hours!
I keep my sourdough starter in the fridge and then take it out a day ahead to activate it before I plan on making something with it.
So, for this recipe, if you want to eat pizza Friday, then you'll need to make the dough Wednesday and start feeding your starter Tuesday. In other words, choose the day you want to eat pizza then count 3 backwards.
I know it seems kind of involved, but once you get into the rhythm of it, it's not so bad! The key is to have a good meal planning system in place. If that's a struggle for you, reach out to me! I love helping people with meal planning!
DAY ONE OF MAKING SOURDOUGH PIZZA:
Feed your starter ahead of time so that it will be active by the time you want to make the sourdough pizza base. The time required to "activate" the starter will depend on:
a) whether you use it often and keep it on the counter or if you hibernate it in the fridge between uses
b) how warm your kitchen is
I'm a "hibernate the starter in the fridge and bring it out as necessary" kind of girl. Since this is a long, slow fermentation and the dough doesn't need to rise very high, I only feed it once before making the pizza dough. If I'm making bread, I want to ensure it's super happy and active, so I'll do two feedings. In general, my kitchen is on the cold side so it takes about 12 hours for my starter to activate.
DAY TWO OF MAKING SOURDOUGH PIZZA:
Once your starter is active, you can make the dough! It's super simple. You literally just dump everything into a bowl and mix it together.
I use my KitchenAid mixer for this and it gets the dough nice and smooth. But my stand mixer was broken for about a year and a half, during which I certainly did not stop making sourdough pizza! So yes, you can mix it by hand as well.
If you're using a stand mixer, the dough is the right consistency when it clears the sides of the bowl but still sticks slightly to the bottom (SEE VIDEO).
Next, on a floured surface, you'll divide the dough into four equal parts. I like to weigh mine since I'm so horribly inaccurate at dividing dough!
Once you have your dough divided, you'll shape them into balls by pulling some of the dough from the top to the bottom, rotating the ball slightly, then repeating that several times. It's really difficult to give written instructions for this so I highly recommend watching the video for this step!
Then the dough balls will be given a light coating of oil and be told to rest in the fridge for at least 24 hours. I prefer to let mine ferment for 48 hours but if you can't wait any longer (who can blame you?!) then you can bake your pizza at the 48 hour mark.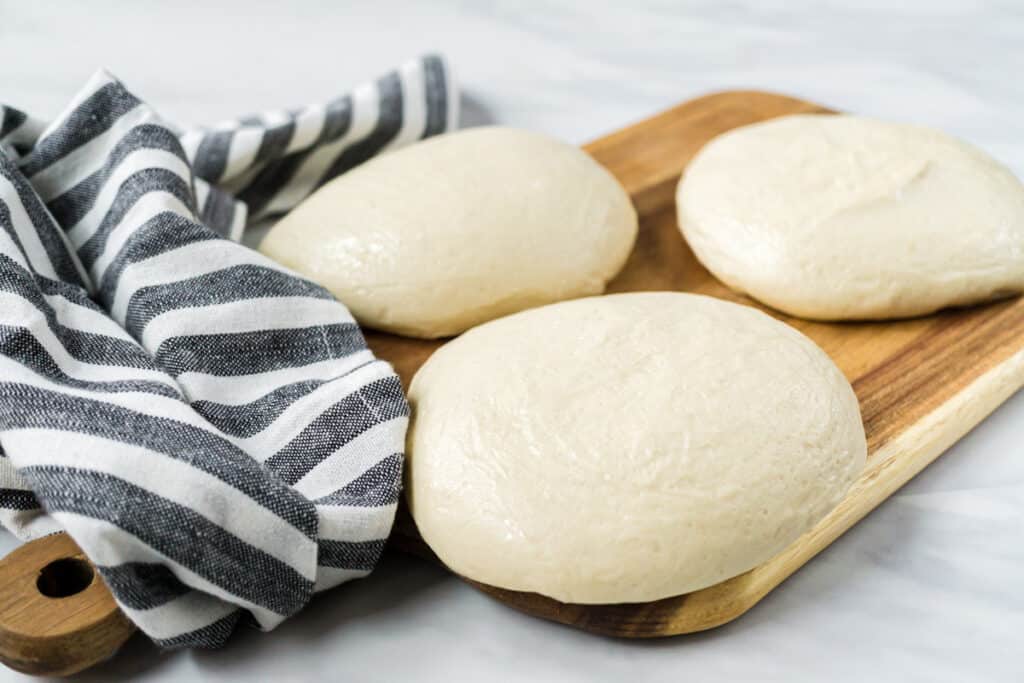 DAY THREE OR FOUR OF MAKING SOURDOUGH PIZZA:
I know, I know, this sounds so complicated to have a four day process for making pizza but I guarantee you that there really isn't much work to be done on each day and it is SO worth it! Just let your memory of the best pizza you've ever tasted motivate you to keep going 🙂
When the time has finally come to make your pizza, you will first place a pizza stone in your oven and preheat your oven to 500 degrees Fahrenheit (or the hottest temperature your oven will go to).
Then take your dough and stretch it out! I'll spare you my feeble attempt at written instructions and just encourage you to watch the video for the technique I use!
How to Dress Your Sourdough Pizza
Maybe I'm getting a little too picky here but I think there's a proper way to dress a pizza (just like the proper way to insert a roll of toilet paper is for the paper to come out ON TOP).
Pizza Sauce
Cheese
Toppings
(optional): after baking add greens or drizzle (like a balsamic glaze)
TOPPING TIP 1: make sure your toppings don't have a lot of moisture or you'll end up with a soggy pizza
TOPPING TIP 2: don't go overboard and crowd your pizza too much with toppings or it will be difficult to bake it evenly
Suggested Toppings for Your Sourdough Pizza Base
If you like pepperoni pizza I'm not going to stop you from eating your favourite on repeat but if you're looking for some new pizza ideas, here are some that we've enjoyed! Sometimes I will also look up pizza topping combinations at local pizza restaurants to get inspired 🙂
SAUCE
Marinara sauce (makes a good all round pizza sauce!)
Alfredo sauce
Marinara + BBQ sauce
Pesto
No sauce… aka pizza bianco. For my pizza bianco, I like to use a garlic infused oil to flavour the crust before adding the cheese and toppings
CHEESE
Mozzarella is the classic cheese for pizza and I tend to use mozza on all my pizzas but sometimes I'll add in some others for flavour variation.
Mozzarella: my preference is to use fresh, soft mozza but a good old block of shreddable mozza is great too! I include a wide range in the bake time because I've noticed that one factor that alters how long the pizza needs to bake is the type of mozza. Some brands have a lower melting and bubbling point than others!
Parmesan: this cheese adds a tasty, savoury, umami flavour. Particularly useful for vegetarian pizzas because meat tends to provide a lot of umami! you'll see in my video that I like to add a light sprinkle of parm to my pizzas.
Feta: adds a creamy, salty flavour. Goes great with tomatoes and basil!
Cheddar: when making a BBQ inspired pizza I'll sometimes add some cheddar
Goat cheese: tastes great with fruit like peaches, figs, etc.
Gruyere: adds a strong, bold flavour! Would pair well with other strong bold, flavours like a quality salami
… any type of cheese you love!
TOPPINGS
The sky is your limit, my friends! I recently polled my Instagram community for their favourite topping combinations, and here are some of their delicious ideas:
BBQ sauce, chicken, pineapples, and jalapeno/banana peppers
Chicken, feta, tomato, and onion
Prosciutto & arugula
Mushroom, ricotta, and rosemary
Black olives, green pepper, onion, and feta
Ham and pineapple (classic!!)
Pepperoni, pineapple, red pepper, and spinach
Garlic caesar sauce, steak, mushrooms, spinach, and onion
Pear, prosciutto, blue cheese, and arugula
I personally don't think you can really go wrong with any pizza toppings. I also love how different places/countries will have specific ingredients that are common to that region. When I visited Germany in high school I was surprised to discover that corn is a common pizza ingredient there!
Most toppings are added to the pizza before it goes into the oven so that the cheese can melt into it and everything gets hot. But if you're adding fresh herbs like basil, or greens such as arugula, save those for after the pizza gets baked!
What are your favourite pizza toppings? Let me know in the comments!
Sourdough Pizza FAQ
How long can I keep the sourdough pizza dough in the fridge?
The dough balls will be good in the fridge for up to a week or so. The longer they sit, the easier they become to stretch… in fact, they can become too easy to stretch! So watch out, or you may end up with a paper thin crust 🙂
Can I freeze sourdough pizza dough?
Yes! Once the dough balls have sat in the fridge for 24 hours, you can freeze them individually in a ziplock bag. Take them out of the freezer and transfer to the fridge one day before baking. Or leave on the counter for several hours.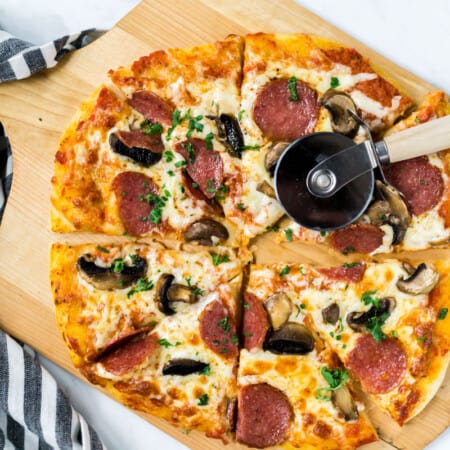 Sourdough Pizza
Print Recipe
Ingredients
5

cups

all purpose flour

(736g)

1 ¾

cups

water

(415g)

1

cup

active (fed) sourdough starter

(180g)

1 ½

tsp

salt

(8g)

1/4

cup

extra virgin olive oil

(50g)
Instructions
Measure out all ingredients into the bowl of a stand mixer.

Using the dough hook, mix on low speed until combined.

Knead a further 5-7 minutes. Dough will be smooth and elastic. The dough should clear the sides of the bowl but still stick to the very bottom of the bowl. If the dough is sticking to the sides, add 1 tsp flour at a time until it clears the sides. If the dough is not sticking to the bottom, add water 1 tsp at a time until it does.

Prepare a baking sheet by lightly coating with a spray of oil. Set aside.

Dump dough onto a clean counter. Using a bench scraper, cut the dough into four equal parts. I use my scale for this because I'm horrible at eyeballing it!

Shape each section into a ball by cupping the dough and pulling from the top centre down and around with your thumbs (watch the video to know what I'm talking about!)

Place each ball into the greased sheet a few inches a part. Spray balls to coat with oil then covers with plastic wraps, wrapping the plastic around each one so that they aren't exposed to any air.

Place tray in fridge for at least 24 hours but I find waiting 48 hours makes the best pizza!
Baking Day
When ready to bake, remove dough from fridge about an hour beforehand, if possible. This is less necessary if you wait 48 hours.

Adjust your top oven rack so it's on the highest level.

Place a pizza stone on the top rack then close oven and preheat to 500 degrees Fahrenheit (or the hottest your oven will go if it can't get that high).

Cut four pieces of parchment (or however many pizzas you plan on baking. You can keep the pizza dough in the fridge for several days and bake as needed. I usually plan on two baking days!)

Sprinkle some course semolina flour or cornmeal on a clean kitchen counter.

Place one ball of dough on the semolina and start to press down using three fingers on the outer rim of the dough to flatten. Avoid pressing down in the centre.

Flip over and keep pressing down around the perimeter. You may need to lightly flour again to keep the dough from sticking.

Once the dough is fairly flattened, give a couple of presses in the centre.

Now the fun begins! Pick up your dough and place on your knuckles to stretch it. Grapevine your knuckles around the perimeter as quickly as you can to stretch it. Put it down on a piece of parchment when it's as thin/thick as you want your crust to be.

Add a LIGHT layer of sauce, then cheese, and then your choice of toppings. Too much sauce and you'll end up with a soggy crust that's not cooked all the way through.

Using a pizza peel, transfer the pizza (including the parchment paper) to the preheated pizza stone on the top rack of the oven.

Cook for 10-12 minutes (length varies with the amount of toppings you've used!) Pizza is ready once the cheese is bubbling and the top of the bubbles are brown.

Remove to a cooling rack and allow to cool for 5-10 minutes before slicing.
Nutrition
Serving:
1
pizza dough
|
Calories:
745
kcal
|
Carbohydrates:
131
g
|
Protein:
18
g
|
Fat:
15
g
|
Saturated Fat:
2
g
|
Sodium:
882
mg
|
Potassium:
168
mg
|
Fiber:
5
g
|
Sugar:
1
g
|
Calcium:
27
mg
|
Iron:
7
mg
Sourdough Obsessed? Me too!
Here are several more of my favourite sourdough recipes: