Sourdough starter pancakes are the tastiest and fluffiest pancakes you'll ever eat! Plus read my tips on how to make perfect pancakes every single time!
What team are you on? Team blueberry, chocolate chip, or plain?
Whatever your answer, these fluffy sourdough starter pancakes are delicious!
I feel like the only person in the world who doesn't enjoy syrup on pancakes! Even as a kid when I would inhale ALL the sweet things. I never liked how it made the pancakes soggy. At home we would set out a variety of toppings like peanut butter, nutella, and fruit. At camp I would ask for peanut butter for my pancakes, and my counselors would give me the craziest looks!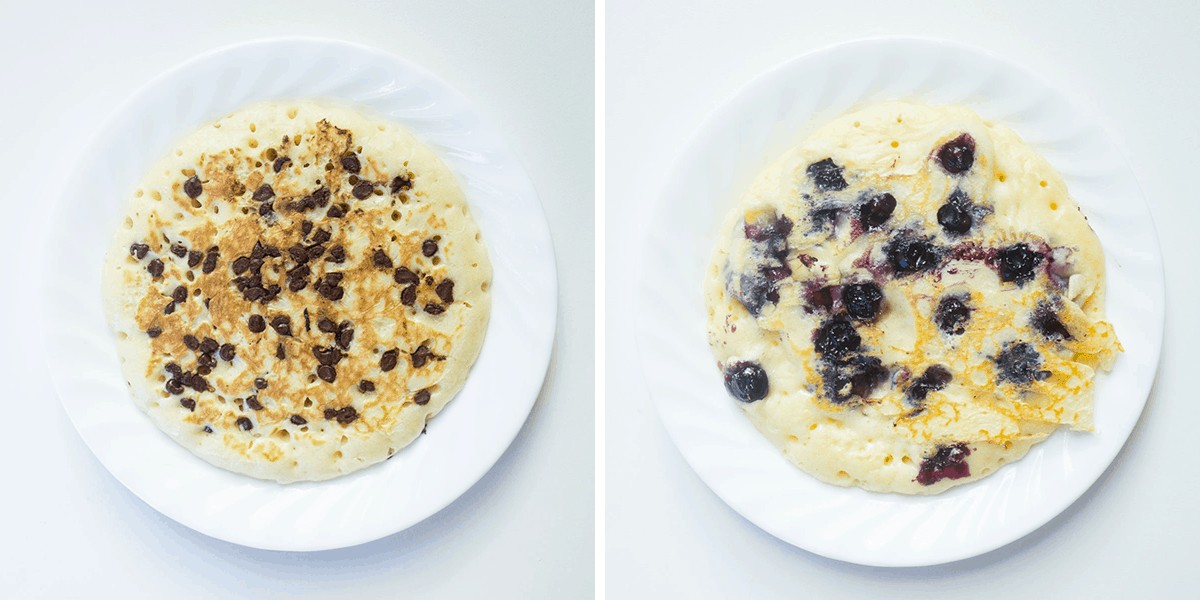 The sourdough starter pancake experience
I don't know how it works but everything I add sourdough starter to ends up being 1000 times more delicious than their non-sourdough counterpart.
The best way I can describe it is to compare it to wine. Yes, you can buy an entry level bottle of wine and it will be enjoyable to drink. But you can also buy a wine crafted by an experienced vinter who will expertly create a blend of different grape varietals that have been carefully hand picked and then age the wine under the right conditions in the right barrel for just the perfect amount of time.
The wine created by the vinter will be complex, balanced, and have a richness that the entry level wine could never have. That wine by the vinter is an experience.
I don't know about you but when I eat, I want an experience, not just something that will fill my belly up!
When you have a real eating experience, you want to slow down and savour it. When you slow down and savour it, it brings you joy. And when your eating brings you joy, you feel truly satisfied. And when you feel truly satisfied, you don't need to keep eating.
So you may want to continue on with your normal pancakes, and that's fine. But if you want to truly have an experience, it's time to try out sourdough starter pancakes!
Getting started with sourdough starter
If you don't have a sourdough starter bubbling away in your kitchen yet, don't worry; it's super easy to get one going! All it takes is mixing flour and water together each day. Seriously, that's it! Don't delay, you could have your very own sourdough baby in as little as a week if you start today. Check out this tutorial complete with plenty of Q&As for any troubleshooting.
How to make perfect pancakes every time
Regardless of whether you're making sourdough starter pancakes or any other type of pancakes, these are my tips for getting them picture perfect every time.
Use a blender to make the batter. This will make an ultra smooth batter as well as incorporating air. The air pockets are what make the pancakes fluffy!
Add an acidic ingredient. Remember that classic volcano science experiment where you mix vinegar (an acid) and baking soda (a base) to create a giant foaming mess? That's what happens on a smaller scale when you add an acidic ingredient to pancakes: they puff up! I'm partial to the sourdough starter, which has naturally occurring lactic acid. But you could also use a touch of vinegar, lemon juice, or use buttermilk in place of the milk.
Use low heat to cook them. Slow even cooking will get you that lovely golden brown crust with a fully cooked interior! If the heat is too high, the crust will burn before the inside is cooked. And if the heat is too low, it will take forever and you'll never get that lovely golden colour. Set your stove to about 25-30% of maximum. This also translates to medium low.
Heat the pan or griddle before even making the batter. You want to give the pan lots of time to get evenly hot. If you turn the stove on just before cooking you'll spend a lot more time fiddling with getting the temp at that perfect spot. And you know how people say the first pancake is just a test that never turns out? When I pre-heat my griddle, the pancakes turn out perfectly from the getgo!
They're ready to flip when they no longer stick. I've always been over eager at flipping when I'm frying because I'm worried about burning my food. I used to think that if the pancakes were sticking that meant that they were already burnt! So I would try to force the pancake to flip but it was clearly not ready and I would have a big pancake mess. A good time to start checking to see if the pancake is loose is when you start to see bubbles popping up at the centre of the pancake and the edges start to look a little dried out.
Drizzle a little more pancake batter on top of fruit add-ins. Once you flip the pancake over this helps prevent the berries from sticking to the pan and making a gigantic mess.
Why these fluffy sourdough starter pancakes are a smart choice
These fluffy sourdough starter pancakes have SO MUCH FLAVOUR… they really provide you with a gourmet eating experience. You won't be trying to drown them in syrup, which means you'll be lowering your sugar intake! You're welcome 🙂
Looking for more sourdough recipes?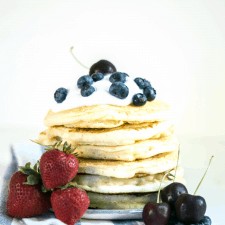 Sourdough Pancakes -aka the fluffiest pancakes ever!
Print Recipe
Sourdough pancakes are the tastiest and fluffiest pancakes you'll ever eat! Plus read my tips on how to make perfect pancakes every single time! 
Ingredients
2

eggs

1 ½ to 2

cups

milk

use full amount for thinner pancakes, less for thicker pancakes

1

cup

fed sourdough starter

3

tbsp

butter

melted

2

cups

flour

2

tbsp

sugar

5

tsp

baking powder

1/4

tsp

salt

optional add-ins: mini chocolate chips or blueberries
Instructions
Heat a griddle over very low medium heat. Pancakes cook best over low heat.

Place all ingredients (except optional ones) in a blender in the order listed.

Start on low then turn up to high. Blend until smooth and frothy.

Spray griddle with oil.

Pour pancake batter onto the griddle then sprinkle blueberries or mini chocolate chips on top.

Flip the pancakes when the first side is golden brown. You'll tell it's ready for flipping when it loosens itself from the pan.

Cook the other side until golden brown as well. The second side never seems to get quite as golden though!
Notes
Check out the tips in this post for secret tricks on how to make the best pancakes!
Servings:
10
-12 medium sized pancakes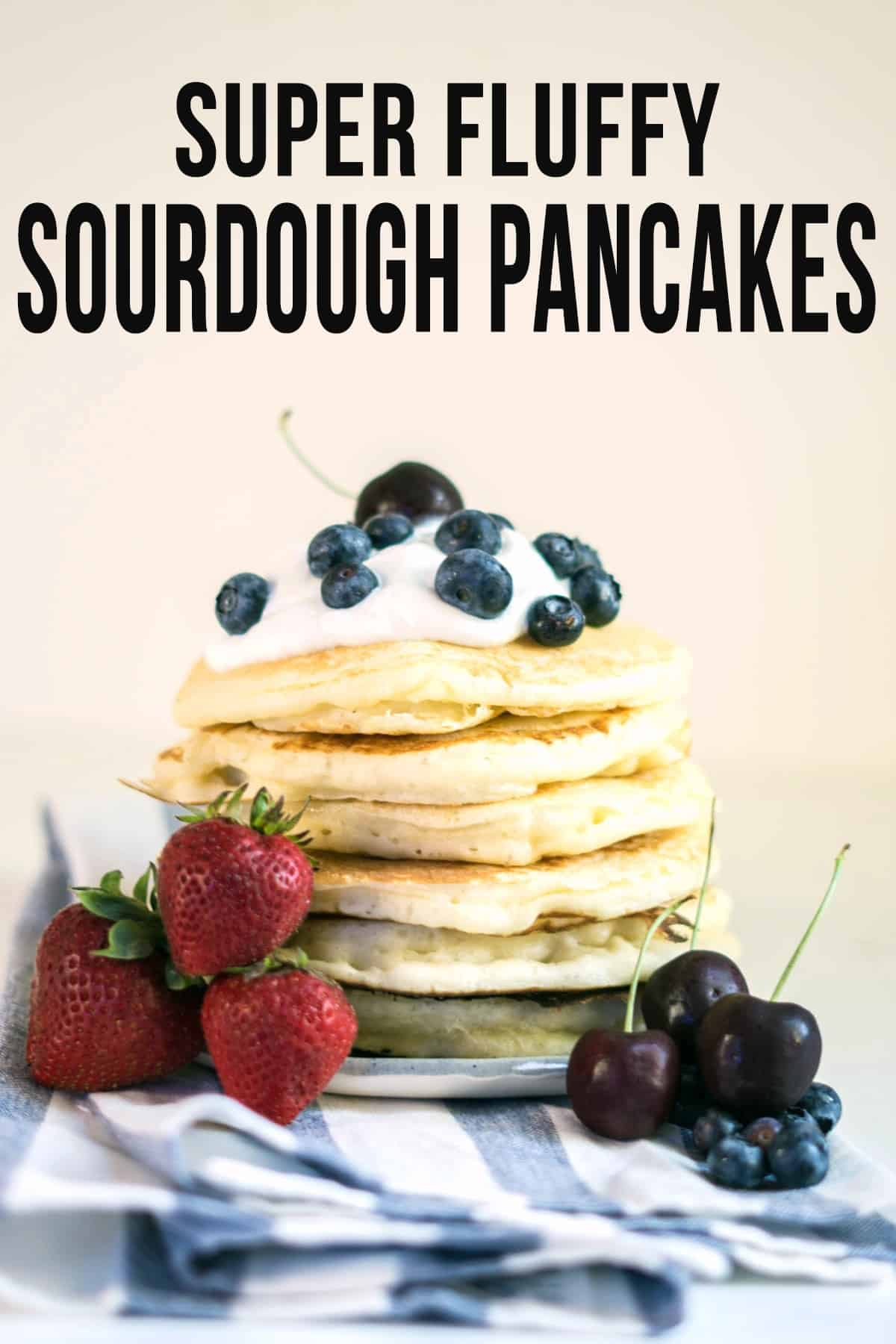 [cp_info_bar display="inline" id="cp_id_4508c"][/cp_info_bar]