Blackberry Oatmeal Muffins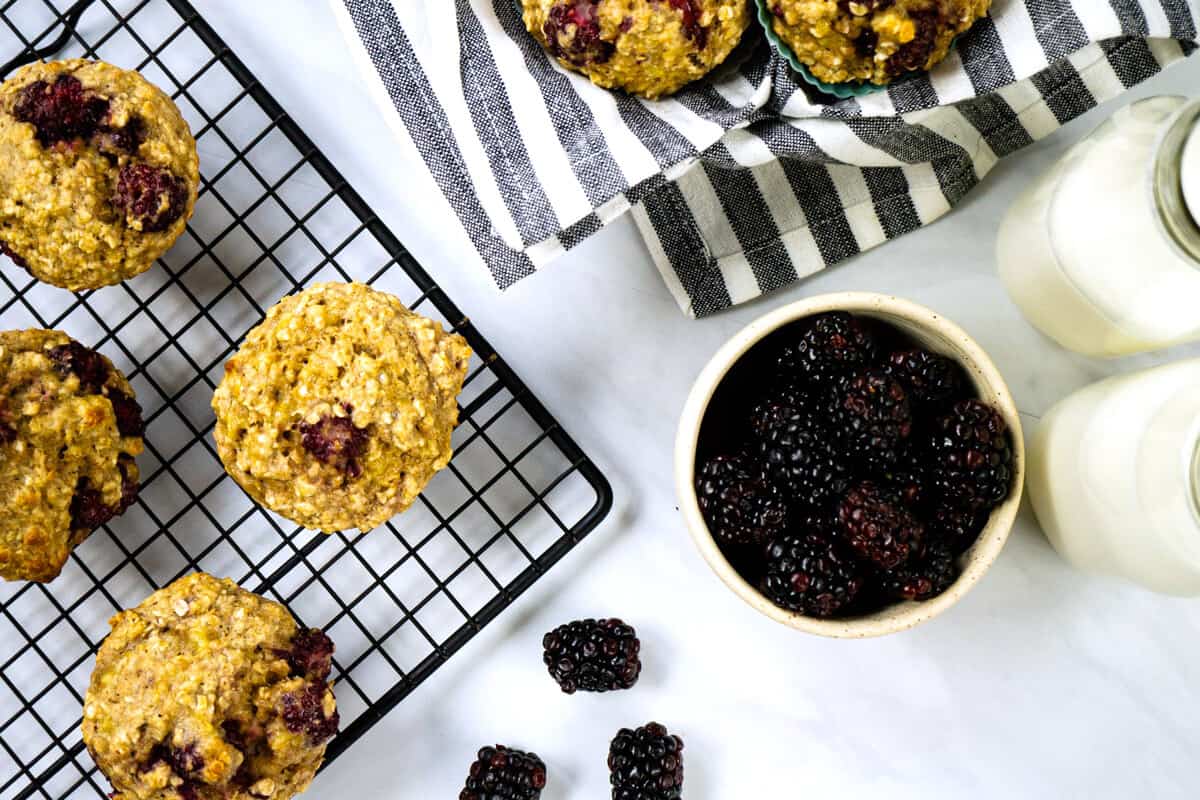 These blackberry oatmeal muffins are simple to make, wholesome for the body, and delicious to eat! Can be made gluten free.
What comes to mind when you hear the word 'blackberry?' Special treat? Or annoying weed?
Having grown up in Winnipeg, Canada, the first time I tasted a blackberry was as an adult traveling to the West coast. Either they were prohibitively expensive or not available in the stores! More recently, they're available year-round in our grocery stores thanks to the farmers of Mexico, NAFTA, and the truckers who bring them to us!
But, in my mind, blackberries are still a special treat! Occasionally I pick up a carton for my family to savour.
It was only a couple of years ago that I discovered blackberries can grow like weeds in some part of the world and people actually get annoyed with them!
We had traveled to Germany for a wedding and took daily walks into the countryside where I noticed tons of thorny bushes growing alongside the path. When I looked closer I could see some type of berry just starting to emerge… blackberries!
It totally blew my mind that this fruit that travels thousands of miles to reach me, just grows wild, is a nuisance to some people, and you can pick them for free!!
If you landed upon this recipe because you Googled "blackberry oatmeal muffin", I'm going to assume you are in the camp where you have an abundance of blackberries and don't know what to do with them!
But I'd love to know! Leave me a comment and tell me what your perception of blackberries are!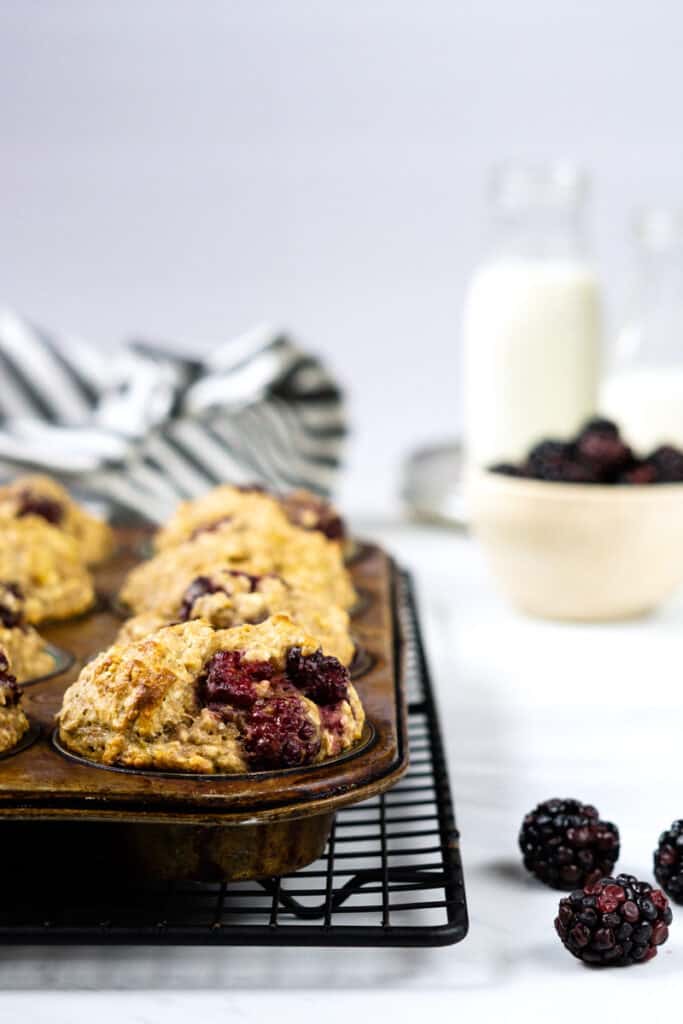 About These Blackberry Oatmeal Muffins
This muffin recipe contains bananas, which taste great with blackberries and provide a natural sweetness.
They're also jam-packed with blackberries because I know that if they're growing like a weed at your place then you want a recipe that will use a lot of blackberries! If this is your situation, I would highly suggest making a double batch. I don't know how fast muffins disappear in your house but I pretty much always make a double batch anyway because they go so quickly with my kids and husband around!
Why These Blackberry Oatmeal Muffins are a Smart Choice
Not only are they super delicious, blackberries are a rich source of anti-oxidants and fibre. Anti-oxidants which help protect your body's cells, protein, DNA from damage due to free radicals. There needs to be an appropriate balance of anti-oxidants and free radicals or else oxidative stress ensues.
I've also included oats and ground flax seed for more heart healthy fibre!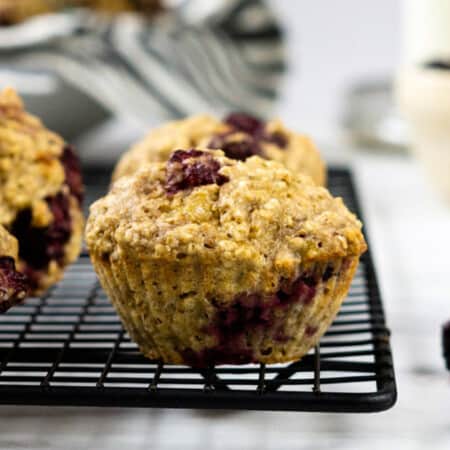 Blackberry Oatmeal Muffins
Print Recipe
Ingredients
4

ripe bananas

2

eggs

½

cup

brown sugar

¼

cup

ground flax seeds

¼

cup

canola oil

1

tbsp

vanilla extract

1 ½

cups

flaked oats

regular or quick cooking

1

cup

whole wheat flour

1

tbsp

baking powder

½

tsp

salt

12

oz

340g or 3 cups blackberries
Instructions
Preheat oven to 400 degrees Fahrenheit.

Mash the bananas.

In a large bowl mix together the bananas, eggs, brown sugar, flax seeds, oil, and vanilla.

Add in the oats, flour, and baking powder.

Fold in the blackberries.

Scoop into a greased muffin tin.

Bake for 20-25 minutes or until a toothpick inserted into the middle muffin comes out clean.
Nutrition
Calories:
226
kcal
|
Carbohydrates:
36
g
|
Protein:
5
g
|
Fat:
8
g
|
Saturated Fat:
1
g
|
Cholesterol:
27
mg
|
Sodium:
218
mg
|
Potassium:
308
mg
|
Fiber:
5
g
|
Sugar:
15
g
|
Vitamin A:
125
IU
|
Vitamin C:
9
mg
|
Calcium:
97
mg
|
Iron:
2
mg
Other Muffin Recipes: