Here's this week's lineup! The feature this week isn't a food, it's a cooking method! We're featuring Sheet Pan Meals!
Let's review why sheet pan meals are so phenomenal:
They're ridiculously easy. The pan and the oven do all the work for you! Compared with sauteeing, there's no need to hover nearby and stir. Just dump and go!
Minimal clean up. With this recipe, the only prep dishes you'll need to clean are the knife, cutting board, measuring cup, pan, and lifter. That's FIVE measly dishes!
They make eating veggies a treat. I don't know why but roasting veggies just wasn't a "thing" when I was a kid. I think if it had been, I would have been a lot more keen on eating them! Roasting veggies dampens the bitterness and brings out the sweetness locked deep down inside a veggie that you never knew was there!
SHEET PAN DINNER TIP: Don't crowd your food! For faster cooking, and roastier veggies, it's important to have good airflow around the food! I recently bought a larger sheetpan at Costco that's the size of my whole oven, which allows me to cook a larger meal on the same pan!
If you don't have a large pan, use two different sheet pans!
Grocery Shopping List
This Week's Lineup!
Happy cooking 🙂
Sheet Pan Pineapple Chicken Tacos with Cilantro Slaw
Taco Tuesday is levelled up with a sweet and spicy pineapple chicken taco filling matched with a cool, earthy cilantro coleslaw!
Check out this recipe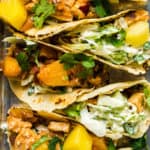 Sheet Pan Ginger Beef & Veggies
Ginger beef made easy by cooking everything on a sheetpan! Flavourful, delicious, & healthier, with a ton of veggies!
Check out this recipe
Buffalo Chicken Noodle Bowl
A creamy spicy light noodle bowl with chicken and veggies.
Check out this recipe
Pesto Gnocchi on a Sheet Pan
 This pesto gnocchi gives you gourmet taste without the work! Dinner in 30 minutes with only 5 minutes of prep! 
Check out this recipe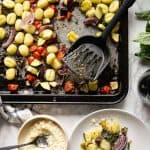 Want to get the meal plans sent right to your inbox each week?