Here's this week's lineup! The feature food is walnuts!
What do you see when you look at a walnut? Kind of looks like a brain, doesn't it? And conveniently enough, walnuts are great for brain health!
They're also a good source of plant based omega 3 fatty acids, and the heart healthy mono-unsaturated fatty acids… as well as fibre, anti-oxidants, vitamin E, and minerals.
Studies have correlated walnut consumption with reduced risk of type two diabetes, decreased inflammation and improved cardiovascular health, and better gut health!
SHOPPING TIP: If you've got a Costco membership, go here to buy your walnuts! They have the best price per weight! I've also done a taste test comparison with other brands and the Costco walnuts were far superior 🙂
Grocery Shopping List
This Week's Lineup!
Happy cooking 🙂
FOOD PREP TIP: Plan to cook enough chicken for both the sesame chicken rice bowl and the quinoa salad at the same time!
Likewise, make enough of the walnut sauce to use with both the salad rolls and the sesame chicken rice bowl. I would suggest eating the salad rolls first and then thinning the sauce out with a bit of extra oil for the rice bowls so that it drizzles better!
Creamy Roasted Tomato Farfalle
This creamy tomato sauce for bow tie pasta is made by throwing a few ingredients in the oven for a quick yet gourmet meal!
Check out this recipe
Sesame Chicken Rice Bowl Recipe
A sesame walnut sauce elevates humble rice, chicken, and veggies to superstar status.
Check out this recipe
Summer/Salad Rolls
Featuring crunchy seeds, fresh herbs, pickled veggies, and the best walnut sauce!
Check out this recipe
Greek Chicken Quinoa Salad
Each bite of this salad is bursting with flavour! You'll be sure to want more and more.
Check out this recipe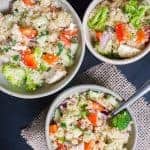 Want to get the meal plans sent right to your inbox each week?