Here's this week's lineup! The feature food is zucchini!
Did you know you can eat zucchini raw?
It's true! I just learned that recently! I had only ever eaten zucchinis cooked before so it never even crossed my mind. For this meal plan I recommend buying either a bagged salad or ingredients to make a salad. Consider buying an extra zucchini and shaving it into ribbons to add to your salad or shredding it. This wouldn't keep well in the fridge so just plan to add it to your bowl just before serving.
SHOPPING TIP: Yellow and green zucchinis taste virtually the same! Try buying a new colour next time.
Grocery Shopping List
This Week's Lineup!
Make a big salad at the start of the week and eat alongside the spaghetti and salmon cakes to make those meals more veggie-balanced! Plan to buy a salad dressing or make this lemon poppyseed dressing!
I've included a salad mix and dressing in the grocery shopping list, but feel free to plan to make your own salad if you prefer!
Easy Summer Spaghetti
A minimalist spaghetti dish you can make in under 30 minutes using summer fresh ingredients!
Check out this recipe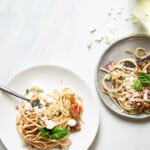 Peanut Chicken Noodle Bowl
A sweet and salty peanut stir fry, loaded with veggies and protein.
Check out this recipe
Pistachio Salmon Cakes with Apricot Rice
Honey mustard infused salmon and pistachio cakes paired with a sweet and spicy rice dish!
Check out this recipe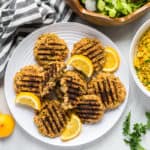 Want to get the meal plans sent right to your inbox each week?