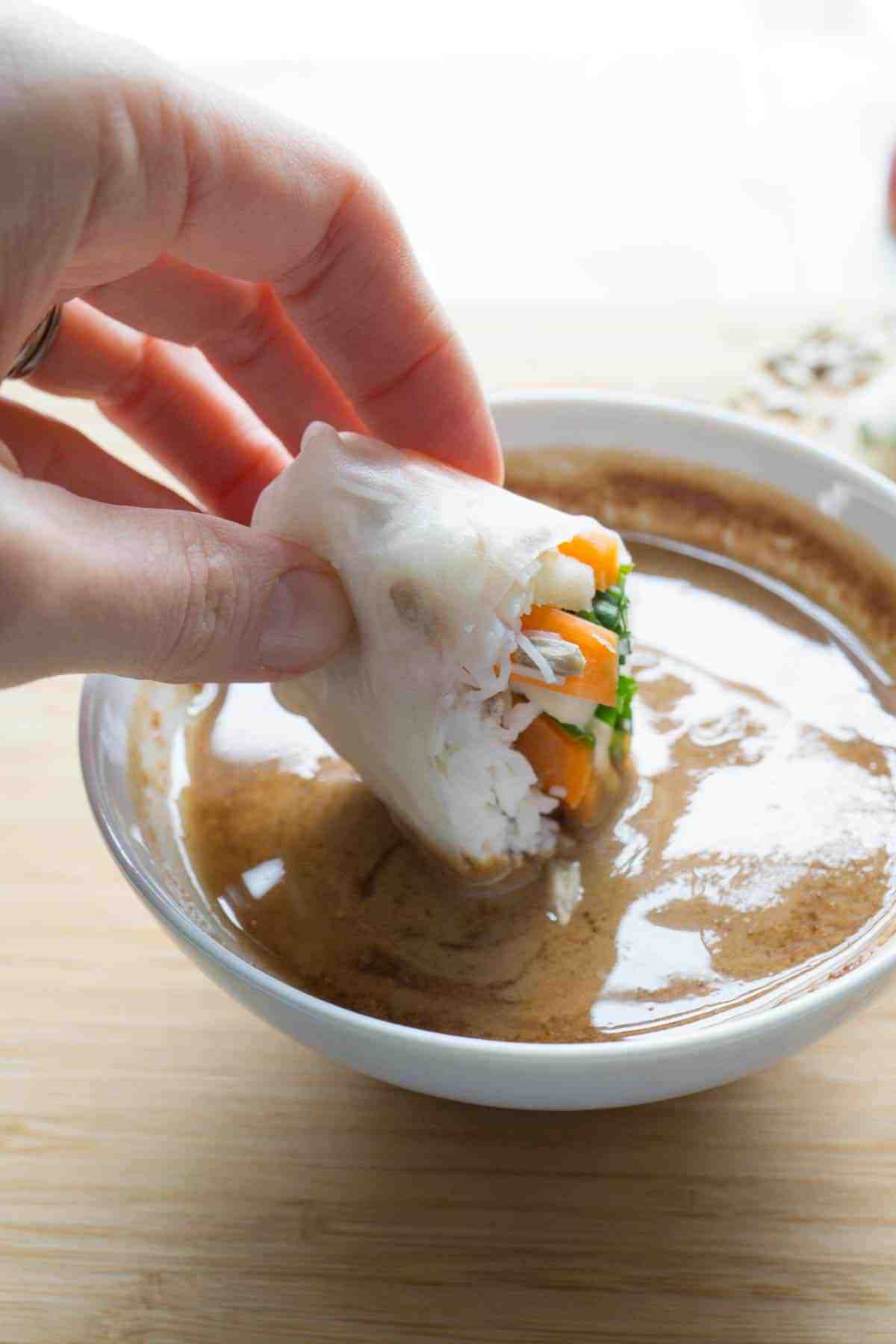 You need this walnut sauce in your life.
The combination of ingredients in these salad rolls is, of course, also amazing but it doesn't hold a candle to this walnut sauce. It's not just the icing on the cake. The sauce is the whole reason to eat these salad rolls.
I've also been eating this sauce with broccoli florets, as a salad dressing, and have even started eating it with a spoon…. We've raced through two batches of this recipe in less than a week already. When I sit down to have a snack I'm usually sweet tooth type of person that reaches for some high quality chocolate or a small bowl of premium ice cream. But this past week, all I've been wanting is this sauce! After I put my son to bed the other night I made myself a salad. It was 9:30 at night! Who craves salad at night time? Anyone who has this sauce in their fridge, that's who.
Life changing, I tell you.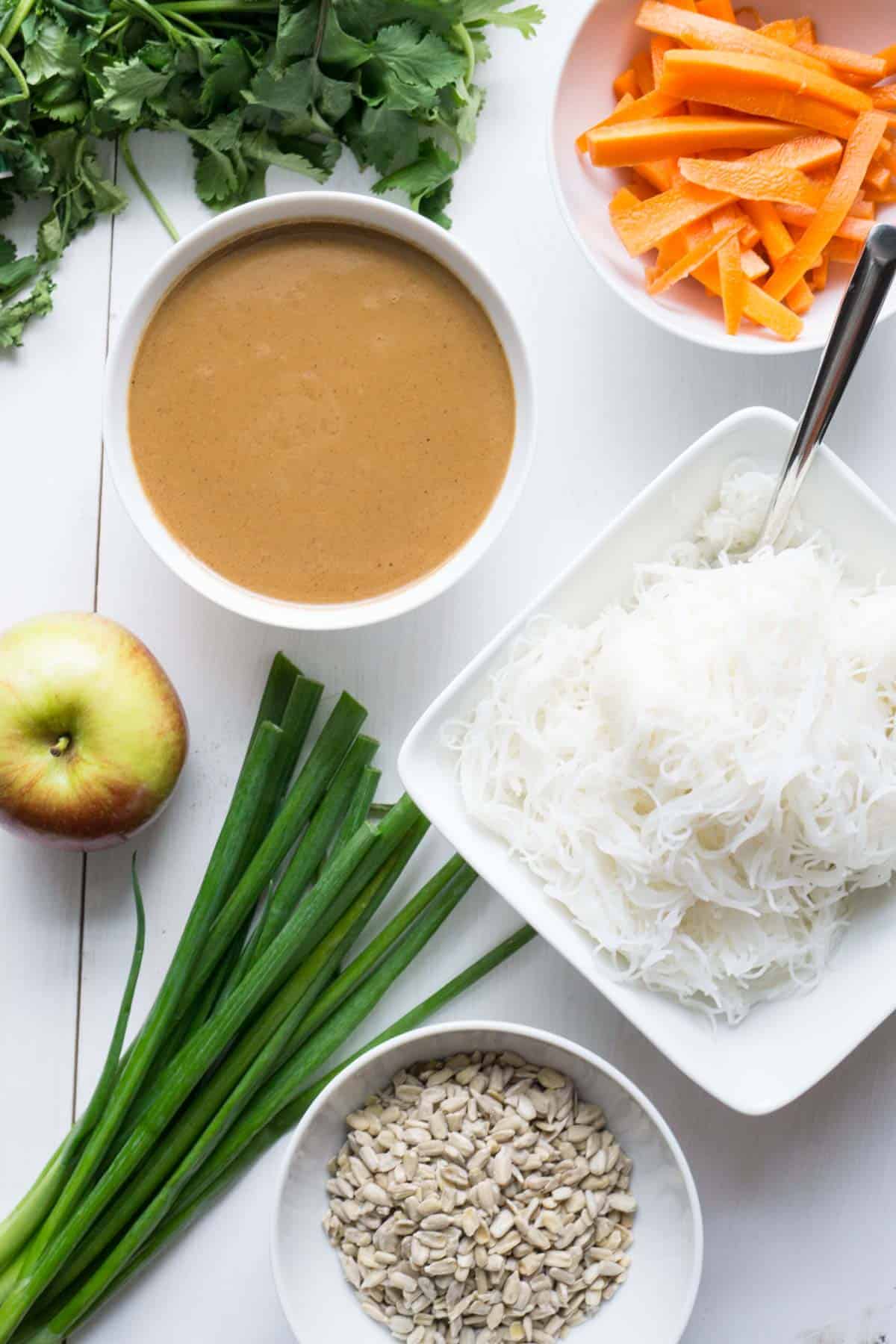 This recipe is inspired by a recent visit to a game cafe in my lovely city of Winnipeg called Across the Board. Game cafes are my new favourite thing. Ever been to one? It's a place where you can grab a bite to eat and play a board game from an extensive library of options. They even have a game master who will recommend and teach you games. It's such a fun meet-up spot!
I don't know why I'm bothering to explain the concept of a game cafe. They're probably old news to you. Since becoming a mom, or turning 30, or becoming a work-from-home person, or some combination of all three, I've definitely lost touch of what's trendy in the world. I met a client at a coffee shop today so I needed to change out of my everyday attire of a Lululemon sweater and leggings. I put on a shirt I used to wear regularly to work. Looking in the mirror I had my doubts as to whether or not it was still stylish. But I really didn't know. I pegged the odds at 50/50. I need a fashion consultant!
But back to the salad rolls. I peg the odds at 100% that you are going to love these!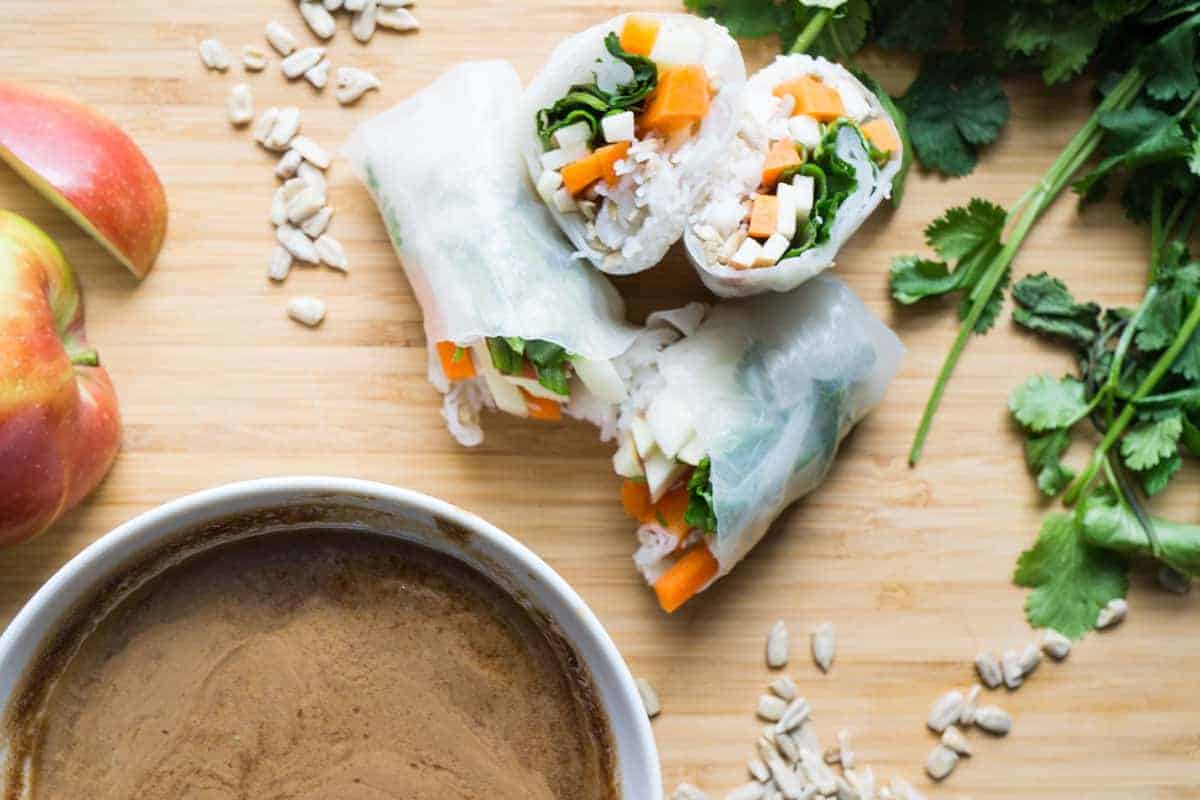 Here's a quick visual guide for filling and rolling the salad rolls. Keep the ingredients in the centre and then fold the wrap around them. When you start the folding with the bottom piece, try to tuck it under the filling. That way you can tightly roll it up without the filling getting pushed out!
Why It's A Smart Choice
Walnuts are a terrific little nut. Eating a handful of nuts each day can help prevent heart disease. Of all the nuts, walnuts are the best source for alpha linolenic acid, a type of omega 3 fatty acid, which is essential for healthy skin and eyes, and a robust immune system.
Omega 3 fatty acids may play a role in depression, cancer, and alzheimers prevention but more research is needed.
If you give this recipe a go, let me know! Leave a comment, rate it, or snap a photo and tag it with #smartnutritionrecipes on Instagram! I'd love to see your creations! Knowing someone has enjoyed one of my recipes always makes my day brighter.
Summer/Salad Rolls
Print Recipe
Featuring crunchy seeds, fresh herbs, pickled veggies, and the best walnut sauce!
Ingredients
For the walnut sauce
¾

cup

walnut halves

¾

cup

canola oil

¼

cup

water

⅓

cup

nutritional yeast

3

tbsp

vinegar

3

tbsp

soy sauce

2

tbsp

tahini

or sesame seeds

2

cloves

garlic
For the pickled carrots
1

large carrot

1/4

cup

vinegar

2

tbsp

sugar

¼

cup

water

pinch

of salt
For the summer/salad rolls
Rice paper wrappers

Vermicelli noodles

cooked

Sunflower seeds

Pickled julienned carrots

see recipe above

Julienned apple slices

Green onions

Cilantro
Instructions
Combine the sauce ingredients in a blender. Start on low then turn up to high. Blend until smooth.

For the pickled carrots, stir together the vinegar, sugar, water, and salt. Microwave for one minute to help the sugar dissolve. Cut the carrot julienne style and place in brine. Allow to sit for at least 30 minutes.

For the salad rolls, soften a sheet of rice paper in hot water for five seconds. I fill a frying pan with water for this step.

Place the paper on a cutting board. Layer centre with noodles, seeds, carrots, apples, green onions, and cilantro.

Roll as per the photo. When you bring the bottom side up, try to tuck it under the filling ingredients.

Dip in sauce. Bliss!
Notes
Sauce recipe yields 2 cups
More Yummy Lunch Ideas!