Here's this week's lineup! The feature food is mangoes!
I love adding mangoes to my dinner recipes because they're a fantastic source of Vitamin C, which helps the body absorb iron! The two go together like pb and jelly, like milk and cookies!
KITCHEN TIP: Here's my favourite way to cut a mango. First I peel the whole thing. Then I slice it lengthwise as close to the pit as I can. Then do the same thing on the other side. I'll try to cut as much off the pit as possible. Then I'll dice what I've cut off!
Grocery Shopping List
This Week's Lineup!
Happy cooking 🙂
Mango Quinoa Salad -Thai Inspired
A tasty Thai inspired mango quinoa salad filled with juicy mangoes; crisp red peppers, and creamy cashews; good for your health and soul!
Check out this recipe
One Skillet Creamy Dill Chicken and Rice
Stovetop or Instant Pot, this easy creamy dill chicken and rice recipe is healthy, balanced, and sure to please even the pickiest of palates! 
Check out this recipe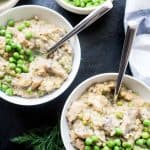 Spicy Pork with Mangos and Rice
Stir-fry spicy pork with mangos and rice – easy, sweet, spicy, loaded with fruit and veggies, protein, and healthy carbs. 
Check out this recipe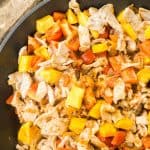 Quinoa Stuffed Pizza Peppers
All the flavour of a deluxe pizza in a healthy bell pepper "crust!"
Check out this recipe
Want to get the meal plans sent right to your inbox each week?