Here's this week's lineup! The feature food is lentils!
There are sooo many things to love about lentils!
They're packed full of fibre, iron, folate, potassium, protein, and are low on the GI index, which means they don't spike the blood sugar!
They're economical! A serving of lentils (when cooked from dry) is about $0.15.
They're good for the gut! Recent research shows that the best way to support the health of your gut is to eat a variety (30+) of plant foods each week. Choosing lentils as your protein source for a meal helps to get you to that weekly goal!
KITCHEN TIP: Split lentils are small enough they don't need to be soaked before cooking!
Grocery Shopping List
This Week's Lineup!
Happy cooking 🙂
Greek Meatballs with Easy Tzatziki Sauce
With a tub of tzatziki and frozen meatballs, dinner is made in 15 minutes!
Check out this recipe
Serve the meatballs on top of rice alongside a salad. I've included a salad kit and rice in the grocery shopping list but feel free to plan to make your own salad, if you prefer!
Thai Green Curry Lentil Soup
A flavourful, spicy soup with basic ingredients you probably already have in your house! Except the green curry paste. You might need to check out the ethnic food aisle in your local grocery store for that one!
Check out this recipe
Mediterranean Lentils with Quinoa
A simple skillet meal, this gluten free Mediterranean Lentils and Quinoa dish is humble but deliciously satisfying! 
Check out this recipe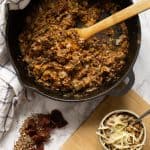 Buffalo Chicken Noodle Bowl
A creamy spicy light noodle bowl with chicken and veggies.
Check out this recipe
Want to get the meal plans sent right to your inbox each week?