Supper Club Meal Plan 6 (spring)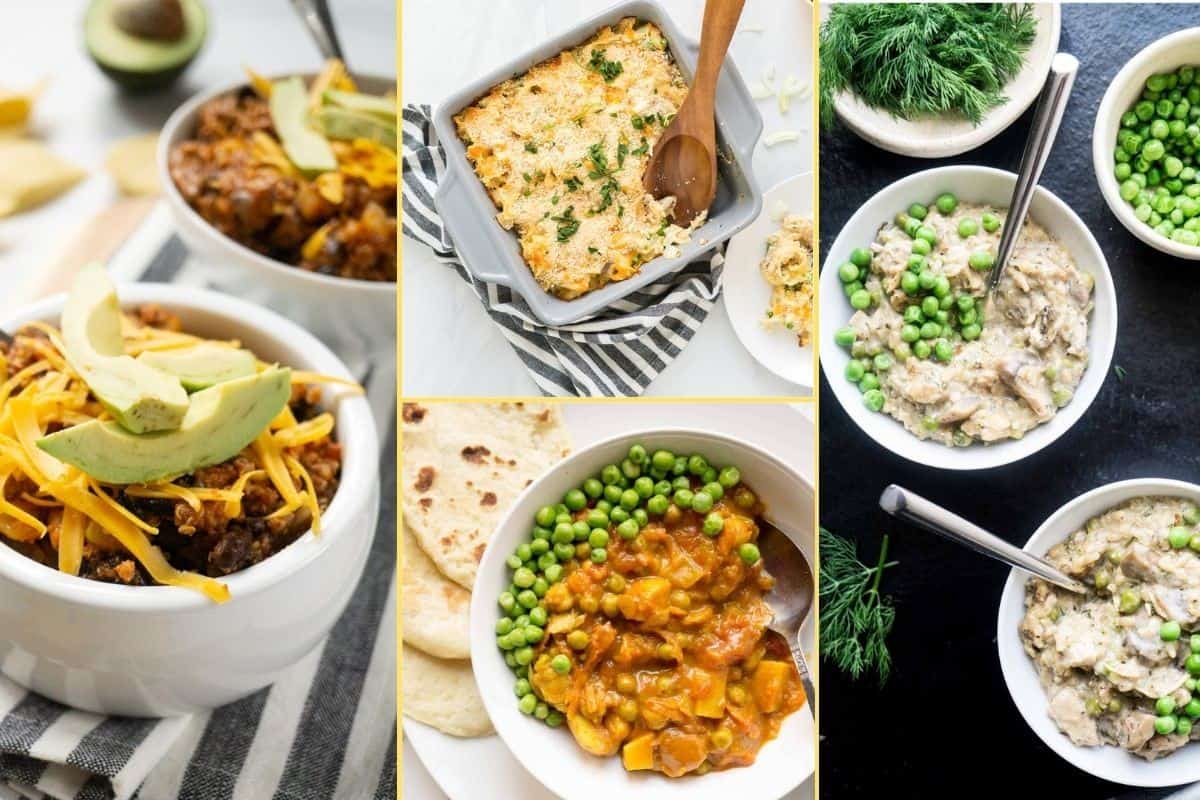 Here's this week's lineup! The feature food is mushrooms!
Did you know? Mushrooms are one of very foods that naturally contain Vitamin D! Although you'd have to eat piles and piles of mushrooms to meet your daily Vitamin D needs, they can still give a little boost 🙂
Mushrooms are a great source of the minerals selenium, and copper, and have many B vitamins. Additionally, they contain a powerful anti-oxidant called L-ergothioneine. Anti-oxidants are important in protecting our bodies' cells from damage by free radicals.
Mushrooms are fabulous in so many ways but hey, I know that not everyone is a fan! When my husband and I just started dating I thought I would wow him by preparing a fancy mushroom heavy pasta dish. To his credit, he ate his fill without complaining but I found out later in our relationship that he wasn't actually much of a mushroom fan!
But see how we're at Meal Plan Number 6 now? If you're thinking double mushrooms isn't going to work out for you, then go back and do one of the archived meal plans!
KITCHEN TIP: Canned mushrooms are just as nutritious as fresh! I have to admit I never want to see canned mushrooms on a pizza but for casseroles I think they work just fine.. and they're so convenient to have on hand as a back-up to boost the veggie content in meals! For more ideas to ensure you're meeting your daily veggie needs, check out this post for how to stock your kitchen so that you eat more vegetables!
Grocery Shopping List
This Week's Lineup!
Happy cooking 🙂
One Skillet Creamy Dill Chicken and Rice
Stovetop or Instant Pot, this easy creamy dill chicken and rice recipe is healthy, balanced, and sure to please even the pickiest of palates! 
Check out this recipe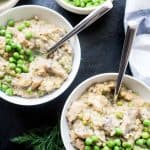 Creamy Tuna Noodle Casserole
The classic creamy tuna noodle casserole gets a whole food makeover by skipping the canned soup and making a homemade sauce instead.
Check out this recipe
Turkey Quinoa Chili [one pot or slow cooker]
This one pot healthy turkey quinoa chili is a meal-in-a-bowl! Top with cheddar cheese and crushed tortilla chips. Freezes well so make extra!
Check out this recipe
Peach Chutney Samosa Stew (stovetop instructions)
Mmmm, all the flavours of a piping hot samosa filled with warming spices, potatoes and peas, dunked in a sweet peach chutney….. but in the form of a gluten free vegan samosa stew! 
Check out this recipe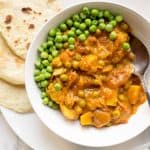 Want to get the meal plans sent right to your inbox each week?