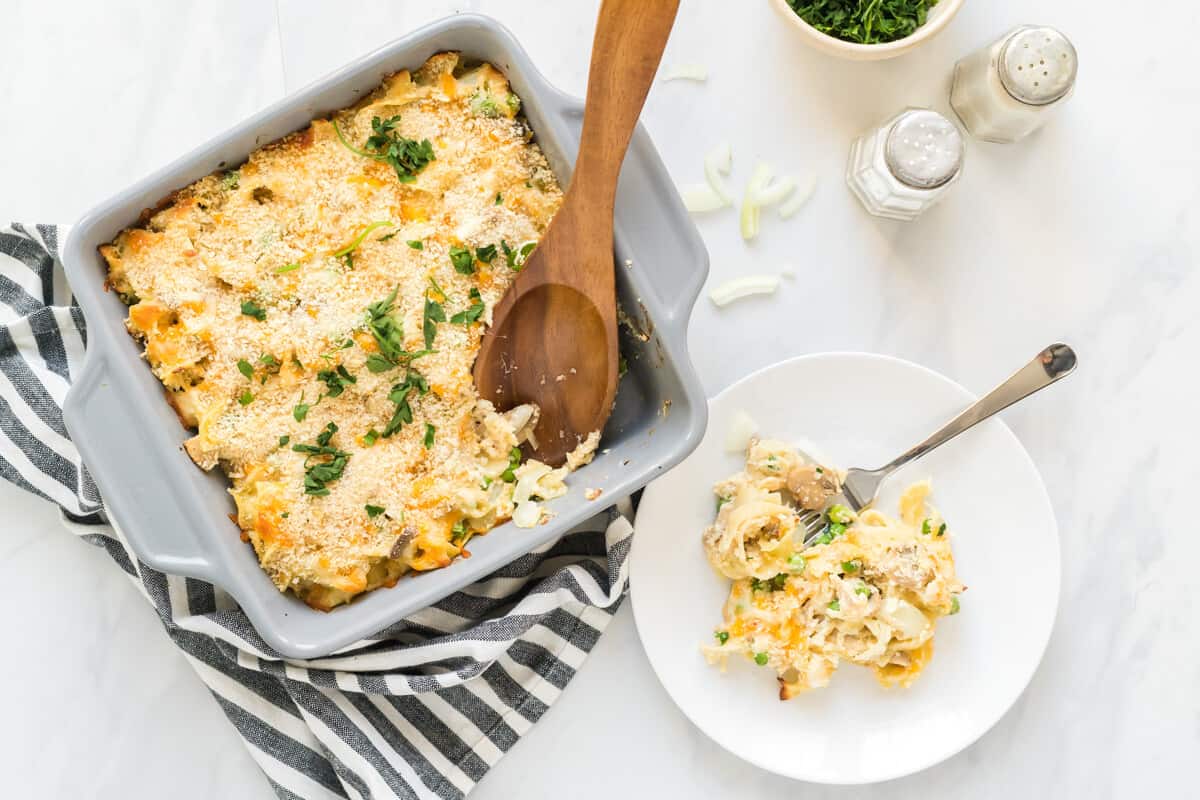 The classic creamy tuna noodle casserole gets a whole food makeover by skipping the canned soup and making a homemade sauce instead.
My in-law sisters/brothers and I recently started doing a meal swap. Each week one of us makes a gargantuan amount of food to share with the others. The benefits are similar to my batch cooking plans; there's one day where you do a lot of work, but then the other days you get to sit back and enjoy dinner with no prep/minimal cleanup!
One week my brother-in-law dropped off a creamy tuna noodle casserole. I have to admit, I wasn't prepared to particularly enjoy this dish, nevermind fall in love with it. But love it, I did!
He used this recipe from allrecipes, which I have since learned is a classic and very well-known recipe. It was completely new to me because I didn't grow up being exposed to much tuna and I'm slowly (ever so slowly), adding new fish recipes to my repertoire.
We've gotten pretty stuck on this Tuna Salsa Casserole recipe I developed because a) my kids LOVE it, and b) I taught my husband how to make it so when it's his once-a-week turn to make dinner, this is usually the meal he chooses!
Anyhow, one bite and I was converted! I knew I had to make my own version of it. Since I don't keep cans of mushroom soup on hand and try to eat whole foods as much as possible, I decided to make the sauce from basic ingredients instead.
Why This Creamy Tuna Noodle Casserole is a Smart Choice
High in protein, omega 3 fats, with a good dose of Vitamin A, calcium, iron, and fibre, this casserole hits it out of the park for its nutritional value.
However…..
A quarter of this casserole will give you about one serving of veggies, which I essentially consider a bonus serving, so may I humbly suggest pairing it with a side of roasted veggies or a salad? I highly recommend this vegetarian caesar dressing!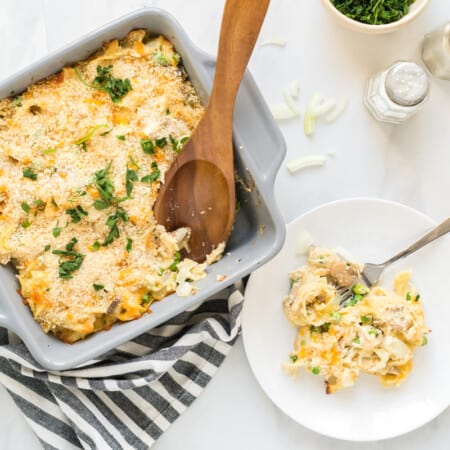 Creamy Tuna Noodle Casserole
Print Recipe
The classic creamy tuna noodle casserole gets a whole food makeover by skipping the canned soup and making a homemade sauce instead.
Ingredients
6

oz

egg noodles

(3 cups)

¾

cup

milk

100

g

grated cheddar cheese

(1 cup)

2

tbsp

cornstarch

1

egg

1

tbsp

chicken bouillon paste

(Better Than Bouillon)

½

tsp

onion powder

½

tsp

garlic powder

½

tsp

salt

1

can

sliced mushrooms, drained

(284 ml or 10 oz)

1

can

tuna

drained and flaked

1

cup

frozen green peas

defrosted

½

cup

onion

chopped

½

cup

shredded cheddar cheese

¼

cup

panko crumbs or potato chips

(optional)
Instructions
Preheat over to 425 degrees Fahrenheit.

Fill a medium-sized pot halfway with water and set over high heat to boil.

Once the water has come to a boil, add the egg noodles and turn down to medium.

If you have a high powered blender, place the milk, cornstarch, egg, bouillon, onion powder, garlic powder, 100g (1 cup grated) cheddar cheese, and salt in the blender and run a soup cycle to cook the sauce.

If you don't have a high powered blender, whisk the cornstarch into the milk. Heat on medium low until thickened. Meanwhile crack and egg into a bowl and whisk with a fork to break up the yolk. Once the milk/cornstarch has heated/thickened, pour a small amount (about 1/2 cup) into the eggs. Whisk with fork to combine then pour the egg mixture back into the pot and cook for one minute, whisking the whole time. Stir in the bouillon, onion powder, garlic powder, 100g cheddar cheese, and salt.

In a large mixing bowl, stir together the sauce, mushrooms, tuna, peas, and onion.

Dump into a 9×9 baking dish.

Top with 1/2 cup shredded cheese and panko crumbs, if using.
Nutrition
Calories:
467
kcal
|
Carbohydrates:
46
g
|
Protein:
30
g
|
Fat:
18
g
|
Saturated Fat:
10
g
|
Trans Fat:
1
g
|
Cholesterol:
138
mg
|
Sodium:
1125
mg
|
Potassium:
465
mg
|
Fiber:
4
g
|
Sugar:
7
g
|
Vitamin A:
854
IU
|
Vitamin C:
16
mg
|
Calcium:
383
mg
|
Iron:
3
mg
Craving Comfort?
Try these other delicious casserole dinners!