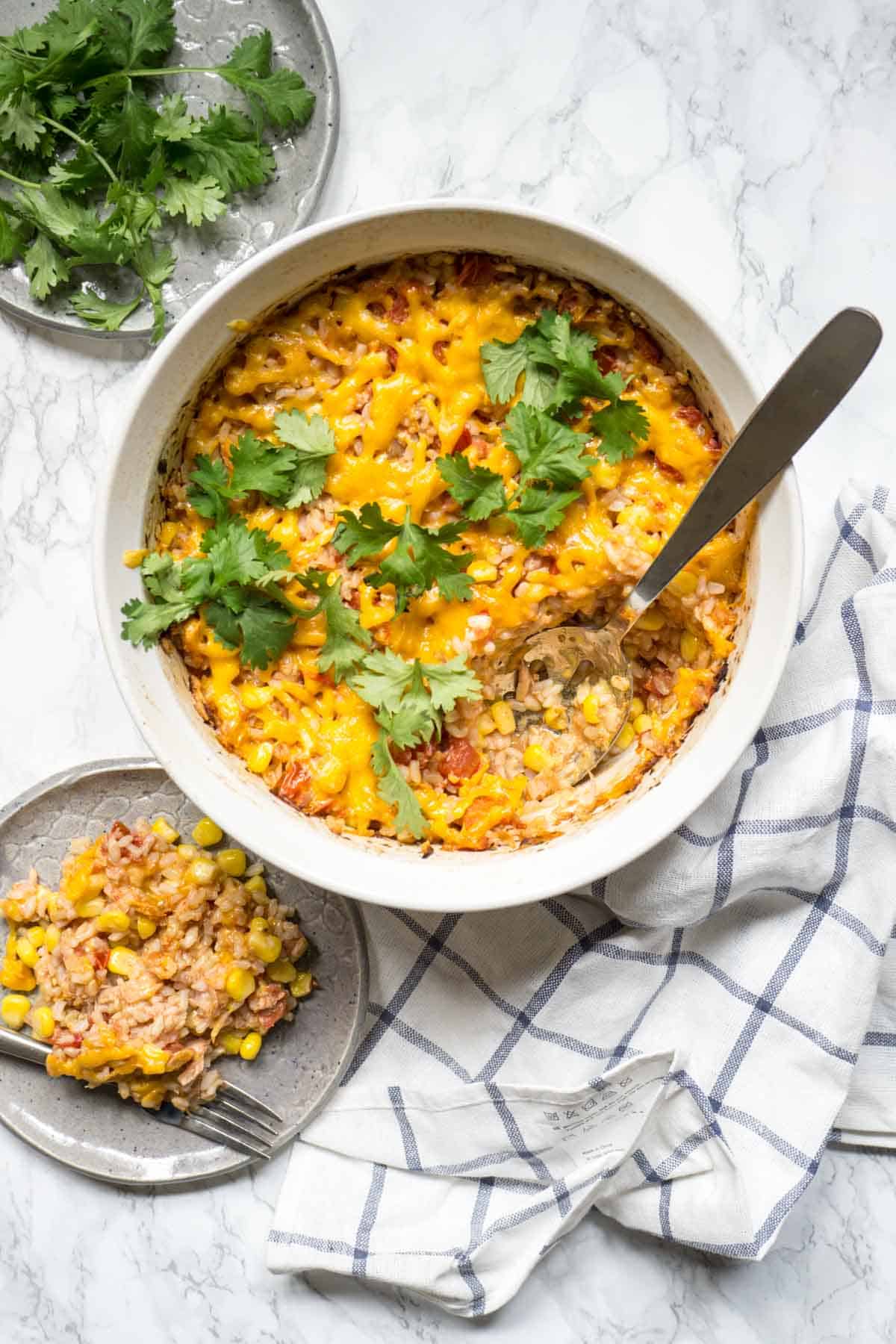 Only 5 ingredients, 1 dish, and 20 minutes to bake; this easy tuna casserole will be ready in less than half an hour! Features salsa, rice, & cheese.
It really doesn't get any easier than this, folks.
You literally throw everything into ONE pan, bake it, and eat it!
This has quickly become a family favourite and has made it into our weekly meal planning routine! I'm pretty pumped that I've found a tuna recipe the whole family loves. The fact that it's so easy is the icing on the cake!
One thing that makes it so quick and easy is having pre-cooked brown rice on hand. When I cook rice I usually cook double with either the intention of using it in this tuna casserole or this creamy chipotle black bean skillet recipe. or freezing the extra portion. This is one of my top Meal Planning Hacks, which you can find, along with nine others, in this free ebook.
Easy Tuna Casserole Tasting Notes
I know it's hard to believe, but even though there are only 5 ingredients, you can hardly taste the tuna! I guess if you really enjoy the taste of tuna, that would be a downside but if you're still just learning to enjoy it, like myself, then this is a huge bonus!
The recipe calls for brown rice. My personal favourite is an Australian short grain brown rice that I buy at Costco. The short grain results in a delightfully chewy texture. You could certainly use white rice, if that's your preference but you'll be missing out on the extra fibre and minerals in the brown rice.
Speaking of chewiness… If you use a 9×12 baking pan, you'll get a chewier casserole. If you use a round or oval 2.5 quart dish, it will be a bit juicier. I prefer the chewy but my husband prefers the juicy. Take your pick!
Prefer a creamy dish? Try this Creamy Tuna Noodle Casserole too!
The Power of the Mind
Are there any foods you just can't stand to eat? Tuna used to be one for me. I'd positively gag if I could smell anyone nearby eating it. It really boggled my mind that something I found so revolting could be happily enjoyed by someone else!
It's so fascinating how powerful the mind truly is! The way my mind would interpret the smell of tuna was akin to tuna being poison. When my oldest son was a baby and starting to eat solids, I bought some tuna for him because I knew that a) it was a super healthy food for babies and b) he didn't have my pre-conceived notions about tuna being poison and was a blank slate for possibly enjoying the taste of it. To both my pleasant surprise and disappointment….
…he liked the tuna!
Obviously, this was great from a nutritional point of view but then I panicked a bit because I realized I needed to find ways to incorporate tuna into our everyday foods so that once he transitioned to eating the same meal as the rest of the family, he would still have the opportunity to eat tuna.
This meant I had to face my fears. I had to learn to enjoy tuna!
I won't say it was as simple as flicking a switch, but once I chose to keep an open mind and decided I wanted to like tuna, my brain realized it was okay to let go of the idea that tuna was akin to poison.
The mind is involved on so many levels with healthy eating, which is why 'Healthy Mindsets' is one of the pieces of The Healthy Eating Puzzle (my framework to explain the different parts that go into eating healthy).
Don't worry, it's not a complicated puzzle. I've studied the different elements of healthy eating, and defined these five pieces to complete the puzzle:
Eating instincts:

trusting your body to know when it's hungry, when it's full, and what type of food it needs

Healthy mindsets:

keeping your thoughts about food from interfering in your life, and feeling free to enjoy all foods

Intentional choices:

choosing food based on the benefits they provide

Creating space: creating an eating environment that allows you to pay attention to your eating instincts
Eating rhythms and routines:

creating daily and weekly habits that will set you up for success
If one of these pieces are missing, your food life can suffer. There's more to healthy eating than just the sum total of calories and nutrients in a food. Your health has a physical, emotional, mental, and spiritual element, and your food influences all of them! Don't fall into the trap of focussing only on the physical!
It's my mission with Smart Nutrition to help you solve the healthy eating puzzle so that you can approach food joyfully and confidently.
I've developed this quiz to help you see which piece you need to work on most.
At the end of the quiz I'll send you a free resource to help you get started on filling in your missing piece!
Why This Easy Tuna Casserole is a Smart Choice
Fish, including tuna, is a fantastic source of omega 3 fatty acids. These fats are considered essential because the human body can't make them from other sources of fat. Omega 3s are used by the body for brain tissue, nerve tissue, healthy skin, hair, and nails, and for keeping chronic inflammation at bay. Unlike the inflammation you're used to when you twist your ankle, chronic inflammation isn't something you can see or feel. Chronic inflammation can contribute to raised blood pressure, insulin resistance, and damaged blood vessels.
What Type of Tuna is Healthiest?
The nutritional profiles of all tuna is very similar but I recommend choosing canned yellowfin or skipjack tuna more often and to only eat albacore or fresh tuna once a month or less. Albacore tuna is higher in methylmercury. This type of mercury builds up in your body every time you consume it. In other words, the body doesn't have an efficient way to break it down and great rid of it. I don't use the words "toxic" very often because that word has been used to blow things out of proportion in the alternative health world.
But in this case, I have to say it: too much methylmercury can become toxic! High levels of methylmercury can result in neurological disturbances, including:
muscle weakness
loss of peripheral (side) vision
pins and needles in the hands and feet
and impaired speech and walking
The World Health Organization has mercury on its list of top ten chemicals of concern for public health. When the major health organizations of the world take note, so do I.
HOW TO MAKE THIS EASY TUNA CASSEROLE (40 sec):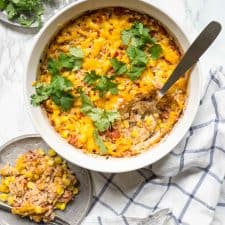 Easy Tuna Casserole (only 5 ingredients!)
Print Recipe
Tuna, salsa, corn, rice, and cheese: that's all you need to make this one dish casserole! 
Instructions
Preheat oven to 375 degrees Fahrenheit.

Dump and stir together the rice, corn, salsa, tuna, & 1 cup cheese.

Sprinkle the remaining 1/2 cup of cheese on top.

Bake for 20 minutes.
Nutrition
Serving:
1
/4 recipe
|
Calories:
474
kcal
|
Carbohydrates:
54
g
|
Protein:
28
g
|
Fat:
17
g
|
Fiber:
5
g
|
Sugar:
4.5
g
And here are some ideas for other super quick family favourite meals: