Avocado Cream Sauce [+ baby food instructions]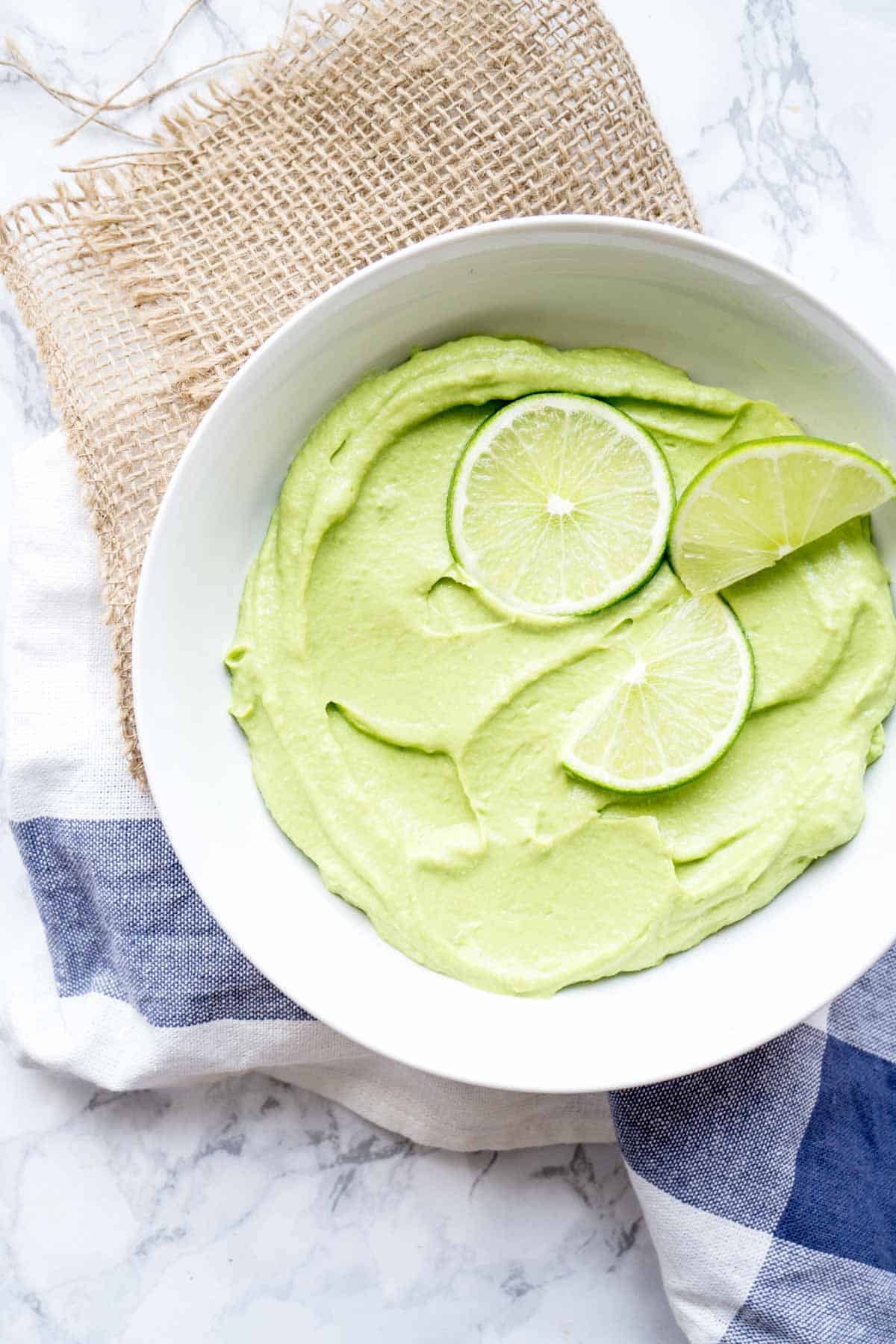 An avocado cream sauce that tastes like guacamole but is made lighter with the surprisingly delicious addition of green peas and cottage cheese!
Guac = life.
Agree or disagree?
I'm definitely on Team Guac! I even have a recipe for the world's best guacamole (seriously, go try it!).
So why would I go ahead and mess with a good thing by adding green peas to guacamole?!
I'll give you three good reasons!
1) Avocado Intolerance
Some people, including myself have a limited avocado tolerance. I can only eat a small amount before I'm literally sick to my stomach. The same thing happens to my son! We don't appear to be sensitive to any other foods.
It turns out this may not be uncommon. I asked a group of Dietitians if they had any idea what might be causing this reaction, and many responded with: "hey! That happens to me too!" None of us really know what's going on. My theory is that the combo of high fat + high fibre slows stomach emptying and loosens the muscle at the stop of the stomach that keeps it closed.
So since guac = life, I needed to figure out a way to eat more guacamole without the consequences! By adding peas I can safely eat MORE dip! Guac to my heart's content!
2) Babies Love It
I had originally made this as a baby food for my son! I'm an iron pusher when it comes to feeding babies… it is just so so important at this age! While I wouldn't call peas a high iron food, they do have 3x more iron than avocados. So to make a baby-friendly guacamole, I thought peas were a smart choice. I liked it so much that I turned it into a sauce for the rest of the family!
Check out the recipe notes for how to make this avocado cream sauce with a baby in the house.
3) Lower Fat Content
While I encourage people to embrace healthy fat choices, it can also be very easy to overdo high fat foods. They're yummy, which makes them easy to overconsume. That can be problematic because they have two times more calories than protein or carbs, for each gram of food. Swapping some green peas in for the avocado lowers the overall fat content.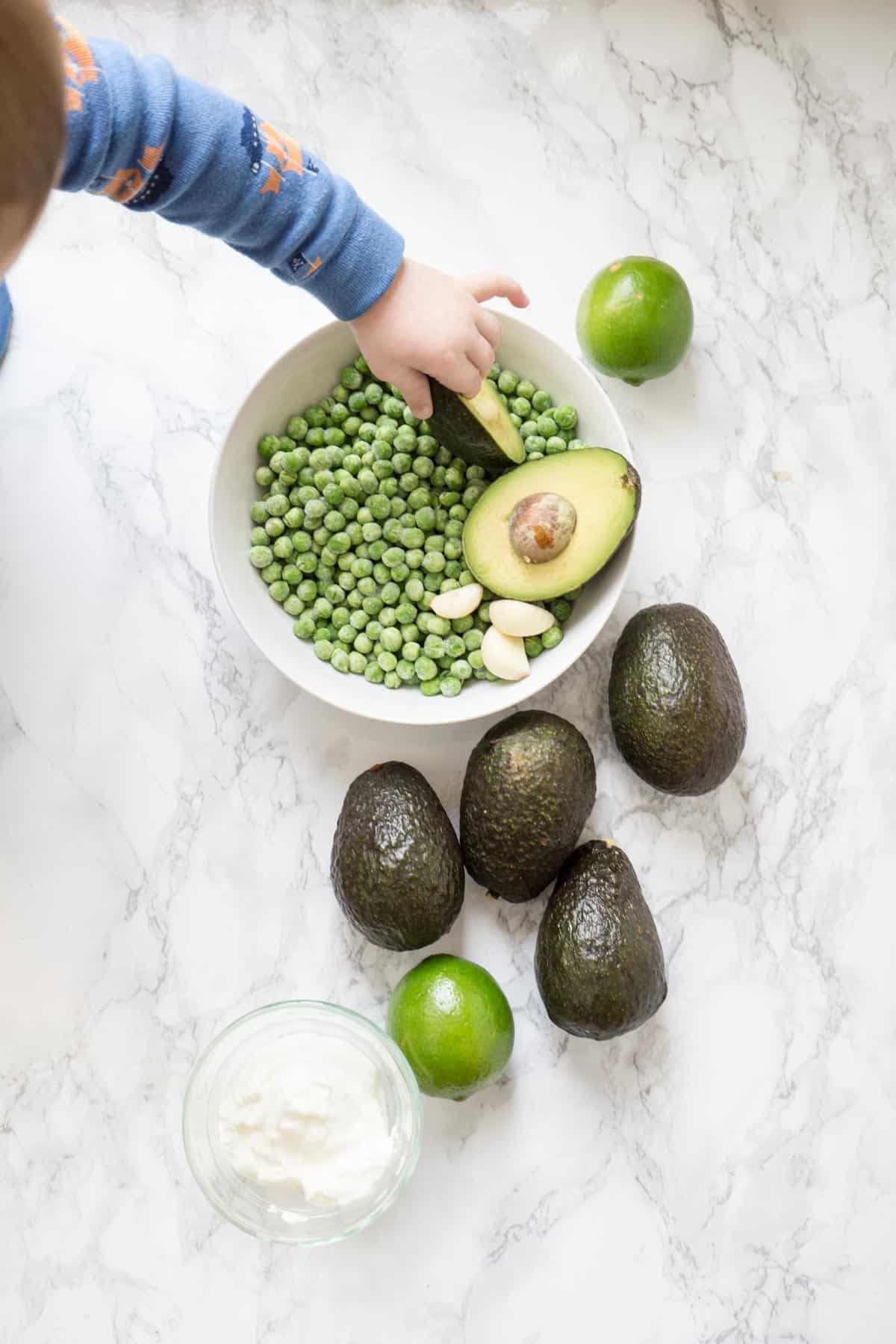 What to Eat With This Avocado Cream Sauce
My favourite way to enjoy this sauce is on top of these black bean enchiladas. But they would also go well as a replacement for the guacamole layer in this healthy 7 layer taco dip.  [see video below]
Of course, dipping tortilla chips right in is delicious, too!  You can basically add this sauce to any Tex-Mex recipe and it will be amazing!
HEALTHY 7 LAYER TACO DIP:
If you make this recipe, please let me know! Leave a comment, rate it, or snap a photo and tag it with #smartnutritionrecipes on Instagram!  I'd love to see your creations!
Avocado Cream Sauce
Print Recipe
Ingredients
2

avocados

peeled and pitted

1

cup

frozen peas

defrosted

¼

cup

sour cream OR cottage cheese OR plain yogurt

3

cloves

garlic

The juice of 2 small limes

¾

tsp

salt

A dash of smoked paprika
Instructions
Place all ingredients into a blender.

Start on low then turn up to high.

Blend until smooth.
Notes
TO MAKE THIS RECIPE BABY FRIENDLY: Omit the salt before blending. Remove 1/2 cup of the sauce for baby. Stir in 1/2 tsp salt to the remaining sauce for the adults to eat.