The Best Tofu You Will Ever Eat (gluten free and vegan)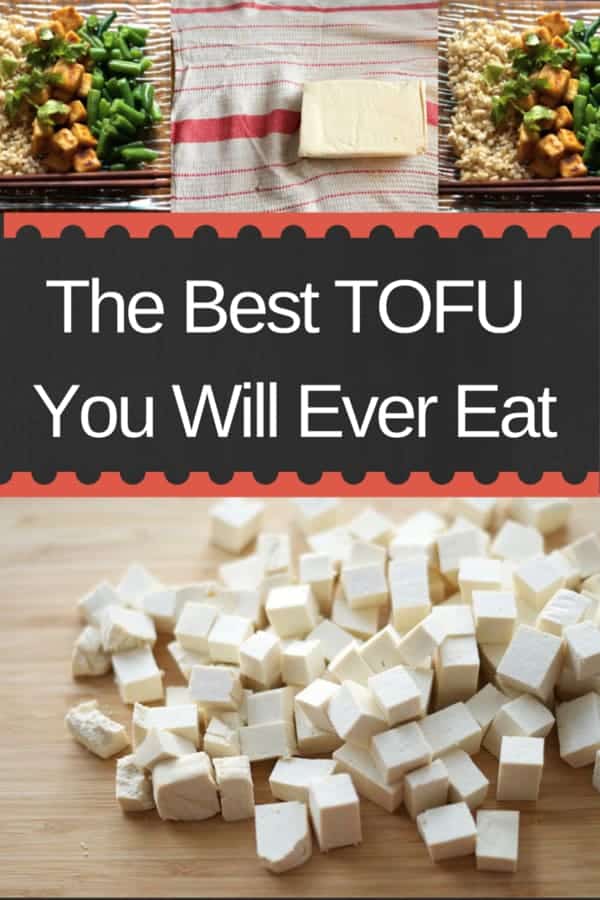 A super easy way to make TEXTURE perfect baked tofu! The outside turns out crisp and ready to be tossed in your favourite sauce.
It took me a while to learn to LIKE tofu. I would tolerate it when my vegan friends would make tofu dishes, but I couldn't quite wrap my mind around actually LIKING it. It doesn't have much of a taste and is actually quite special in the way that it can take on other flavours. It was definitely a mental block. Tofu just didn't sound appetizing.
When my baby started to eat solid food I bought him some tofu, since it's a great, ready-to-go, high iron, finger food. And he fell in love with it. When he no longer needed specially-prepared baby food and began to eat everything we did, I realized that I should respect his love for tofu and make it for the family too. That's when I perfected this tofu prep method.
And I fell in love with tofu too.
My Top Tips for Terrific Tofu:
A lot of people are put off by the spongy texture of tofu. This can be avoided though!
1) Buy extra firm: it has the least moisture and is therefore, less spongy.
2) Press it: remove the tofu from the package and then wrap the brick in a clean tea towel. Place a big pot or something else heavy on top and leave for about half and hour. Again, this removes some moisture.
3) Cut into small cubes: The more surface area there is, the more of the tofu will crisp up!
4) Keep an open mind! If you decide ahead of time that you don't like something, there's a high probability that you won't. But if you keep yourself open to the possibility that you might like a food, then you just might!
What Does Tofu Taste Like?
Once I got over my mental block of not liking tofu I realized that…. it barely has a taste! It's kind of like chicken for vegetarians…. it doesn't have a strong taste so you can add whatever flavour you want to it. A lot of people will marinate it and the best thing about tofu is that it's porous so the whole thing soaks up the flavour!
What is Tofu Made Of?
At first glance, tofu is a weird looking white spongey brick. Is it even real food? Is it ultra processed?
Tofu is made from soy beverage (ie: soy milk). As a comparison, tofu is to soybeans what cheese is to milk. Calcium or magnesium salts are added to the soy beverage, which alter its protein structure and cause it to clump out into curds. These curds are pressed together into a brick and voila! Tofu is made! This tutorial even shows you how to make it at home. Whenever you can make a homemade version of a food, I would generally consider that a minimally processed food!
Is Tofu Good For You? -Why Tofu is a Smart Choice
Here are the deets on tofu nutrition: One serving (150g) of firm or extra-firm tofu has over 21g of protein! This is about the same as one 75g chicken breast. Tofu has an advantage over the chicken breast though: you can eat twice as much for the same about of calories and protein!
Tofu is a good source of several minerals including iron, magnesium, potassium, phosphorous, and zinc. It also contains calcium from the calcium salts used to produce it.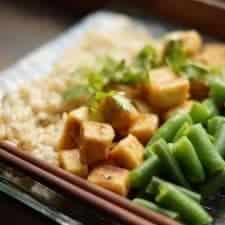 The Best Tofu You Will Ever Eat (gluten free and vegan)
Print Recipe
A super easy way to make TEXTURE perfect tofu! The outside is baked to a crisp and ready to be tossed in your favourite sauce.
Ingredients
1

block of extra-firm tofu

important to buy EXTRA firm

2

tbsp

of cornstarch

1

tbsp

nutritional yeast

optional but highly recommended!

1

tbsp

of light tasting oil

canola or olive

Dash of salt

Ziplock bag or sealable plasticware

ex: Tupperware
Instructions
Step One:
Preheat oven to 400 degrees Fahrenheit. This doesn't require a large pan so if you have a toaster oven, it will work just fine. Cut a slit into the tofu packaging and drain out most of the water. Remove the packaging and wrap the tofu in a piece of paper towel and then a clean tea towel.
Step Two:
Press the tofu for 10-20 minutes. Since your arms will get tired if you try to do this yourself, employ the help of a heavy pot. Just pot the pot on top and let it do the work for you.
Step Three:
Cut the tofu into little cubes. I was looking at one of my friend's cookbooks and I found a page called "how to butcher tofu". Not butcher as in ruin, but the literal meaning of butcher. It gave very detailed instructions on how to cut the tofu into cubes. I laughed because I thought it was a bit overkill (haha, see what I did there?) but my friend reminded me that not everyone has experience in the kitchen so this could be a helpful diagram for them. She was right. There's not much harm in overdoing directions but there is harm in leaving people hanging without knowing what to do. So… in light of that, here is how I like to cut my tofu:

a) lengthwise into halves or thirds so that you end up with 2-3 flat pieces

b) cut the flat pieces into strips

c) cut the strips into cubes
Step Four:
Place the tofu, cornstarch, nutritional yeast (if using) and the salt in the Ziplock bag or sealable container and shake to coat.
Step Five:
Open the bag or container and pour in the oil. Reseal and shake to coat.
Step Six:
Place tofu on an ungreased baking sheet in a single layer. Bake for 10 minutes. Flip the tofu and bake for another 5 minutes.
Step Seven:
Serve over rice and stir-fried veggies with your sauce of choice. See below for some of my favourites!
Sweet Chili Peanut:
⅓ cup sweet chili sauce
¼ cup peanut butter
1 tbsp soy sauce
1 tbsp lime juice
1 tbsp sriracha sauce
Whisk all ingredients together in a small bowl. Dilute with water to achieve desired consistency.
Orange Sesame:
¼ tsp chili flakes
1-2 tsp grated fresh ginger
3-4 cloves garlic, crushed
1 tbsp soya sauce
1 tbsp rice vinegar
2 tbsp sesame oil
3 tbsp frozen orange juice concentrate
1 cup water, divided
1 tbsp cornstarch
In a small pot combine the chili flakes, ginger, garlic, soya sauce, rice vinegar, sesame oil, orange juice concentrate and ½ cup of water.
Over medium, heat to boiling.
Meanwhile combine the other ½ cup water and cornstarch in a small bowl.
When the sauce has boiled, turn down to medium low.
Stir in the cornstarch/water and stir until thickened.
Remove from heat.
If you give this recipe a go, let me know! Leave a comment, rate it, or snap a photo and tag it with #smartnutritionrecipes on Instagram! I'd love to see your creations! Knowing someone has enjoyed one of my recipes always makes my day brighter.