Black Bean Enchiladas with Avocado Cream Sauce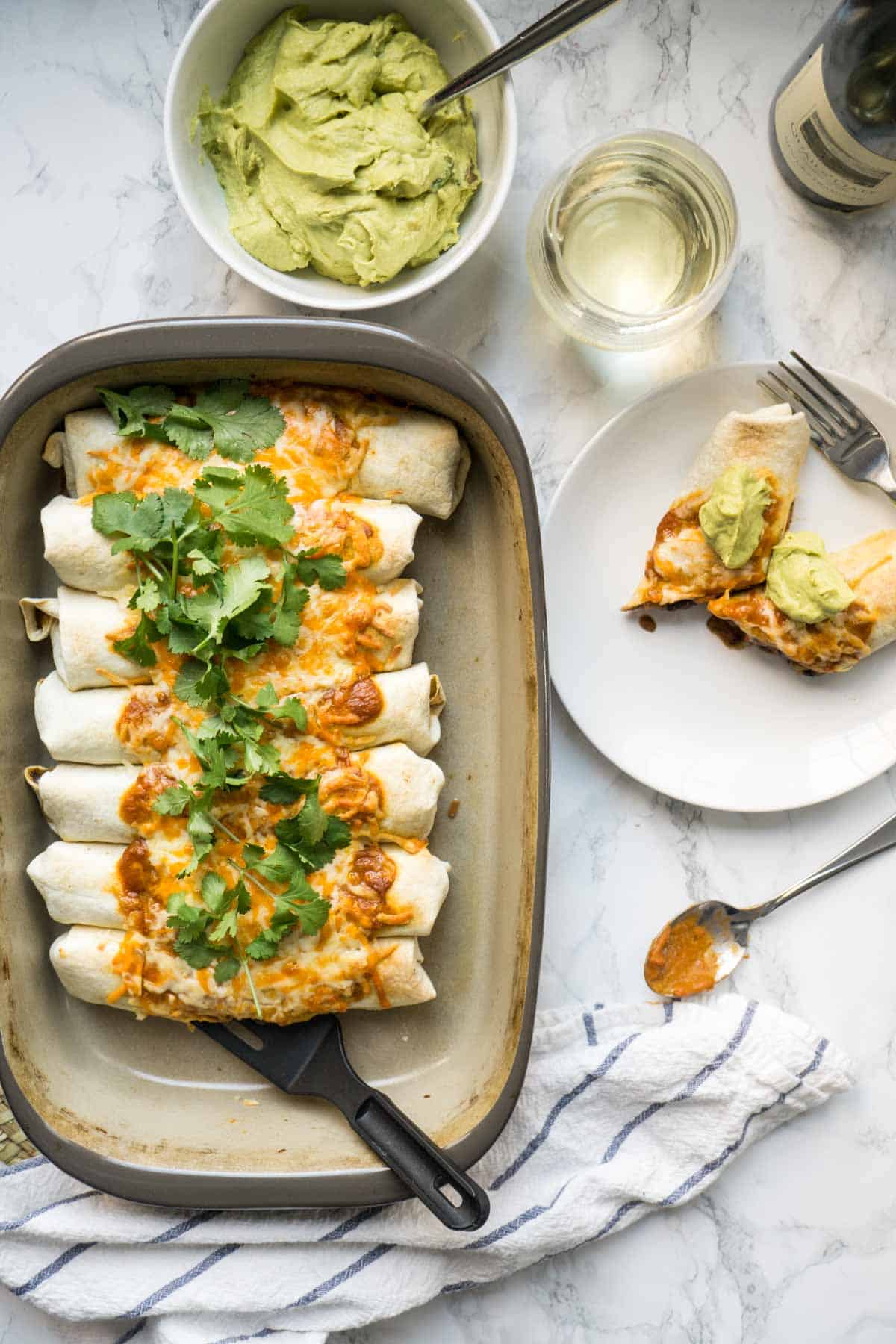 Black bean enchiladas with bell peppers, onions, and the easiest homemade red enchilada sauce! Top with a healthy avocado cream sauce.
I have to address something first and foremost: do not be intimidated by this recipe! I'm afraid you're going to scroll down, see the long list of ingredients, and get scared away from making it. But it's really not that bad!
The recipe is broken up into 3 parts:
Enchilada sauce
Making the enchiladas
To spread your work time apart, you can make the sauces one day and then assemble it all the next day.
If you want to take a shortcut and buy pre-made enchilada sauce and guacamole, that's okay too! But in Canada, canned enchilada sauce is not a common ingredient, so those of us in the great white north are forced to make it!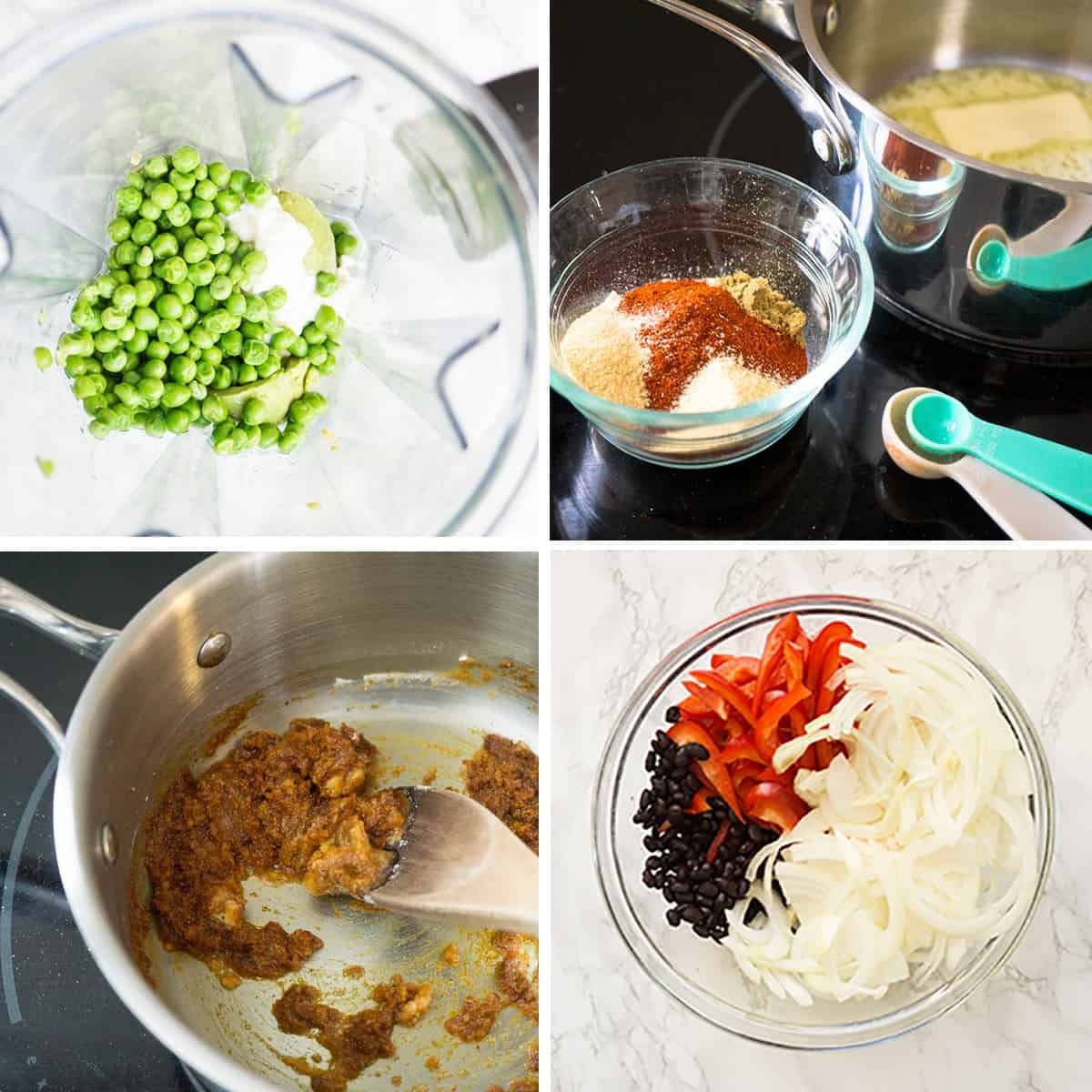 Black bean enchiladas: it's worth it
I have to say though, taking the time to prep everything by hand is totally worth the effort! Do you see the ingredient list for the sauce? It's just flour, butter, and spices; I would guess that it would cost less than 30 cents to make it! How much is a can of sauce? I don't know all the worldwide prices, but I'd be shocked if it was anywhere close to that price in most places.
Besides the price, when you make food yourself you are 100% in control of the ingredients! Want lower salt? Use less salt! Don't want added sugar? Great! There's no sugar in this recipe!
Black bean enchiladas: the ingredients
Tortillas: I recommend using good old white flour tortillas. One time I decided to make them with whole grain tortillas and they were entirely disappointing. In fact, the enchiladas were kind of gross. Yes, it's kind of surprising that I'm saying to go with the lower fibre choice, but for the measly 1-2g of extra fibre you'd get in the whole grain wraps, it's just not worth it. Besides, the wraps are filled with black beans, which will give you WAY MORE FIBRE anyway.
Black beans: I like to cook a big batch of black beans and freeze them in can-size portions in ziplock bags. It's cheaper, and that way I don't have to lug cans home from the grocery store! But canned black beans (drained and rinsed!) work just as well.
Cheese: I'm partial to Old Cheddar, but Monteray Jack or even Cojita would work well too.
Bell Peppers: I've made these with both green and red peppers. Both are delicious! The red ones end up tasting a bit like roasted red peppers, and the green ones remind me of deluxe pizza. Good associations for both of those!
Green Chilis: These just add flavour… the recipe is not spicy at all!
Avocado Cream Sauce: Move over guacamole, you've just been replaced! This avocado cream sauce is basically a super smooth guacamole with the addition of green peas. Again, please don't get scared off by the peas! They mellow out the avocado and add a touch of sweetness to the sauce.  Nutritionally, they add some protein and lower the fat content. I love guacamole, but my stomach is sensitive to it so I can only eat a little bit. Adding green peas to the mixture means sensitive stomachs will enjoy this recipe too. Yum yum!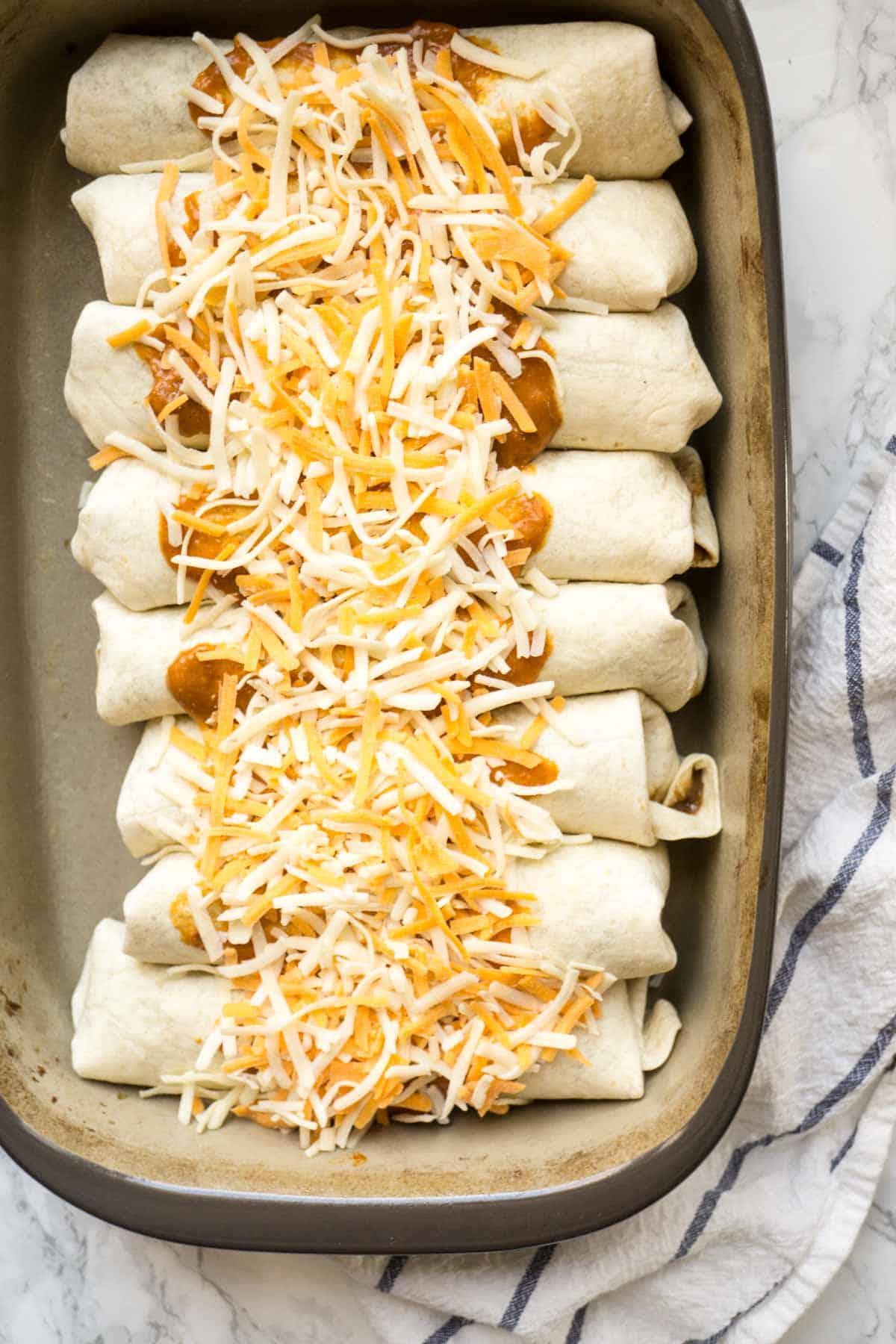 For more Tex Mex recipes:
Black Bean Enchiladas
Print Recipe
Ingredients
2

tbsp

canola oil

2

bell peppers

sliced

1

large onion

sliced

1

can of black beans

drained and rinsed OR 1 ½ cups cooked black beans

1

127 ml or 4 oz can of chopped green chilis

8

large tortillas

1

cup

shredded cheddar cheese
Enchilada Sauce:
2

tbsp

butter

2

tbsp

flour

2

tsp

chili powder

1

tsp

smoked paprika

½

tsp

onion powder

½

tsp

garlic powder

¼

tsp

cumin

¼

tsp

salt

1

cup

water

1

tsp

chicken or vegetarian bouillon paste

I like the Better Than Bouillon brand

½

tsp

liquid smoke

optional but highly recommended!
Instructions
Lightly grease a 9x12 pan and prep the veggies.

Preheat oven to 350 degrees Fahrenheit.
Make the enchilada sauce:
Melt the butter in a small pot over medium low heat.

While the butter is melting, stir together the flour, spices, and salt in a small bowl.

Once the butter has melted, dump the spice mix in.

Stir and cook for one minute. A thick paste should form.

Splash in a bit of the water. Stir to combine.

Keep adding the water, one splash at at time, stirring well in between each addition.

Once all the water has been added, cook until bubbling.

Remove from heat and add the bouillon paste and liquid smoke.

Set aside ¼ cup enchilada sauce
Back to the enchiladas....
Pour the oil into a large frying pan, wok, or pot. Place over medium heat and add in the sliced peppers and onions. Cook until the onions are soft but the peppers are still tender crisp.

Add in the bulk of the sauce along with the black beans, and green chilis. Stir to combine.

You should have about 4-5 cups of mixture, depending on the size of your onion and peppers.

Place ½ to ⅔ cup of the veggie mix onto the centre of a tortilla wrap. Fold in about an inch of the sides, the fold up the bottom over the filling and tuck it in under the filling. Roll up from the bottom.

Place seam side down in the greased pan.

Repeat for the remaining tortillas.

Drizzle the reserved enchilada sauce on top.

Sprinkle the cheese on top.

Bake for 20 minutes at 350 degrees Fahrenheit.

Once the enchiladas are done baking, serve onto a plate with a dollop of avocado cream sauce.
Nutrition
Serving:
1
enchilada with avocado sauce
|
Calories:
406
kcal
|
Carbohydrates:
41
g
|
Protein:
12
g
|
Fat:
22.5
g
|
Fiber:
7
g
|
Sugar:
3.5
g