Creamy Chipotle Pasta Salad Recipe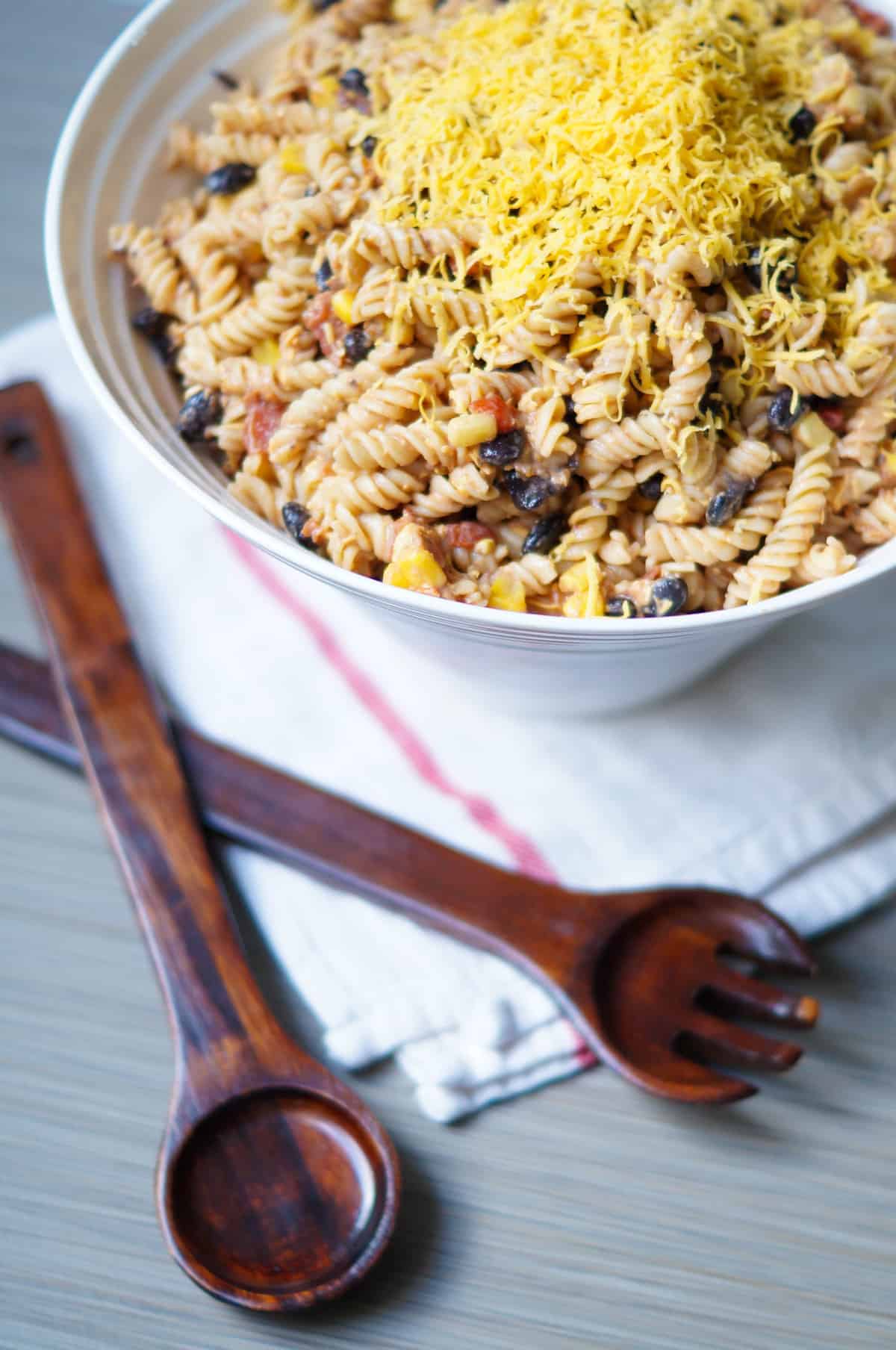 Creamy Chipotle Pasta Salad Recipe
Tomorrow is Canada Day, the day that my fellow Canadians and I celebrate how awesome we are and how much the rest of the world loves us. Is that patriotism or narcissism?
I may have a badittude at the moment. It's been pretty rainy and dreary lately in Manitoba, which is very unfair, considering we endure harsh winter extremes for seven months of the year. We only get three months of actual summer, and this year we're cooped up inside because the clouds have decided to dump all of the melting glaciers onto our heads instead of doing something reasonable with them, like flood a small coastal city.
The only positive thing I can say about this rain is that at least it's keeping the mosquitoes away.
Despite my current malaise about Canadian weather, I really do love Canada and always enjoy having a day dedicated to hanging out with friends, eating delicious pasta salad, and watching fireworks.
Did you catch what I did there? I subliminally got you wanting to eat delicious pasta salad. Well, you're in luck; I have a pasta salad recipe for you!
Why It's A Smart Choice
Many pasta salad recipes rely on mayo for their creaminess. This one uses plain yoghurt, which is full of probiotics that are good for your gut and overall health. Make it lighter with a lower milk fat percentage, or indulge a bit with higher milk fat content.
If you give this recipe a go, let me know! Leave a comment, rate it, or snap a photo and tag it with #smartnutritionrecipes on Instagram! I'd love to see your creations! Knowing someone has enjoyed one of my recipes always makes my day brighter.
Creamy Chipotle Pasta Salad
Print Recipe
Ingredients
1

12 oz box of rotini

2

cups

salsa

1

cup

plain yogurt

1

cup

finely shredded cheddar cheese

1

chipotle

aka adobe pepper, in sauce, finely diced

1

can

1.5 cups black beans (if using canned, drain and rinse)

2

cups

frozen corn
Instructions
Put a large pot of water on the stove to boil. Once it comes to a rapid boil, slide in the rotini. Cook until al dente.

Meanwhile, stir together the salsa, yogurt, cheese, and chopped chipotle.

Once the pasta is cooked, combine in a large bowl with the black beans and frozen corn.

Pour the sauce over to cook. Stir to evenly distribute the ingredients.
Notes
Only dress the salad shortly before serving or the thirsty pasta will absorb all the saucy goodness!
Nutrition
[share title="Share This Article" facebook="true" twitter="true" google_plus="true" linkedin="true" pinterest="true" reddit="true" email="true"]