Confessions of a major sweet potato lover.
I'm not exactly your classic meat and potatoes type of cook. In fact, I'm quite the opposite. In my first decade of having moved out and cooked for myself I don't think I ever once bought a potato. And I mostly ate vegetarian. And I make mixed up meals that don't bode well with the "plate method" of balancing foods: You know 1/2 plate veggies, 1/4 plate starch, and 1/4 protein? Not for me. I'm a mixed up stirfry, stew, casserole type of gal.
So I never used to buy potatoes but I would, on occasion, buy sweet potatoes.
Sweet potatoes are one of life's greatest mysteries. They taste 100x better than white potatoes but they are generally more nutritious. They taste sweeter and yet they have a more blunted effect on raising blood sugar.
Say what? Such a mystery.
But that's the science of it. Science doesn't always follow common sense. The same phenomenon happens with carrots. They TASTE sweet, but they really have a negligible effect on blood sugar.
So with my natural love and penchant for sweet potatoes, the first time I made these Mexican potatoes, I used sweet potatoes. If you look closely at the photos you can see a touch of the orange from the sweet potato. But, take it from my family to yours: it was weird and just awful!
As much as it pains me to admit, this recipe does NOT work with sweet potatoes.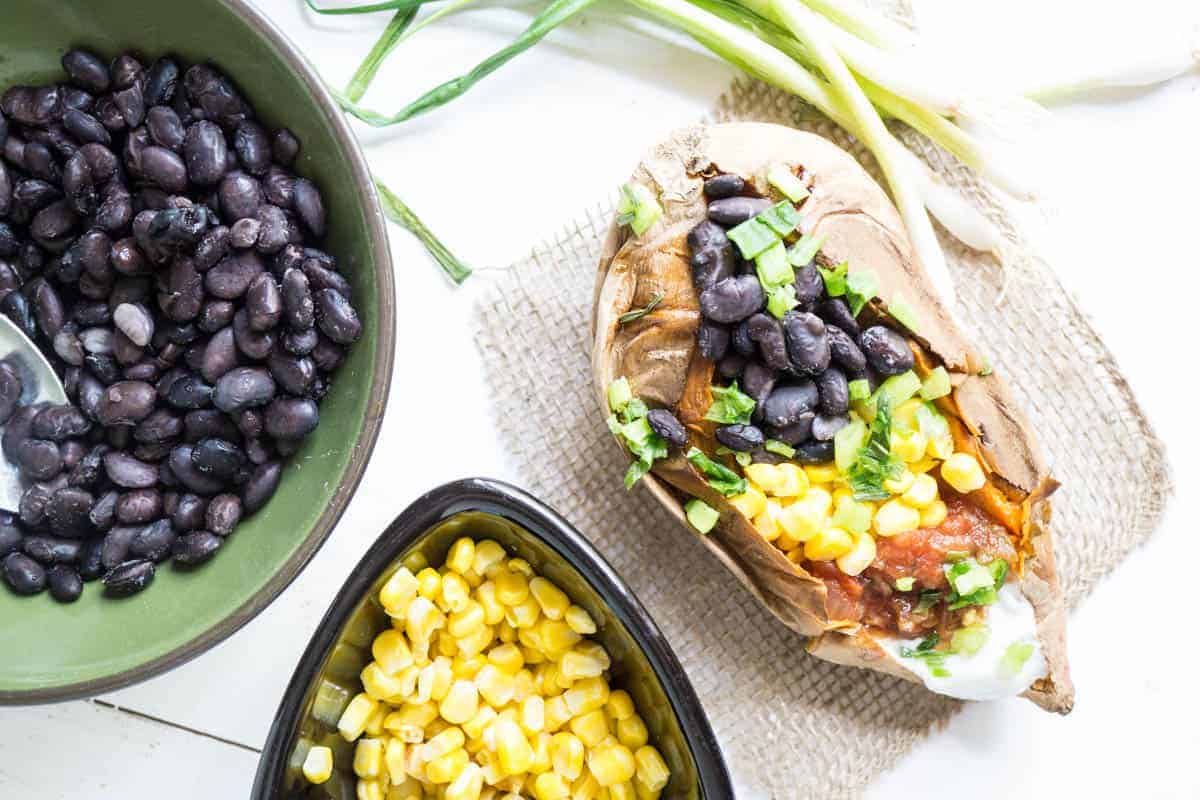 why it's a smart choice
Once you have your potatoes baked, this meal comes together in a snap! Just add your toppings and eat! This recipe is perfect for those days when you have leftover baked potatoes from a previous meal. Even better: plan to have leftover baked potatoes so supper the next day is a breeze!
If you give this recipe a go, let me know! Leave a comment, rate it, or snap a photo and tag it with #smartnutritionrecipes on Instagram! I'd love to see your creations!
Mexican Stuffed Potatoes
Print Recipe
A 5 minute dinner using leftover baked potatoes as the based for "nacho" style toppings.
Ingredients
Pre-baked potatoes

Frozen corn

defrosted

Black beans

rinsed and drained from a can or cooked

Chopped green onions

Shredded cheddar cheese

Salsa

Sour cream
Instructions
Cut a slit down the middle of the potato, lengthwise.

Top with corn, black beans, green onions, and cheddar cheese.

Heat in oven or microwave.

Add a dollop of salsa and sour cream.