7 Layer Dip – healthy enough for dinner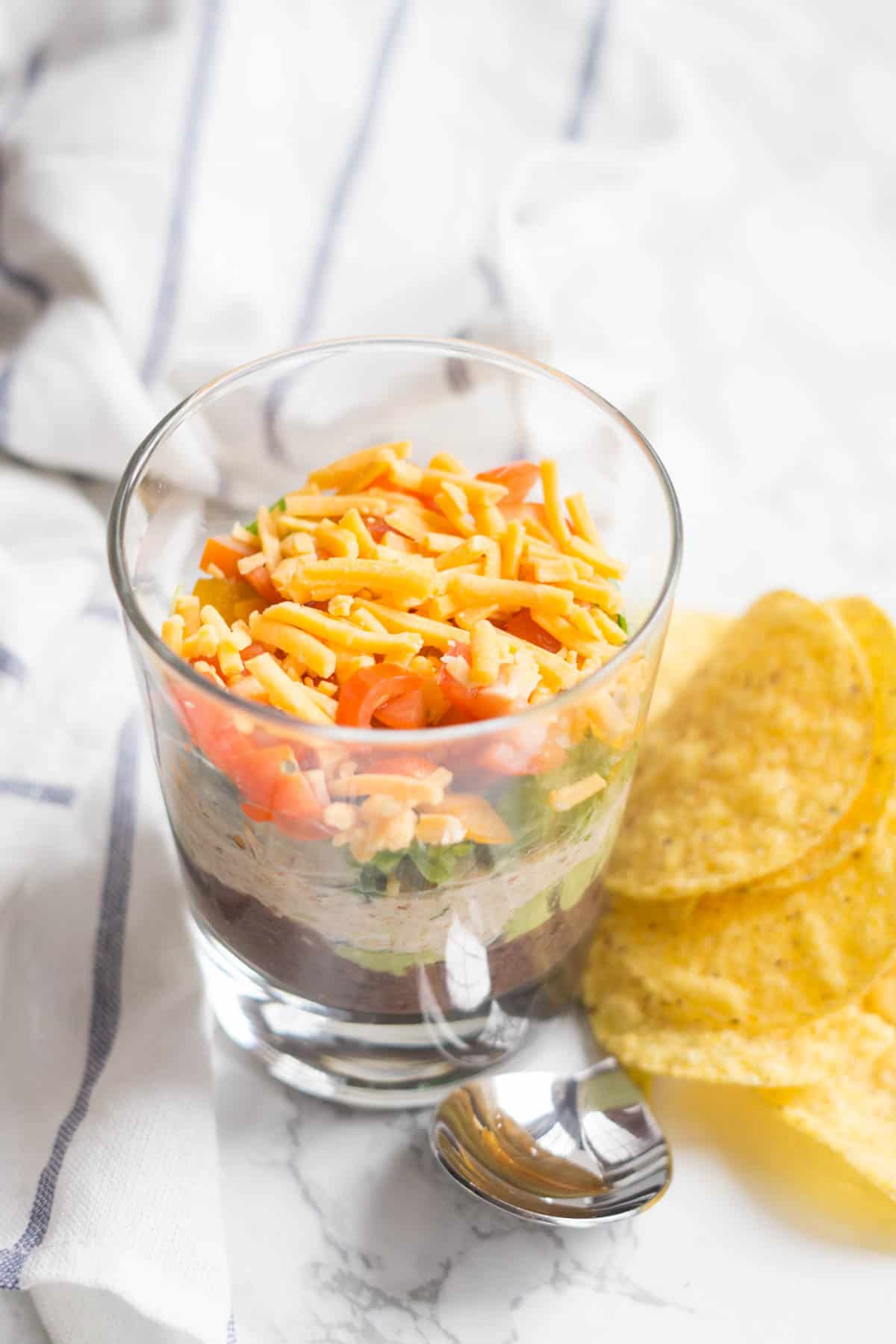 A 7 layer dip so healthy you can enjoy it for dinner! This TexMex dip is healthier with cottage cheese, black beans, salsa, & lotsa veggies!
I'll admit it; sometimes we eat dip for dinner. This 7 layer dip. This amazing, delicious, balanced, healthy 7 layer dip. This is a dinner worthy dip.
You can be extra healthy and use toasted pita wedges but again, I'll admit it; we eat this with tortilla chips. I aim for a balanced approach in our household. We rarely eat tortilla chips.
Tips for Making 7 Layer Dip
For the saucy layers, the best way to spread them evenly without mixing the layers is to put the thickest layer on the bottom. For me, I find the guacamole is thicker than the black bean layer but if you have a thinner guacamole you may want to put the black bean layer on the bottom.
Both a platter or a trifle bowl are a bit "prettier" if you're serving this to a crowd. The trifle bowl really shows off those layers! But for actual, practice purposes I find making it in a casserole dish or a 9×12 baking pan works best. The larger surface area means the layers get spread out more thinly and then you get dip your chip aaaaalll the way to the bottom to get a little bit of each layer in every bite!
As an alternative you can also layer these into glassware or clear plastic cups. This is a total win-win in my mind because this plan also shows off the pretty layers AND it's very dippable. And your party guests will enjoy the cuteness of seeing all the cups and their layers. The downside? It's going to take longer to prepare than just dumping and spreading each layer into one dish.
Why This 7 Layer Dip is a Smart Choice
The bean layer: black beans are a great source of fibre, folate, iron, and potassium. Salsa is made up primarily of veggies. When you're buying salsa, make sure to get one that doesn't have added sugar.
The creamy layer: instead of sour cream, this recipe uses plain yogurt and cottage cheese. This substitution ups the protein and decreases the fat. As a bonus you get some probiotics in the yogurt!
The guac layer: avocados have monounsaturated fats (i.e.: heart healthy fats) and a good amount of fibre.
The leafy layer: lettuce is a veggie. Veggies are healthy, but you already knew that 🙂
The tomato layer: tomatoes are high in lycopene, a potent antioxidant.
The bell pepper layer: bell peppers are super high in Vitamin C, which helps your body absorb the iron from the black beans.
The cheese layer: cheese is tasty. That's a smart reason in and of itself to eat cheese. But you also get more protein and calcium!
WATCH HOW TO MAKE THIS 7 LAYER DIP (50 SEC):
If you give this recipe a go, let me know! Leave a comment, rate it, or snap a photo and tag it with #smartnutritionrecipes on Instagram! I'd love to see your creations! Knowing someone has enjoyed one of my recipes always makes my day brighter.