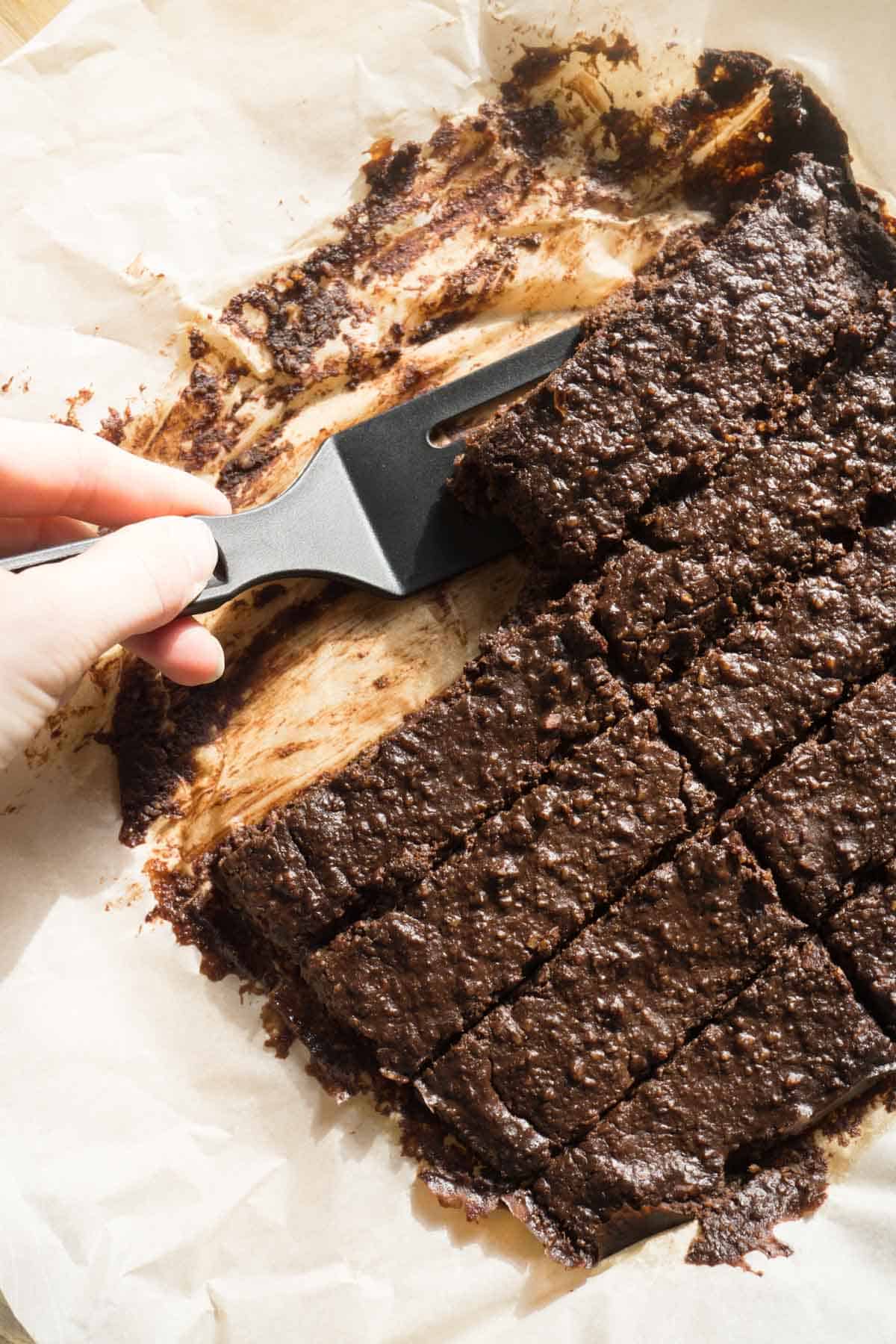 A chewy, gooey, chocolatey, no-bake, dairy-free protein bar.
Warning! These bars are definitely gooey. I recommend having a napkin close by to discreetly wipe your hands after you finish it. When my toddler ate one his whole face and hands were covered in a sweet, sticky mess afterwards, which he delighted in, of course.
You could use powdered egg whites to reduce the stickiness but the cost is expensive in comparison to a carton of pasteurized egg whites. So I think it's worth putting up with a bit of gooeyness. Speaking of egg white, make sure to use a carton of pasteurized egg whites since this recipe is no-bake. You don't want to risk food poisoning anyone with raw eggs!
a true copycat recipe
The front package of the RX bar gave me a good starting point since they pretty much spell out the recipe right there. Using that as a starting point and then tweaking the ingredients to match the nutrition info, I nailed the copycat! Check this out:
| | |
| --- | --- |
| RX Bar | Copycat Version |
| | |
| 210 calories | 208 calories |
| 9g fat | 8g fat |
| 24g carbs | 27g carbs |
| 6g fibre | 5g fibre |
| 15g sugar | 17g sugar |
| 12g protein | 12.5g protein |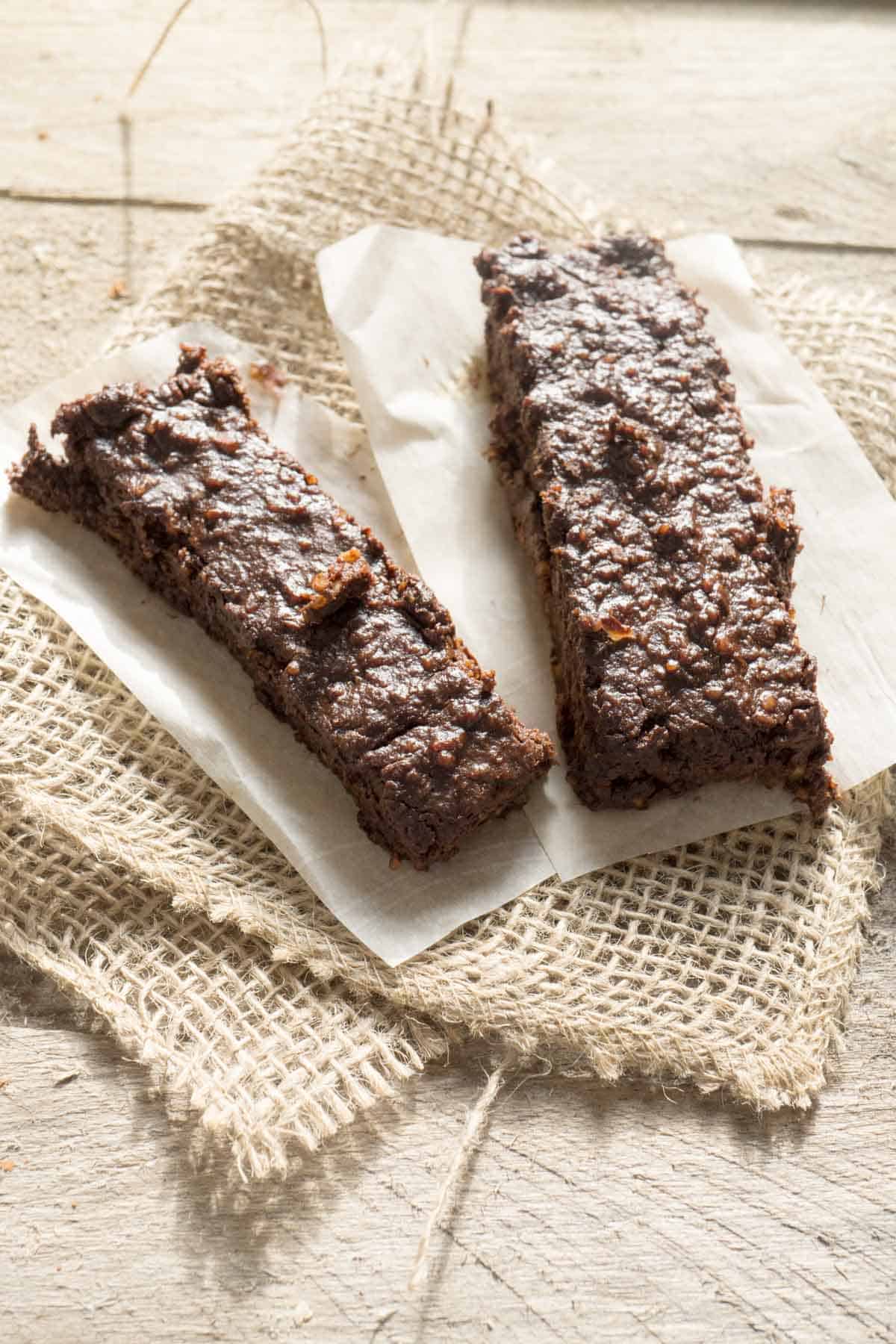 why this RX bar copycat recipe a smart choice
The protein in egg whites is high in what we call "biological value." First: a little primer on proteins. Proteins are composed of different building blocks called amino acids. A good comparison is the alphabet. Words are composed of a specific order and combination of letters. Likewise, proteins are composed of a specific order and combination of amino acids. During digestion, proteins get broken down to amino acids. The body then uses these building blocks to make the proteins it needs: whether that be muscle tissue, hormones, or immune cells, etc.
So when a protein has high biological value, it contains a similar proportion of essential amino acids to what our body typically needs to use.
Additionally, each bar provides 2 tbsp of nuts. In the nutrition world, we are realizing more and more how much a daily serving of nuts can help prevent heart disease and other chronic conditions. If it were up to me, I'd consider including nuts and seeds as a separate food group with its own daily recommendation!
If you make this recipe, please let me know! Leave a comment, rate it, or snap a photo and tag it with #smartnutritionrecipes on Instagram! I'd love to see your creations!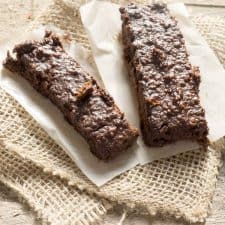 chocolate sea salt RX bars (copycat recipe)
Print Recipe
A chewy, gooey, chocolatey, no-bake, dairy-free protein bar.
Ingredients
1 1/2

cups

whole dried dates

1/2

cup

whole almonds

1

cup

whole cashews

3/4

cup

unsweetened cocoa powder

1 1/4

cups

pasteurized egg whites

coarse salt

sea salt or pickling salt
Instructions
Place dates into a microwavable bowl

Pour water over dates until just covered.

Microwave dates until soft and water has evaporated (use 30 second intervals)

Pour nuts into food processor and pulse until finely chopped

Pour cocoa into food processor. Give it a couple of pulses to mix

Pour egg whites into food processor. Pulse until mixed

Dump contents of food processor into a bowl

Dump softened dates into food processor

Pulse until blended

Add in the nut mixture and pulse until blended

Line a 9×9 with parchment paper

Dump mixture onto parchment and smooth out

Sprinkle with coarse salt (sea salt if you prefer)

Refrigerate until firm.

Cut into 12 bars.
Nutrition
Calories:
171
kcal
|
Carbohydrates:
22
g
|
Protein:
7
g
|
Fat:
9
g
|
Saturated Fat:
1
g
|
Trans Fat:
1
g
|
Sodium:
45
mg
|
Potassium:
357
mg
|
Fiber:
4
g
|
Sugar:
13
g
|
Vitamin A:
2
IU
|
Vitamin C:
1
mg
|
Calcium:
36
mg
|
Iron:
2
mg
Calories: 208 | Fat: 8g | Carbs: 27g | Fibre: 5g | Sugar: 17g | Protein: 12.5g
For more high protein snack ideas:

This post contains affiliate links.
[share title="Share This Article" facebook="true" twitter="true" google_plus="true" linkedin="true" pinterest="true" reddit="true" email="true"]