Orange Poppyseed Protein Waffles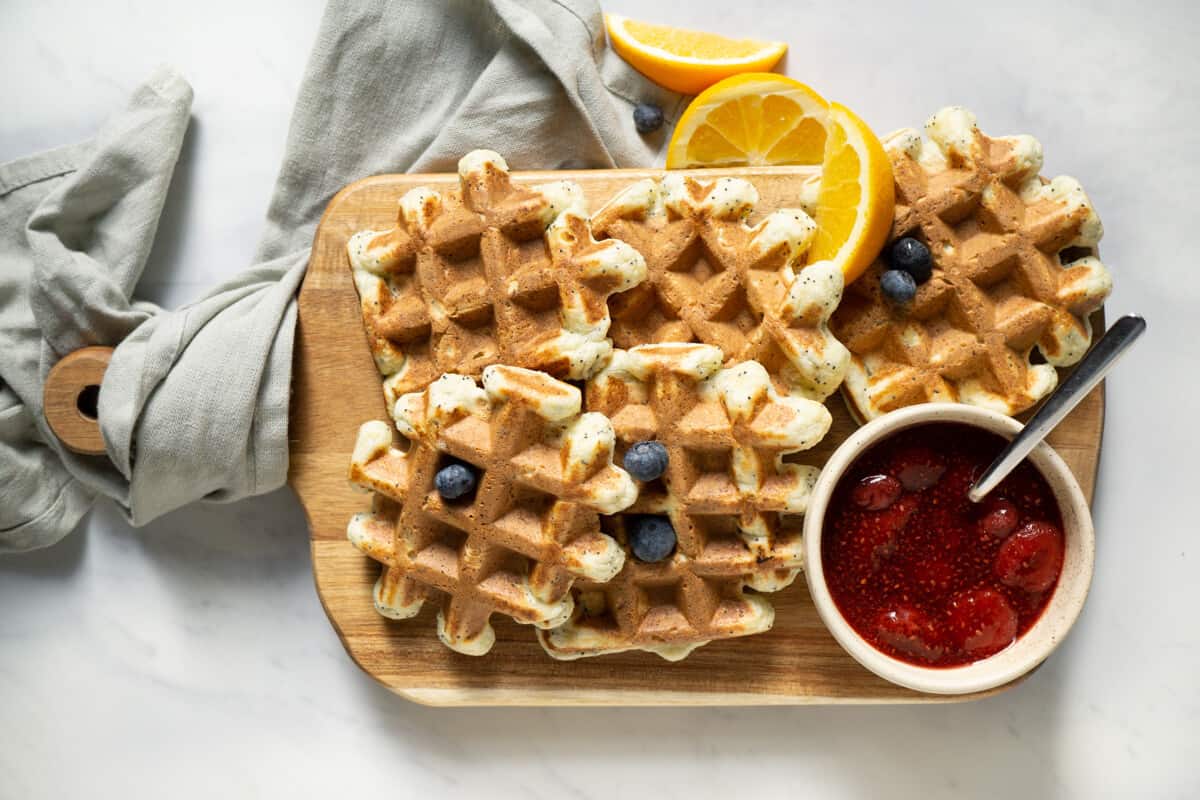 Greet your morning with the bright flavour or oranges and nearly 20g of protein! Tasty on their own or with a smear of berry jam.
Important questions to ask someone you're dating to figure out if they're "the one":
do you want kids in the future or not?
are you a home body or do you like to travel?
are you a spender or a saver?
do you prefer waffles or pancakes?
Marriage advice from a food blogger: if you're going to be spending a lot of lazy Saturday mornings together you don't want every weekend to begin with the "waffle or pancake" argument. Thankfully I avoided this potential catastrophe as both my husband and I are definitely waffle folks. Occasionally I get a hankering for pancakes and since I make all the food in our house, I make pancakes but I know he won't be excited about them. With every bite he'll be wishing they were waffles.
*Oh, I should note…. I make all the food in our house except for stovetop popcorn… my husband is the KING of stovetop popcorn. Seriously. He gets raves reviews whenever we have people over and he makes popcorn. It's amazing. Don't ask him how he does it though. You really don't want to know; I think it involves an insane amount of oil, which is why we only eat popcorn very occasionally!
Back to the waffles….
These are lightly sweetened so you don't need to douse them in syrup. I really enjoy them on their own or with a smear of berry jam. Fresh berries would be even better but they're still quite pricy in the stores so I haven't been buying them yet. I'm more of the "buy your fruit in season" type of girl!
Eat them hot, warm, or cold: they're delicious any way! I grabbed a leftover one out of the fridge as an afternoon snack and it was so. very. satisfying. Carbs, fat, and protein: all in one convenient hand held portable snack.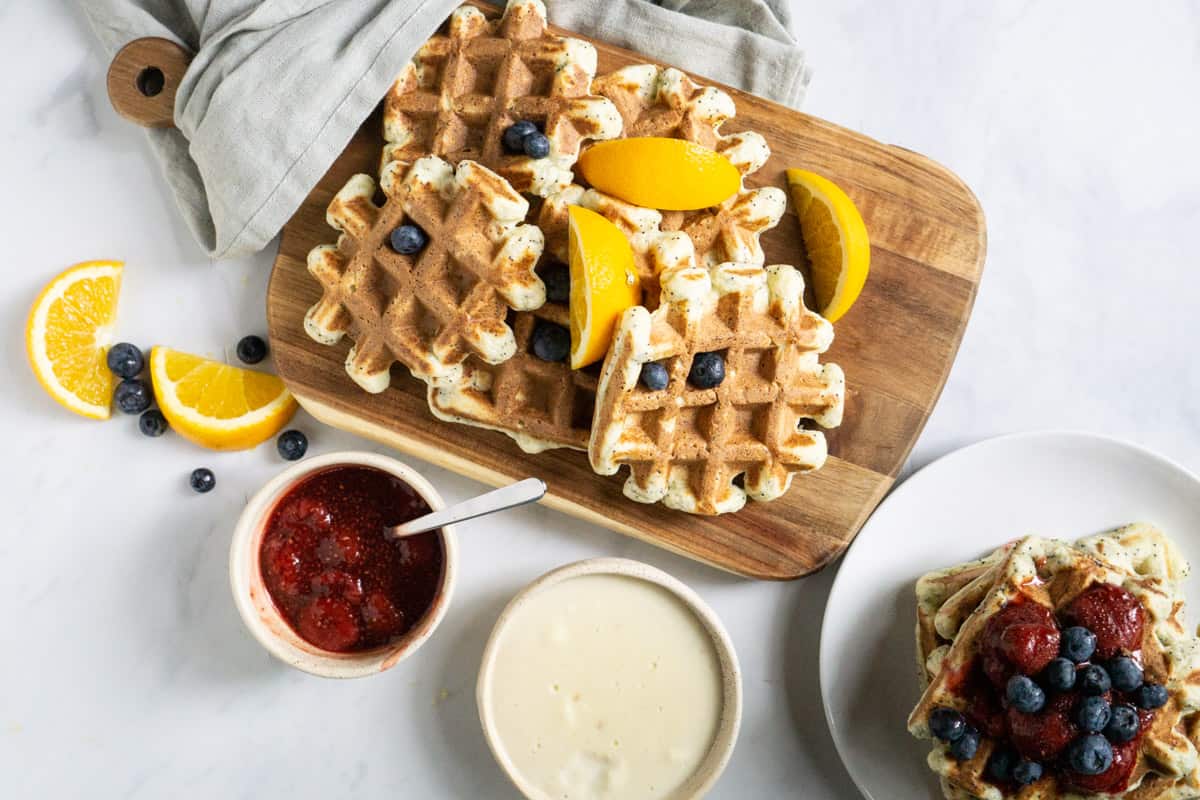 why these protein waffles are a smart choice
I talk about this a lot but consuming adequate protein throughout the day is incredibly important in keeping you going from one meal to another. Many people eat a high carb breakfast (cereal, bagels, muffins, etc) and then find themselves hungry an hour later. When you eat around 20-30g of protein in the morning, it prevents your appetite from returning for several hours.
Ricotta is a mild flavoured fresh cheese high in protein. It has an airy texture so it adds a bit of lightness to the waffles as well. It's also super easy to make yourself! All you need is milk and lemon juice. Check out this easy tutorial here.
If you make this recipe, please let me know! Leave a comment, rate it, or snap a photo and tag it with #smartnutritionrecipes on Instagram!  I'd love to see your creations!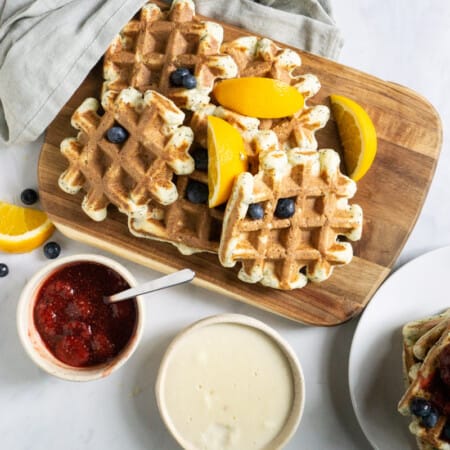 orange poppyseed protein waffles
Print Recipe
Greet your morning with the bright flavour or oranges and nearly 20g of protein!
Ingredients
4

eggs

separated

2

cups

ricotta

Zest of 1 orange

Juice of 1 orange

3

tbsp

sugar

2

cups

flour

1

tbsp

baking powder

1

⁄2 tsp salt

2

tbsp

poppy seeds
Instructions
Preheat a waffle iron.

Whip the egg whites until soft peaks form.

In a separate bowl, stir together the egg yolks, ricotta, orange zest, orange juice, and sugar.

Stir in the flour, baking powder, salt, and poppy seeds.

Fold in the egg whites.

Using a ladle, scoop the batter into the waffle iron. Cook until a light golden brown.
Notes
This is a thicker batter than your typical waffle batter. If you prefer thinner waffles then you can add up to a cup of milk to thin the batter out!
Calories: 358 | Fat: 12g | Carbs: 44g | Fibre: 2g | Sugar: 8g | Protein: 19g
[share title="Share This Article" facebook="true" twitter="true" google_plus="true" linkedin="true" pinterest="true" reddit="true" email="true"]