Vegan Thai Yellow Curry Chickpeas and Potatoes (+ instant pot instructions)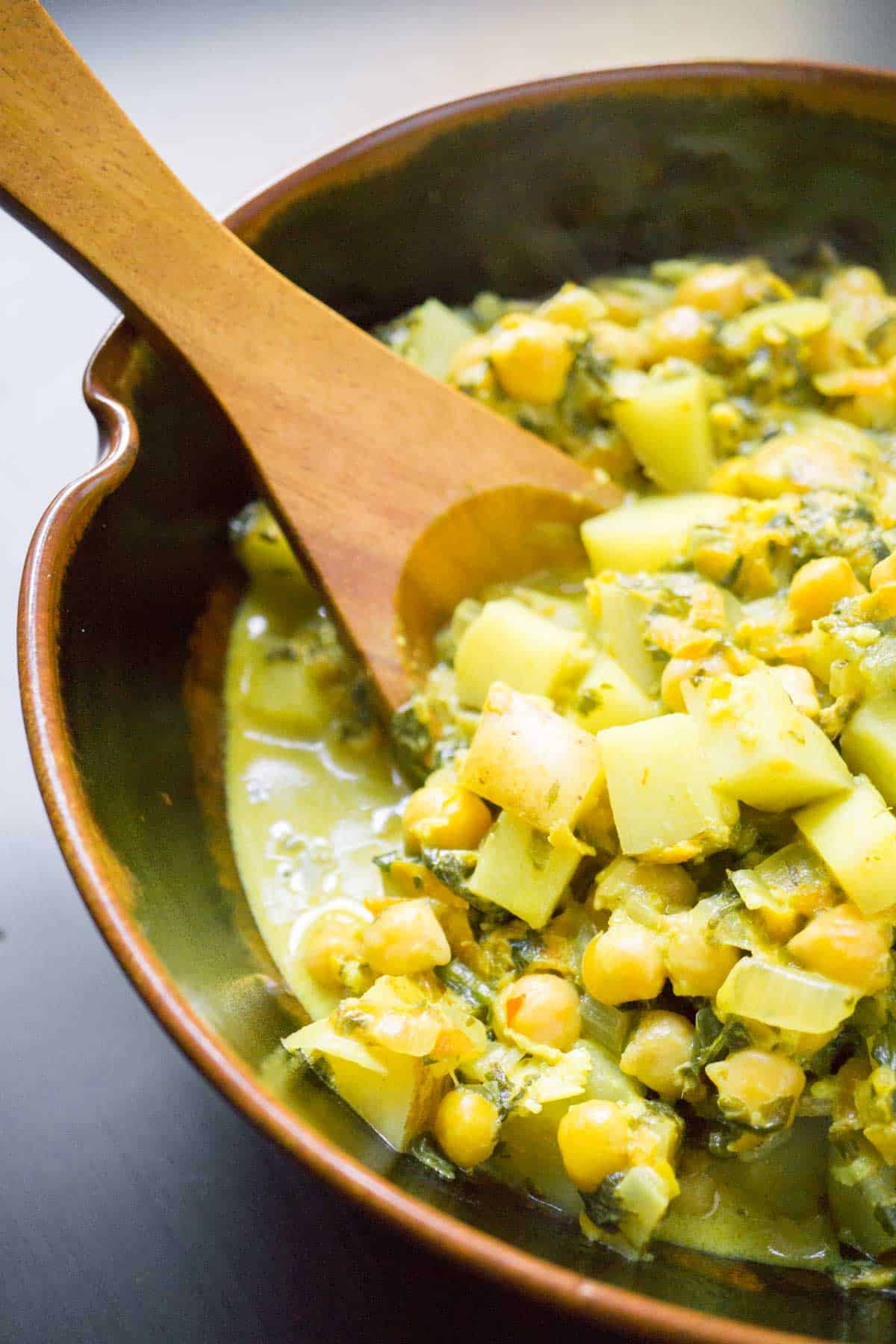 An entry level (ie: not so spicy!) Thai yellow curry dish that's full of heart-healthy anti-inflammatory ingredients. Sure to warm you up from the inside out! [vegan & gluten free]
If it was curry all day everyday in our house, I'd be in heaven. Unfortunately, Jeremy hasn't hopped on board with me. The other day he declared that he simply does not and will not ever be a curry fan.
I was shell shocked.
In our house (and in my dietetic practice), we firmly believe that tastes are more nurture than nature. What this means, is that it's possible, with an open mind, to learn to like new foods. Which is why I was surprised to hear him say so emphatically that he doesn't and will never like curry. He had an explanation of course. He thinks that because he has eaten curry so often and still doesn't like it, that he never will. I calmed down because this could be true. We all still have foods that we prefer to eat over others.
Luckily for me, he still eats it. Or maybe I should say, luckily for him because I don't plan on stopping the curry train any time soon! So unless he wants to make his own dinner…..
As with nearly every dinner recipe I create, this Thai yellow curry dish starts with a lovely pan of simmering onions. From there, the spices get sautéed until fragrant and then the rest of the ingredients get thrown in. Half an hour later, voila! You have an amazing curry dish.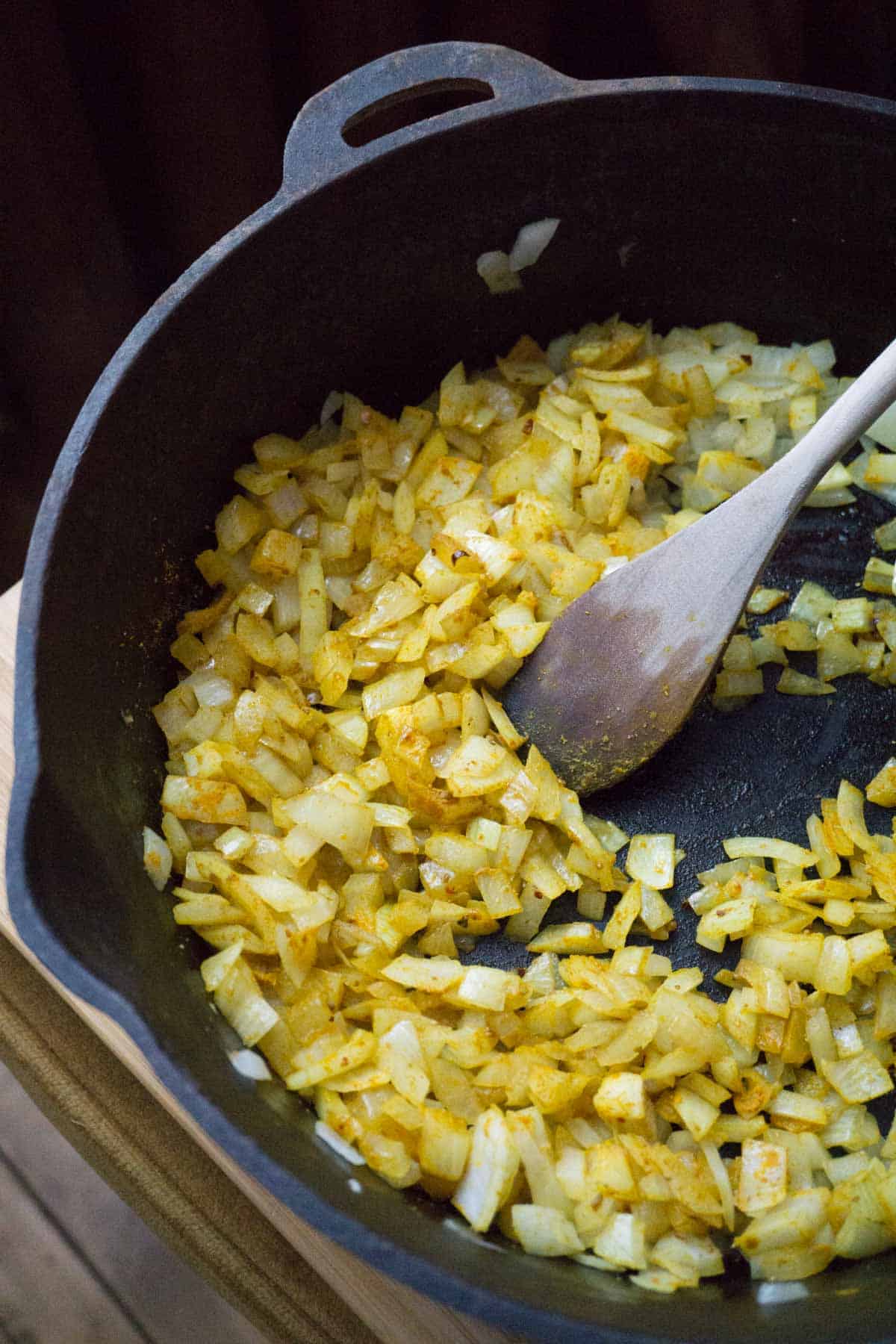 why this thai yellow curry is a smart choice
This recipe provides half of your daily recommended amount for folate!
Folate's famous role is in preventing neural tube defects. This is one of the key vitamins found in a prenatal complex. It's important to start taking a prenatal if you're planning on becoming pregnant (or if there's even a chance you could!). Folate's work is needed in very early pregnancy… sometimes even before a woman has found out she's expecting!
Folate is important for the rest of humanity too. Research has shown that people who consume a lot of food (not supplements) high in folate, their rates of cancer are lower!
Folate is involved in homocysteine metabolism. Elevated levels of homocysteine are inflammatory and are linked with cardiovascular disease. Folate helps to keep homocysteine levels in check. Studies show that some people with a specific genotype do not use folate as efficiently as others. If you'd like to know if you're at risk of cardiovascular disease because you have the gene that doesn't utilize folate efficiently, check out the Nutrigenomix test!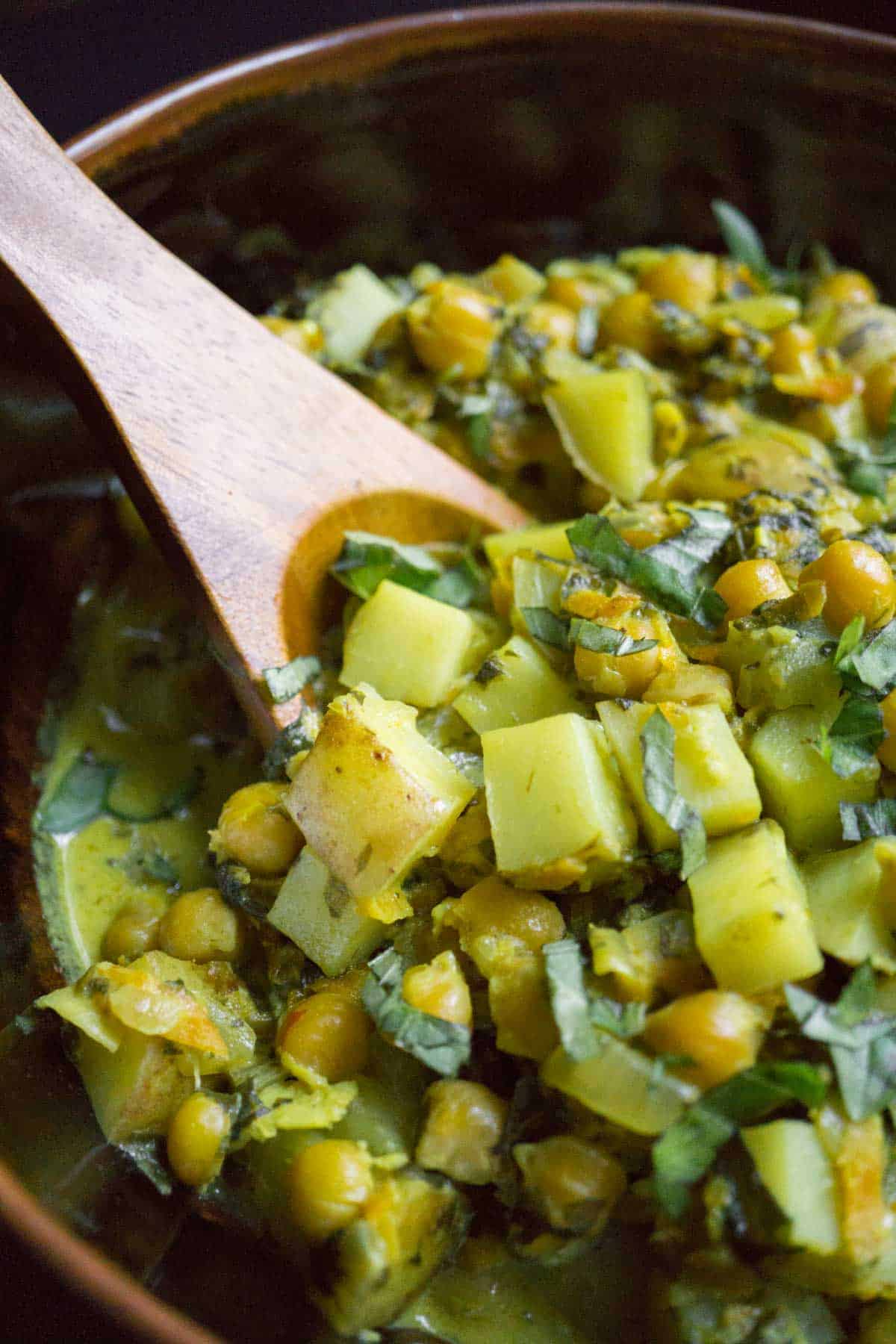 If you give this recipe a go, let me know! Leave a comment, rate it, or snap a photo and tag it with #smartnutritionrecipes on Instagram! I'd love to see your creations! Knowing someone has enjoyed one of my recipes always makes my day brighter.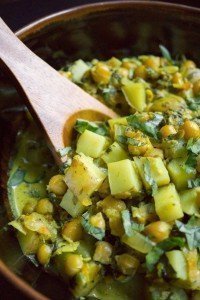 Thai Yellow Curry Chickpeas and Potatoes
Print Recipe
A not-so-spicy curry dish that's full of heart healthy folate!
Ingredients
2

tbsp

canola oil

1

onion

finely chopped

¼

tsp

chili flakes

½

tsp

curry powder

1

tsp

turmeric

1

tsp

coriander

1

tsp

salt

1

tbsp

grated fresh ginger

6

cloves

garlic

minced

1

tbsp

lemongrass paste

1

carrot

shredded

½

package

150g frozen spinach

1

lb

potatoes

finely diced (about 3 medium-sized potatoes)

3

cups

cooked chickpeas

2 cans, drained and rinsed

1

can coconut milk

½

can water

1

tsp

fish sauce

optional
Instructions
Stove Top:
In a large skillet heat the oil over medium heat.

Add the onion, chili flakes, curry powder, turmeric, and coriander.

Cook until onions are soft.

Add in remaining ingredients.

Once the curry has boiled, turn down to medium low.

Cook until the potatoes are soft.
Instant Pot:
Pour the oil into the Instant Pot and press SAUTE.

Add the diced onions,  chili flakes, curry powder, turmeric, coriander, salt, ginger, cloves garlic, and lemongrass paste.

Cook until the onions are soft.

Add in remaining ingredients.

Secure lid to the Instant Pot.

press MANUAL and select 5 minutes.

Once the Instant Pot beeps, choose your method of release.

Stir and enjoy!
Nutrition
Calories:
395
kcal
|
Carbohydrates:
45
g
|
Protein:
12
g
|
Fat:
21
g
|
Fiber:
8
g
|
Sugar:
8.5
g