Keep these healthy egg mcmuffin copycats in your freezer for a quick go-to meal that's much faster and cheaper than pulling through the drive-thru!
I'm pretty good at handling in-store samples. I happily take one, enjoy it, and keep moseying on down the aisle.
But not this time.
It was only a toasted and buttered English muffin, but I saw it as more… I saw….
Breakfast muffins!
Luckily turkey breast and sliced cheese were on sale. I grabbed some eggs and off I went, nearly skipping home in excitement! It's hard to skip when you're carrying a baby and pushing a cart full of groceries, or I probably would have. But not if my husband was there. He'd be too embarrassed.
HOW TO MAKE THESE HEALTHY EGG MCMUFFIN COPYCATS (35 SEC):
Do you ever embarrass your family? I did so intentionally the other day. I didn't set out to initially, but when I realized that what we were about to do was going to cause a great deal of embarrassment for my husband, I didn't back down.
I was given a bunch of coupons for a free jar of yeast. 100% FREE you guys!
Unfortunately, the coupon explicitly said only one per order… not even one per person! So we split up the few groceries we had and went through the checkout one at a time. One order for my husband, one for our four year old son, and one for me.
The four-year-old was tickled pink to have been given some money and the responsibility to buy something.
The thirty-something year old? Not so much.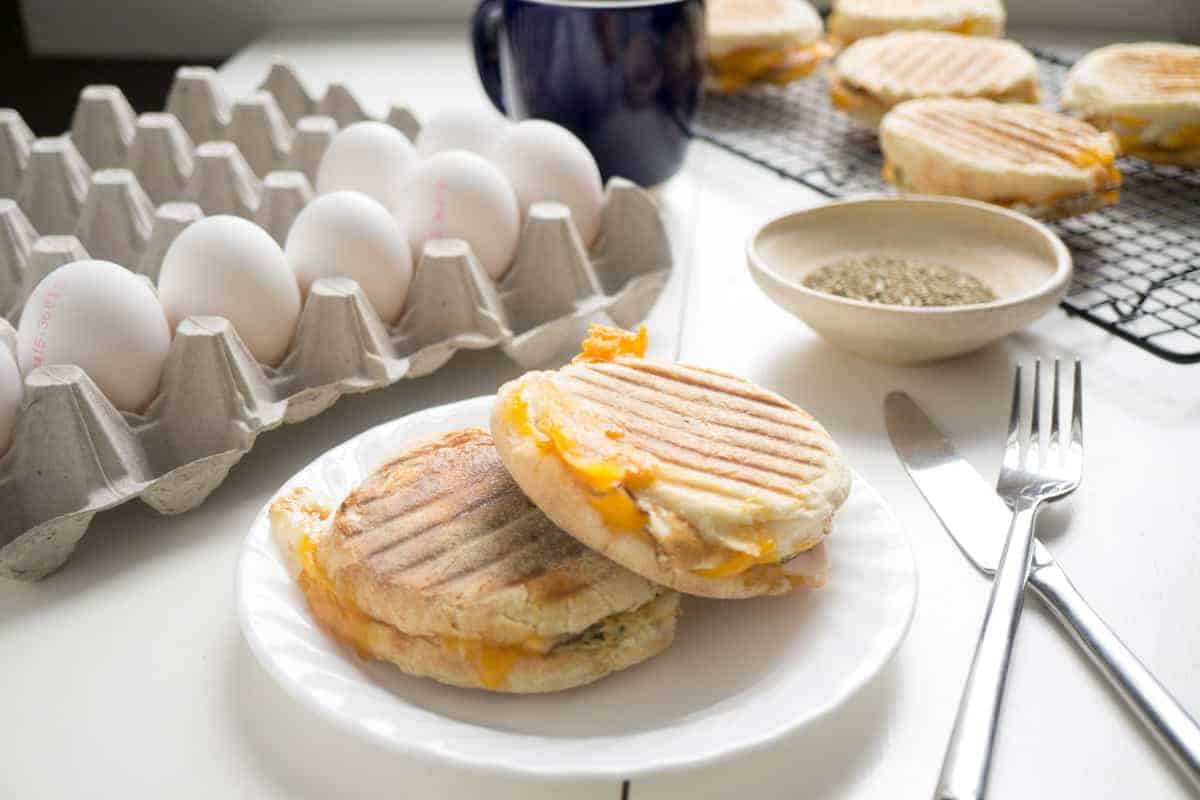 why these freezer breakfast sandwiches are a smart choice
Each sandwich will give you more than 20g of protein. Add a side of fruit or veggies and you've got a delicious and filling breakfast! Protein is important to keep your hunger at bay until your next meal or snack time.
This recipe makes sandwiches that are actually very comparable to the drive-thru option. So if you find yourself out of these in the freezer and you're swinging through the drive-thru to make a breakfast order, choose an egg mcmuffin! Get the original. The ones with sausage and side bacon are higher in calories, saturated fat, and sodium.
Definitely, forget about the wrap! Wraps have a healthy reputation, so they sound like the smart choice, but they have nearly twice the amount of calories, fat, carbs, & sodium, with only marginally more protein. If you have a larger appetite you'd be better off ordering two original egg mcmuffins.
However, I made this recipe healthier by swapping out the bacon for turkey breast, using REAL instead of processed cheese, and cutting down on the sodium by flavoring the eggs with herbs instead of salt. Buy whole wheat English muffins for a bit more fibre.
Last but not least, a big reason that this is a smart choice is because you're gonna save $$$ with the homemade version!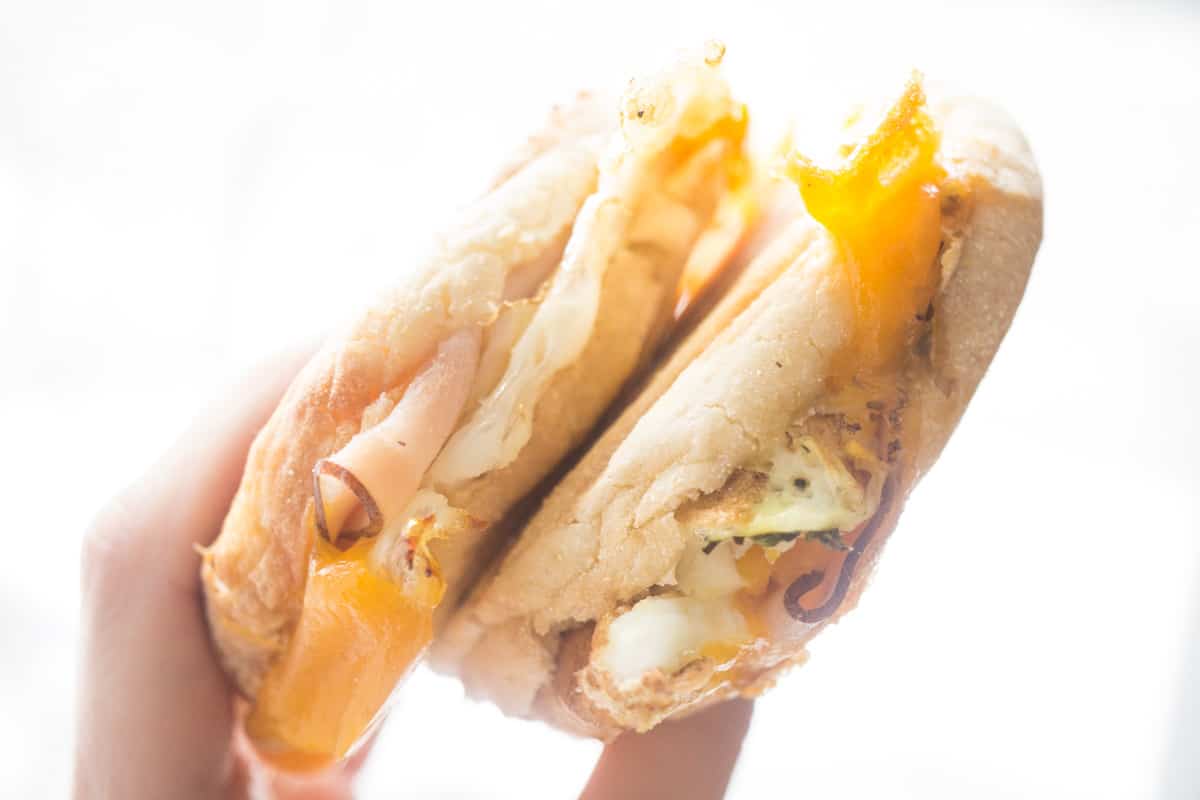 If you make this recipe, please let me know! Leave a comment, rate it, or snap a photo and tag it with #smartnutritionrecipes on Instagram!  I'd love to see your creations!
Disclaimer: neither this recipe nor this website are affiliated with the Egg McMuffin trademark or McDonalds
healthy egg mcmuffin copycat
Print Recipe
Keep these healthy egg mcmuffin copycats in your freezer for a quick go-to meal that's much faster and cheaper than pulling through the drive-thru!
Ingredients
12

eggs

provincial herb blend

12

english muffins

12

slices

turkey breast

12

slices

cheddar cheese
Instructions
Heat a large frying pan over medium heat. Grease lightly.

Crack four eggs into the pan (one in each "corner").

Using a flipper spatula, gently break the yolks.

Sprinkle some provincial herbs on top.

When the eggs are cooked enough to flip without falling apart, flip them! The eggs will probably have spread and are touching each other. Simply cut them with the spatula in order to flip.

When they're fully cooked, remove to a plate. Repeat with the remaining 8 eggs.

While you are batch cooking the eggs, you can start to assemble the sandwiches.

On the bottom half of an English muffin place an egg. You may need to fold it a bit for it to fit on the muffin without a lot of it hanging over.

Fold the slice of turkey breast so that there isn't much hanging over the sides.

Do the same with the slice of cheddar cheese.

Place the top half of the muffin on top.

Using a panini press, grill until cheese is melted and the sandwich squishes down. If you don't have a panini press, you can use a frying pan and press down with a pot.

Allow the sandwiches to cool slightly. Wrap in tin foil or plastic wrap. Place in freezer.

When it's time to eat, remove the wrapping and re-wrap in a sheet of paper towel. Microwave at 30 second intervals, flipping each time, until your sandwich is nice and hot!
Nutrition
Serving:
1
sandwich
|
Calories:
300
kcal
|
Carbohydrates:
26.5
g
|
Protein:
20
g
|
Fat:
13
g
|
Sodium:
638
mg
|
Fiber:
1
g
|
Sugar:
1.5
g
More freezer meal inspiration!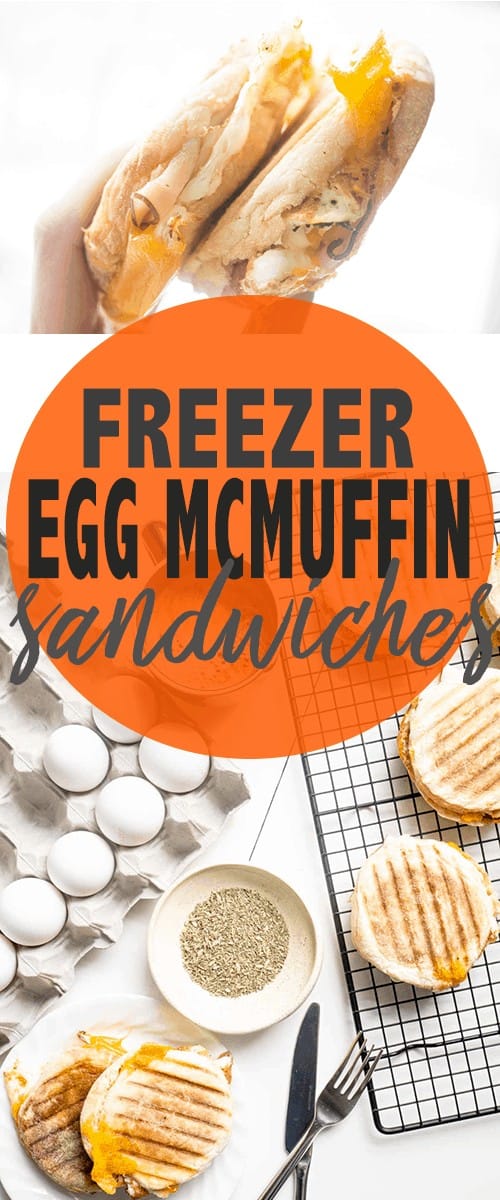 [share title="Share This Article" facebook="true" twitter="true" google_plus="true" linkedin="true" pinterest="true" reddit="true" email="true"]