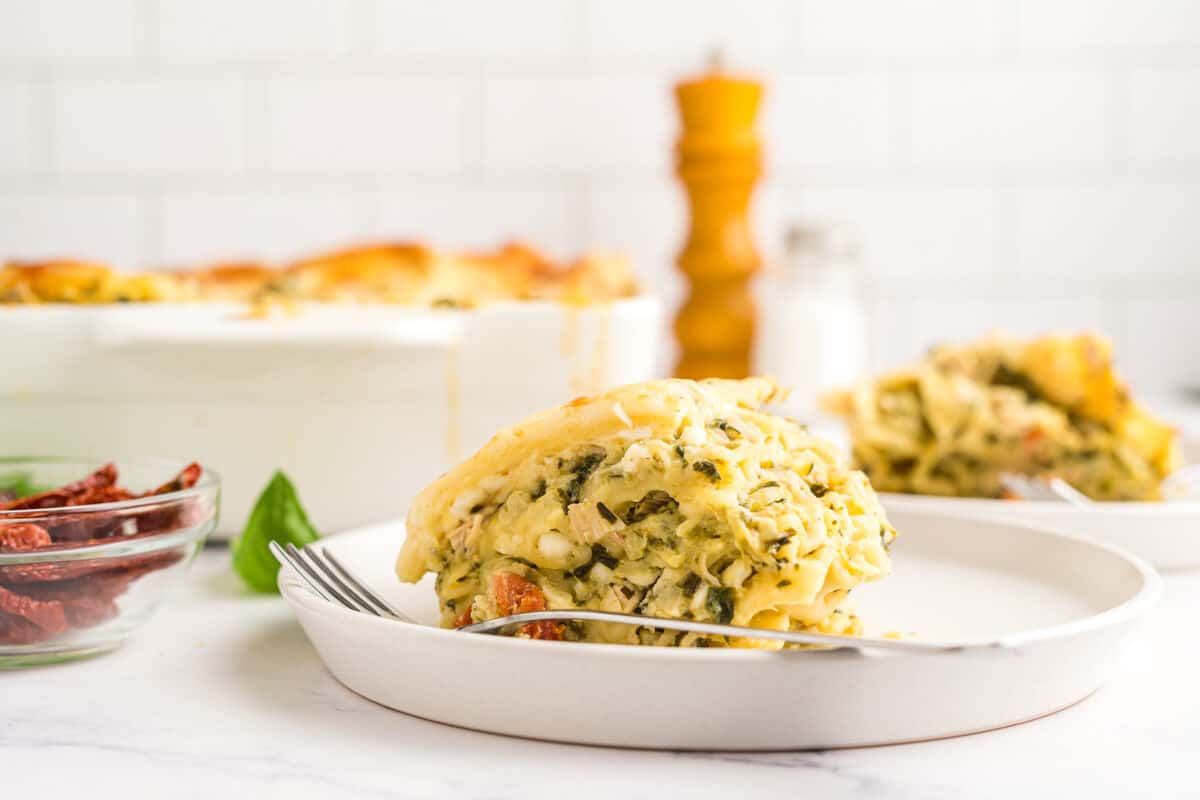 Imagine sinking your teeth into the best lasagna you've ever eaten, and then realizing that it tastes like no other lasagna you've ever tried. Oh, and with 6 cups of zucchini mixed in, it's also quite possibly the healthiest lasagna you've ever seen.
Turn a classic dish into a modern masterpiece by layering zucchini and spinach with sun-dried tomato and chicken. Crank up the flavour with basil, oregano, and thyme, all doused with the cheesy goodness of parmesan, cottage cheese, and mozzarella.
There's no lasagna quite like this one, and nothing quite as delicious as it either.
What is it suitable for? Any time you want to leave your guests asking "WHERE did you find this recipe?!"
A Recipe Years in the Making
This recipe has literally been years in the making. A chicken zucchini lasagna is always on my summer food bucket list when the zucchini comes flowing from my garden to my kitchen.
But, I never quite got it perfected… until this year!
In the past I've tried completing replacing the lasagna sheets for zucchini, which was tasty, but if I was being honest with myself, I missed the pasta!
So, I switched to adding lasagna sheets but then it turned out dry because I didn't make it saucy enough. I also, didn't like the zucchini "sheets" so the next year I switched to grating the zucchini.
Finally, this year I really amped up the sauce + added sun-dried tomatoes, which remind me of bacon. Adding a few to any dish really takes it up a notch!
Voila! The evolution to the best creamy chicken zucchini lasagna.
6 Cups Zucchini?
Yes, you read that right. If you've been around Smart Nutrition awhile, you may have figured out that I try to jam-pack my recipes with veggies. While side salads are delicious and all, most people still aren't meeting their recommended daily intake of veggies! Why not add a whole onion instead of a half? Why not add 6 cups of shredded zucchini into your lasagna?
Having said that, I also tested this recipe with 3 cups of shredded zucchini. If your arms are getting tired of shredding so much, you can stop earlier. However, if you have a food processor, I'd recommend pulling it out for shredding to make the task easier.
Creamy Chicken and Zucchini Lasagna FAQ
What Type of Chicken Should I Use?
Leftover roasted chicken (or even Thanksgiving or Christmas turkey)
Grocery store rotisserie chicken. My kids are silly and LOVE it the first day but then have zero interest in leftovers. Thus, I need to find other ways to use the rest of the bird!
Or you could cook several chicken pieces, such as chicken breasts or thighs.
How Long Will This Last?
The lasagna will last 5-7 days in a properly cooled fridge.
Can I Freeze this Creamy Chicken and Zucchini Lasagna?
Yes, absolutely! If you aren't serving a crowd and don't feel like eating lasagna everyday for the next week, then go ahead and freeze it. I like to freeze lasagna in individual meal-size portions and then send some with my husband to reheat at work for his lunch.
Creamy Chicken and Zucchini Lasagna
Print Recipe
Turn a classic dish into a modern masterpiece by layering zucchini and spinach with sun-dried tomato and chicken. Crank up the flavour with basil, oregano, and thyme, all doused with the cheesy goodness of parmesan, cottage cheese, and mozzarella.
Ingredients
½

cup

sun-dried tomatoes

packed in oil

1

onion

diced

1/2

package

150g/5 oz frozen chopped spinach (or 3 cups fresh spinach, packed)

6

cups

grated zucchini

6

cloves

garlic

minced

1

tsp

basil

1

tsp

salt

1/2

tsp

oregano

1/2

tsp

thyme

3

cups

413g or 15 oz cooked and diced chicken

3

tbsp

flour

1 ½

cups

half and half or 1 can evaporated milk

2

cups

cottage cheese

2

eggs

1/4

cup

parmesan

9-12

sheets oven ready lasagna noodles

2 ½

cups

shredded mozzarella
Instructions
Preheat the oven to 375°F.

Heat the sun-dried tomatoes in a large frying pan over medium heat.

Chop the onion and add it to the frying pan. Cook until soft.

Add in the spinach if using fresh. If using frozen, defrost it in the microwave and drain the excess liquid. Set the spinach aside for later.

Add in the shredded zucchini, garlic, basil, oregano, thyme, and salt. Cook until most of the liquid is gone.

Add in the flour and stir for 30 seconds.

Slowly add the half and half or evaporated milk in, stirring after each addition.

Remove from heat and stir in the chicken and frozen spinach, if using.

Mix together the cottage cheese, eggs, and parmesan.

I have a ZxY size baking dish that perfectly fits 3 lasagna noodles across. If you don't have one, you could also use a 9×9 pan and break the noodles to fit.

Spread a small amount of the chicken-veggie mixture onto the bottom of the pan.

Top with 3 lasagna noodles.

Add ⅓ of the chicken-veggie mixture, then ⅓ of the cottage cheese mixture, then ½ cup of the shredded mozzarella. Top with 3 more lasagna noodles. Repeat this layering three times.

You should now have 3 lasagna noodles as your top layer.

For the final layer, sprinkle the remaining 1 cup of mozzarella cheese.

Cut a piece of tin foil to cover the top. Fold the tin foil in half lengthwise to make a bit of a tent. Cover the lasagna with the tin foil, being careful to try and keep the tent high enough that it doesn't touch the cheese. You don't want the cheese to melt onto the tin foil.

Bake in the preheated 375° degrees Fahrenheit oven for 45 minutes. Remove the tin foil and bake for another 10 minutes.

Remove from the oven and allow the lasagna to sit for 10-15 minutes before cutting and serving.
Nutrition
Calories:
333
kcal
|
Carbohydrates:
23
g
|
Protein:
23
g
|
Fat:
17
g
|
Saturated Fat:
8
g
|
Polyunsaturated Fat:
2
g
|
Monounsaturated Fat:
5
g
|
Trans Fat:
0.04
g
|
Cholesterol:
96
mg
|
Sodium:
561
mg
|
Potassium:
736
mg
|
Fiber:
3
g
|
Sugar:
8
g
|
Vitamin A:
2166
IU
|
Vitamin C:
26
mg
|
Calcium:
259
mg
|
Iron:
2
mg
Other Zucchini Recipes!
Double Chocolate Zucchini Oats
A delicious way to add veggies to your breakfast routine!
Check out this recipe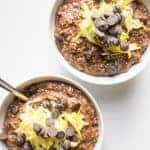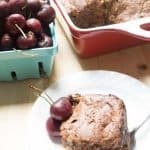 Ratatouille Baked Eggs (shakshouka)
A great way to turn Ratatouille into a complete meal!
Check out this recipe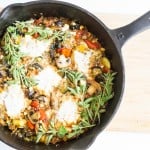 Pesto Gnocchi on a Sheet Pan
 This pesto gnocchi gives you gourmet taste without the work! Dinner in 30 minutes with only 5 minutes of prep! 
Check out this recipe