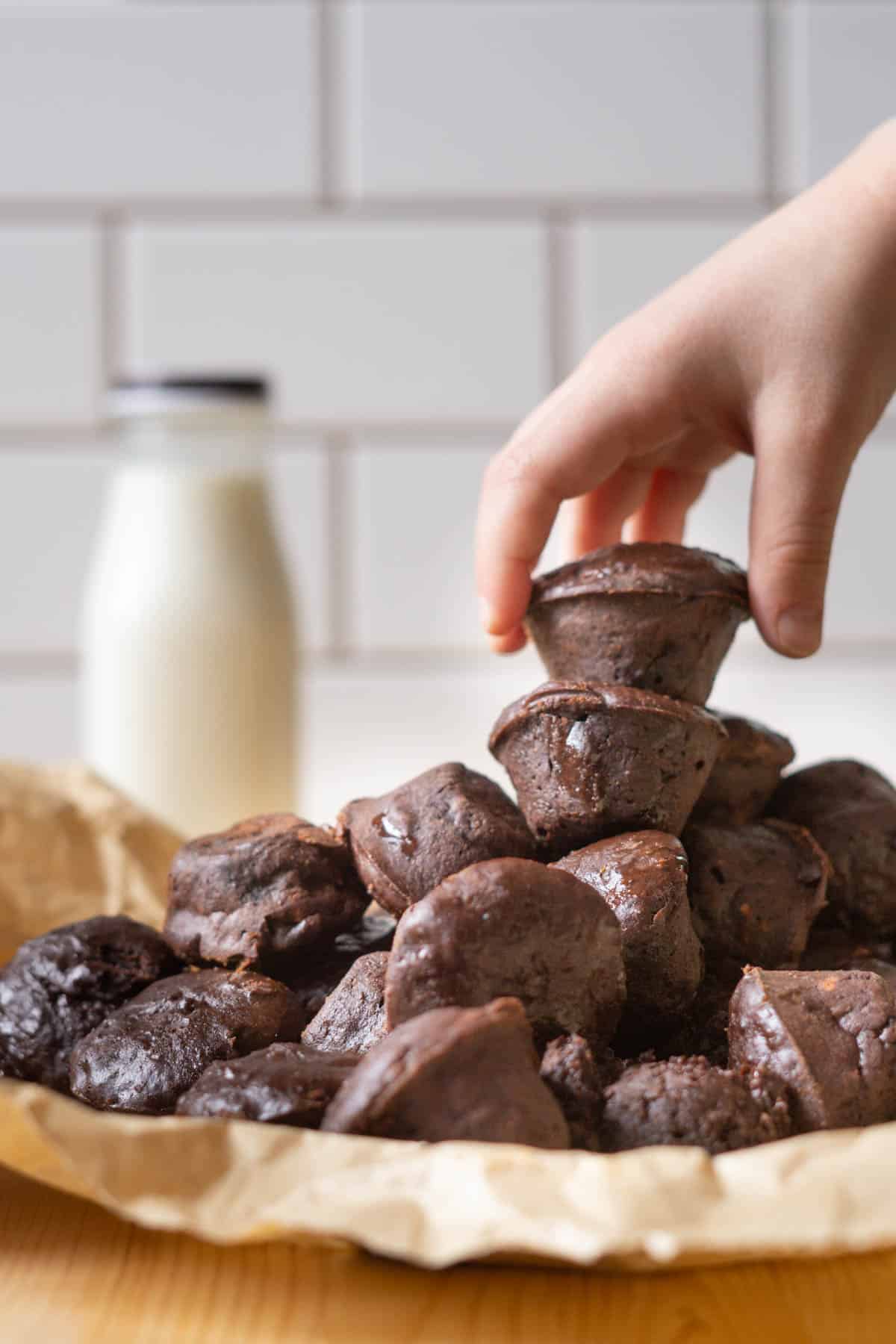 With 3.5g of protein and <1g of added sugar, these two bite protein brownies are the perfect chocolatey, fudge-y snack!
This post is sponsored by Naked Nutrition but, as always, my opinions are entirely my own.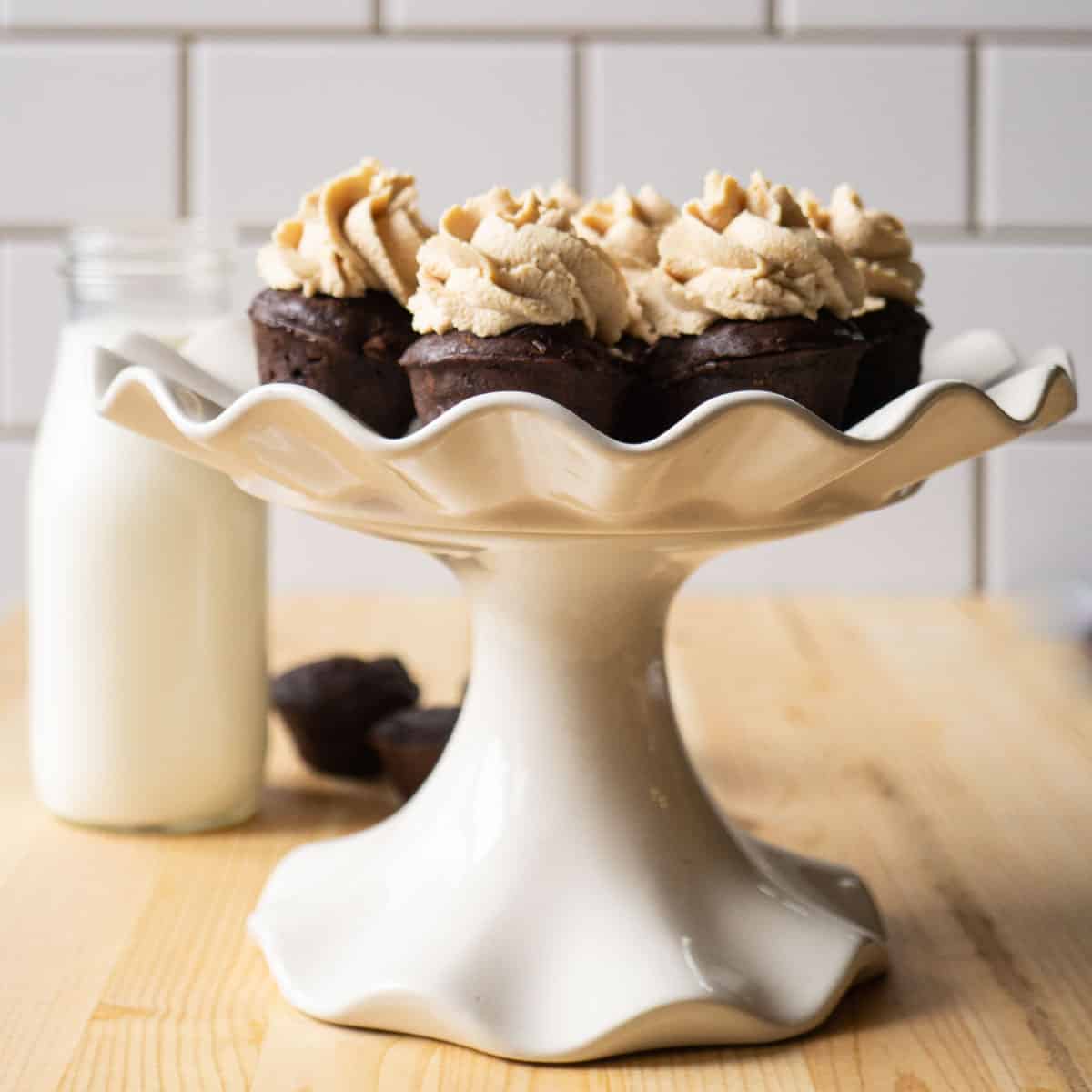 Have you ever wished you could have brownies for breakfast and not feel sick from a morning sugar rush?
The older I get and the more I've leaned into my body's wisdom of knowing what foods to eat when, the less I'm interested in sweet foods in the am.
I mean, I'm still a sucker for a gooey, caramelly cinnamon bun but I see that more as a nice dessert instead of what I want to start my day with.
But a part of me still WANTS dessert for breakfast!
That's why I developed this two bite protein brownie recipe!
If you're like me and sometimes crave dessert for breakfast, you're in luck! Each mini brownie has an incredible 3.5g of protein and less than 1g of added sugar.
Enjoy a few of these along with a piece of fruit and you'll be fuelled up all morning long!
Feeling Fancy?
If you're feeling fancy, make the easy two ingredient "frosting." You can just use a knife to frost them but if you're feeling extra fancy, you can even pipe the frosting on like I did, to make them all pretty-like.
Or, if you're feeling like baking the brownies was enough of a time commitment for you, they taste delicious on their own. An easy way to kick it up a notch is to simply smear some peanut butter on top.
Because chocolate + peanut butter = life 🙂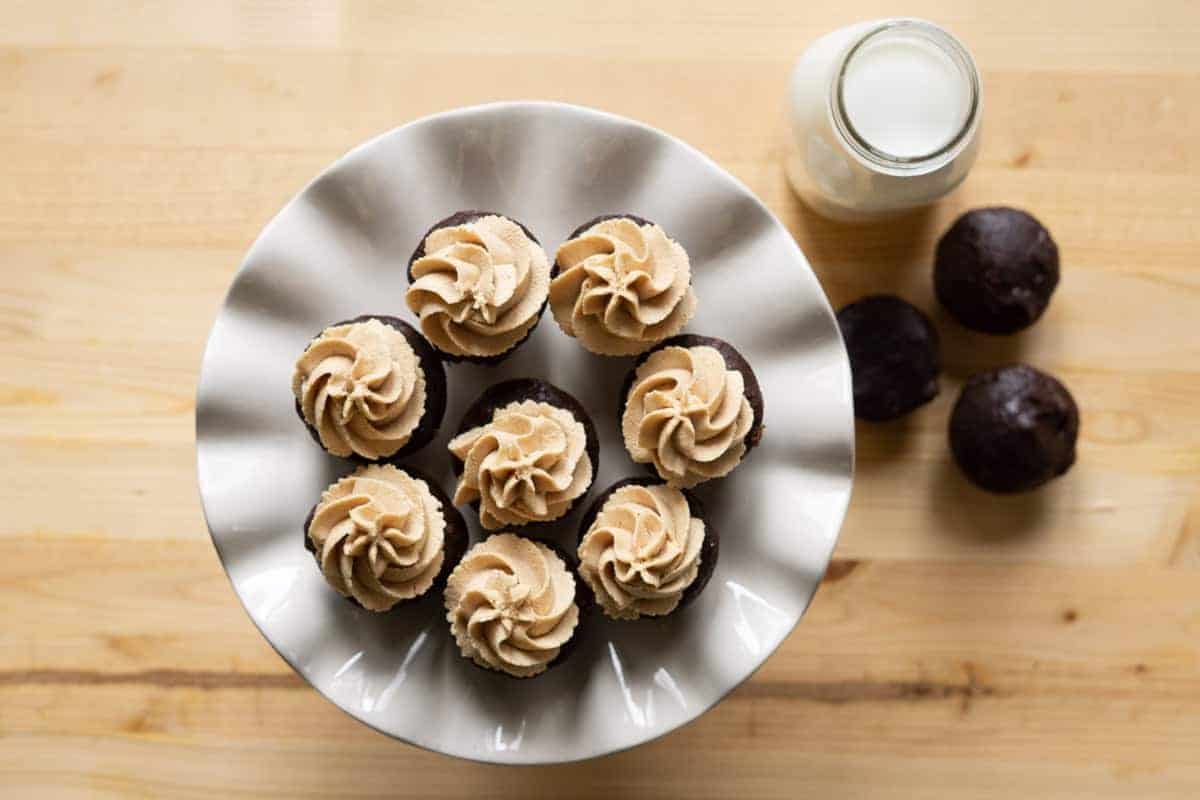 How to Enjoy These Two Bite Protein Brownies
These brownies make a perfect post-workout snack. When muscles are worked out, they experience micro-tears that need to be re-built. I know that sounds awful, but it's all part of the muscle strengthening process. Muscle recovery is best achieved by providing your body with a ratio of 3:1 of carbs:protein within an hour after strength training.
I think you know where this is headed… these protein brownies offer that perfect 3:1 carb to protein ratio! Pack a few of these for when you're done at the gym!
But don't stop there; let's go through all the situations where these protein brownies will come in handy:
Breakfast: pair with some fruit for a balanced meal
Morning snack: pairs nicely with a cup of dark roasted coffee
Dessert: pairs nicely with a glass of red wine
Pretty much anytime you're in the mood for a fudge-y, chocolate-y hit of sweetness, these two bite protein brownies will hit the spot!

Why Naked Nutrition's Whey Protein is a Smart Choice
I really like the Naked Nutrition products because, as the name implies, they don't have anything to hide! The ingredient list on their whey protein powder is as short as can be:
That's it! Just one ingredient!
Why do I like that it's just one ingredient?
There aren't any weird, unproven ergogenic aids added in to worry about.
It's unflavoured, so it works well as an ingredient in recipes.
It's unsweetened, so you can use your own sweetener of choice (and control how sweet you want it)
The other reason I like to use whey protein to bump up the protein in my recipes is that it actually helps to reduce food waste! Thick yogurts, like Greek yogurt, are made by straining off much of the liquid after yogurt is made. Whey protein follows the water. This can then be concentrated to make whey protein powder! Without a demand for whey protein powder, yogurt companies would have to dispose of this food.
GET 10% OFF YOUR NAKED NUTRITION ORDER WITH THE CODE: NAKED10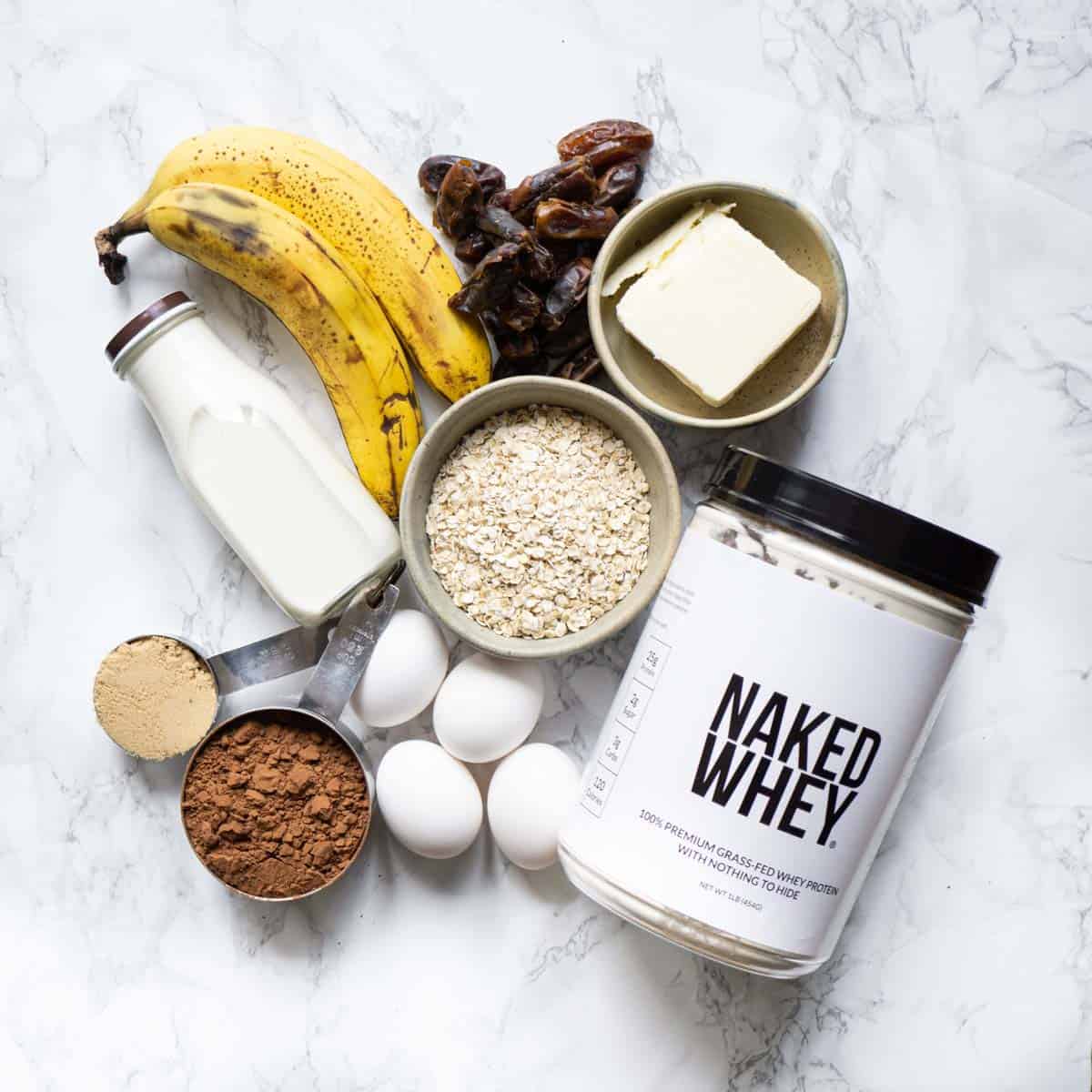 Go order some Naked Nutrition's whey protein and let me know what you think!
Two Bite Protein Brownies
Print Recipe
Ingredients
½

cup

butter or coconut oil

20

dates

½

cup

milk

2

large bananas

¼

cup

brown sugar

lightly packed

1

cup

unsweetened cocoa powder

4

scoops

3/4 cup Naked Nutrition Whey Protein

4

eggs

1

cup

oat flour *see note

Frosting

optional

3/4

cup

smooth peanut butter

3/4

cup

plain Greek or Skyr yogurt *see note
Instructions
Pre-heat oven to 350 degrees Fahrenheit.

In a large glass mixing bowl, place the butter or coconut oil, dates, and milk.

Microwave for 2 minute intervals, mashing with a fork in between, until the dates turn into a paste.

Mash in the bananas.

Stir in the brown sugar, cocoa powder, Naked Whey whey protein isolate, eggs, and oat flour.

Lightly grease a mini muffin tin.

Fill the tin with batter by scooping with a large spoon and scraping it out with another.

Bake for 12 minutes.

Allow to cool for at least 5 minutes before removing from tin.

Whip together the frosting (if using) and spread on top once completely cool. If you're planning on piping the frosting on with a decorating bag, plan to double the frosting amount.

Store in the fridge. Will keep for up to one week.
Notes
*If you don't have pre-milled oat flour you can pulse rolled oats in your blender until you achieve a flour-like consistency.
*A thick yogurt is necessary to get the right consistency for this frosting
Nutrition
Serving:
1
brownie
|
Calories:
77
kcal
|
Carbohydrates:
9
g
|
Protein:
3.5
g
|
Fat:
4
g
|
Sodium:
33
mg
|
Fiber:
1.5
g
|
Sugar:
4.5
g