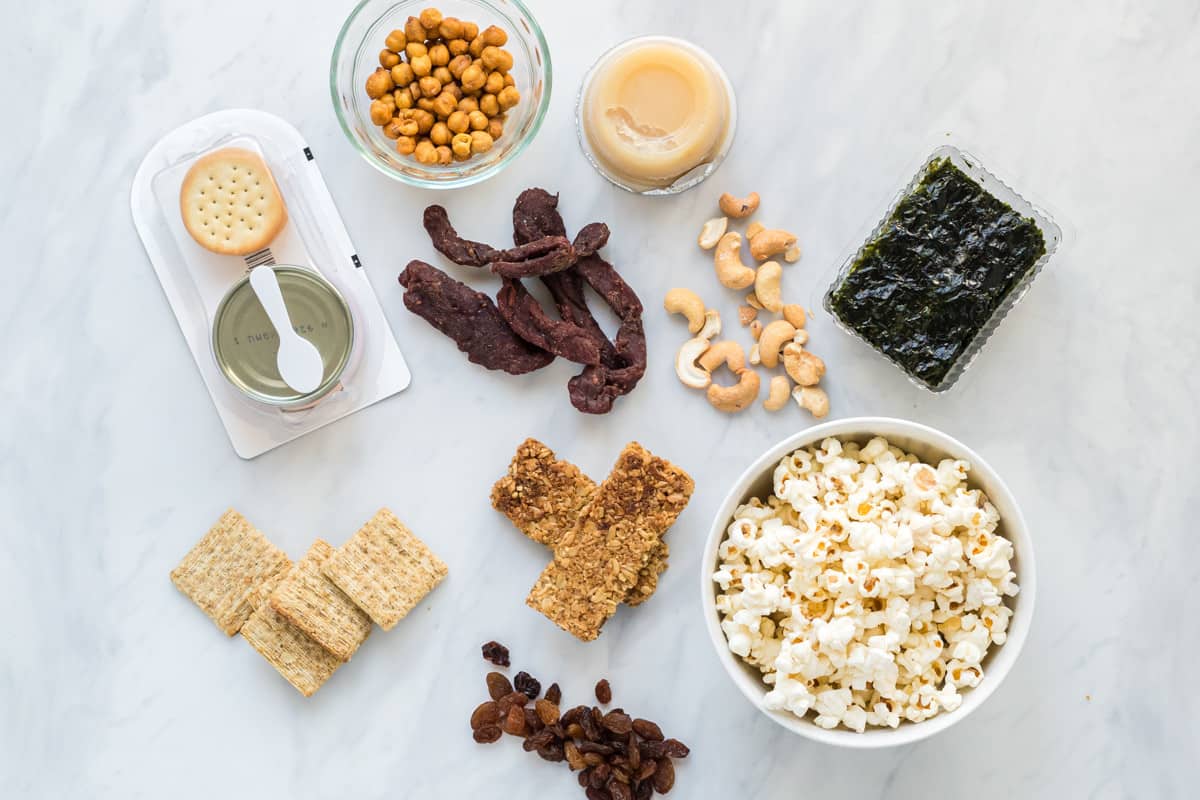 A Dietitian's list of top ten packaged snacks to prevent you from getting hangry and to keep you feeling fuller for longer!
I was asked to give my top choices for packaged snacks. But, before I do that, you should probably know how I define 'packaged!' I interpreted this request as foods that are both:
a) ready to eat out of the package and
b) shelf-stable (no fridge or freezer required!)
When it comes to core food choices, I prefer to focus on whole foods! It's no different for snacks! For snacks I steer away from those that have been dried, crushed, and re-formed. For example, "snapea crisps" are made from peas but they've undergone a lot of processing. Same with "veggie straws." For a more in-depth look at those products, check out my review for snapea crisps and veggies straws. The more processing a food undergoes, the less work the body has to do to extract the nutrients… which means your blood sugar goes up faster and your hunger returns sooner. Whole foods are digested slower, resulting in a steady supply of energy to the blood.
Annnd, just a quick note: these snacks are presented in alphabetical order, so don't go thinking that I've ranked them 🙂
Crackers
Crackers are a convenient way to reap the gut-health benefits of whole grains. To look for whole grain cracker, flip the box over to the nutrition facts. Find the grams of fibre and multiply that number by 10. If the gram amount of carbs is lower, then you likely have a whole grain cracker on your hands!
Other nutritious options include crackers with seeds such as chia, flax, sesame, poppy, etc.
For something fun, try my sourdough cracker recipe!
Crispy Legumes
Legumes are plants that grow in bods! Think peas, soybeans, chickpeas, etc. There are a lot of companies that roast and season legumes to make them crispy!
It's been shown in research labs that hearing the sound of your teeth bite into a crisp food is very satisfying! It's one of the reasons chips are so popular.
These are great as an allergy friendly alternative for nut aware environments.
They contain protein, fibre, and fat: which means they keep you feeling fuller for longer!
Again: they're a nice whole food option: they're just legumes that have been roasted in a bit of oil/seasoning!
Dried Fruit
Dried fruit is simply whole or cut up pieces of fruit that have had the moisture removed, resulting in a concentration of nutrients!
Along with the other nutrients such as iron and potassium, sugar also gets concentrated so this is something to be mindful of.
Check the ingredient list! Raisins, prunes, dates, and figs tend to be unsweetened while mango, cranberries, coconut, apricots, cherries, and blueberries often contain added sugar.
Fruit Cups
Great way to enjoy fruit without worry about it bruising and becoming less appealing! Also great for international air travel where you can't take fruit across the border.
Look for applesauce cups without added sugar and chopped fruit cups (like fruit cocktail, peaches, and mandarin oranges) packed in water or juice (not syrup).
Granola Bars
This is another product where you're going to want to use that whole grain formula! Look for whole grain by taking the grams of fibre and multiply that number by 10. If the gram amount of carbs is lower, then you likely have a whole grain granola bar on your hands!
For a typical sized granola bar, aim for at least 5g protein and less than 8g sugar.
Meat Jerky
I like to think of this as "meat candy" as they are typically marinated in a sweet sauce and then dehydrated (so be mindful again that there's added sugar!).
Contains around 9g protein per serving.
I like that it's a whole food that has just had the water content removed, ie: it's lightly processed.
Nuts
Another snack that provides a satisfying CRUNCH!
Contain protein, fibre, and fat: which means they're filling!
A nice whole food option: they're just nuts!
Lots of evidence that eating nuts every day reduces the risk of chronic disease.
Popcorn
Popcorn contains both fibre and fat (if popped in oil or dressed with butter) to keep you feeling fuller for longer.
This snack is super satisfying! Especially as so many people have good food memories about popcorn, like eating some at the fair or while watching a movie.
Popcorn is a whole food: simply kernels of corn that have had air added to them!
The addition of air makes this a high volume food, which means it's very visually satisfying to eat because you can eat a larger volume before getting full.
Seaweed Snacks
Provide a crisp, satisfying, melt-in-your-mouth texture.
They are a source of fibre, iodine, copper, iron, potassium, magnesium, calcium , and several vitamins
Contain anti-oxidants and a type of prebiotic fibre called sulfated polysaccharide, that feeds the beneficial bacteria in your gut.
Tuna & Hummus Snack Packs
These are little snack backs that contain crackers for dipping. Both the tuna and hummus provide a source of protein and fat to keep you fuller for longer
Hummus also provides fibre while tuna will also give you some brain loving omega 3 fatty acids!
Want to make your own hummus? I've got a delicious recipe for sweet curry hummus!
Snack Recipes
If you're also looking for some recipes you can make on the weekend and have ready to-go during the week, consider some of these popular ideas on my site!