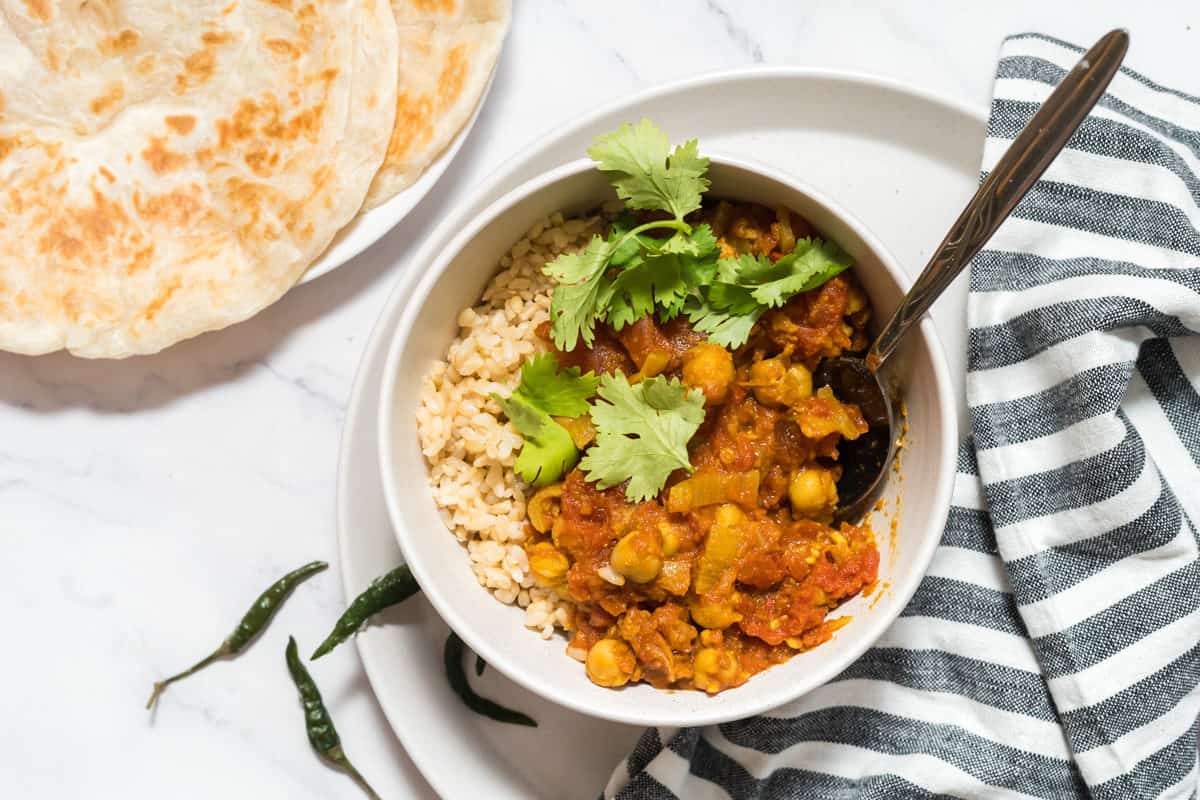 If you've ever been blessed to eat a hearty bowl of authentic chana masala, you are one lucky person!
When my second son was born my friend brought us some chana masala that she made herself, having been taught to cook by her mother who came to Canada from India when she was a young woman.
This stuff was amazing!
Authentic chana masala is a deep brown colour. The tomatoes, having been simmered with spices, lose their redness as the dish slowly transforms into this flavour packed stew.
This recipe is my no-so-authentic version that still packs a lot of flavour but can be made in a shorter amount of time.
There's a really sweet children's story called Bilal Loves Daal, in which the boy's dad starts to make daal (an Indian lentil dish) early in the day so that it's ready for supper. The boy's friends are excited to try it but the constant refrain in the book is "daal takes time."
I'm guessing the same could be written for chana masala!
So if you want a real treat, take the time and search out a slow simmering chana masala recipe.
If you want a quicker version, try this one!
What is Chana Masala?
Chana masala is an Indian chickpea dish. Chana means chickpea and masala means a blend of spices. My friend has also referred to the dish as chole, which I've since learned is the term for the larger chickpeas that we typically find in North America. The chana type of chickpeas are actually a smaller variety.
Chana masala is both gluten free and dairy free/vegan (if you omit the ghee/butter) so this is a great dish to have in your back pocket to pull out if you're going to a potluck with anyone following either or both of those diets! In fact, now that I think about it, chana masala doesn't contain any of the top allergens!
What Ingredients do I need to make Chana Masala?
The dish starts off by sautéing onions, garlic, chilis, and ginger with my "masala" blend of spices.
Then you add the tomatoes and chickpeas to simmer the flavours together.
You'll finish the dish off with an acidic ingredient.
Most of the ingredients are ready available at North American grocery stores. A couple of the ingredients are more specialty items, but I've included common ingredient swaps for these:
Mango powder can be subbed with lemon juice
Ghee can be subbed with butter or omitted entirely
I found mango powder in the international aisle of my grocery store. And I made the ghee! Ghee is simply butter that has been boiled to remove the protein and water so all you're left with is the butterfat. You can learn to make ghee here!
What Can I Serve With Chana Masala?
I am quite happy to tuck into a big bowl of chana masala on its own but it's equally delicious to serve it over a bowl of rice or eat it with parathas or naan bread. If you're a sourdough fan, I recommend checking out my sourdough naan recipe!
As you can see in the photos, I've garnished the dish with cilantro. If you happen to have some on hand, chopped up cilantro adds a nice bright flavour to chana masala!
If You Enjoy This Dish You May Also Enjoy: